In recent years, autonomous driving has gained momentum throughout the automotive industry. Pushed by widely publicized breakthroughs in connected vehicle development and data-driven analytics such as deep learning software, new players are racing to deliver fully autonomous vehicles. Meanwhile OEMs are looking for more practical and realistic foundations for building sustainable businesses. The car industry expects semiconductor suppliers to offer a scalable, automotive-grade and open platform from ADAS / NCAP up to AD Level 5, while ensuring re-usability of software across all car models and autonomy levels. 
To address these challenges, Renesas aims to become a one stop shop offering complete solutions from all AD/ADAS applications, from sensors to central high computing platforms. 
As the first step, we have been focusing on camera sensors, providing mainly MCUs, SoCs, or PMICs for standalone and intelligent cameras, but also timing ICs and analog links. The next step is to expand to radar applications with product offerings including MMICs and central high computing platforms.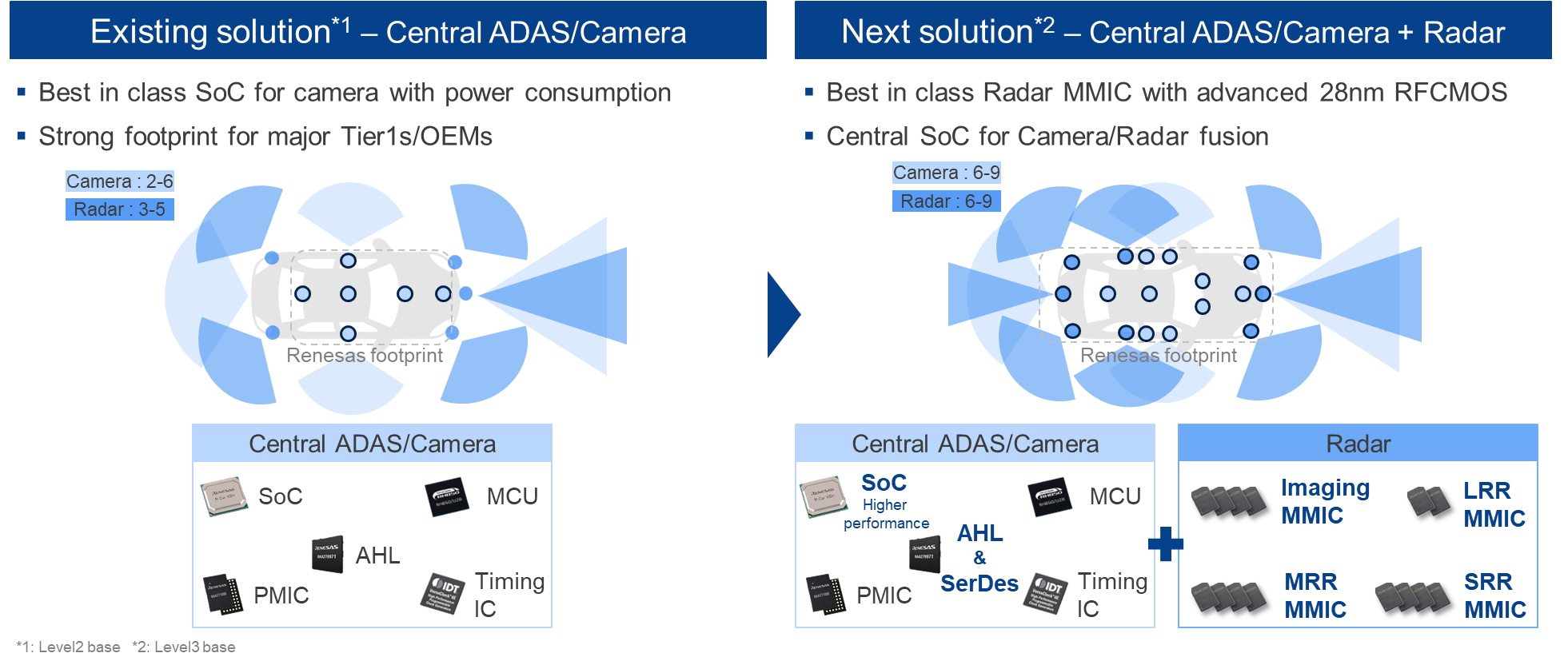 The first products from this new platform – the R-Car V3M and R-Car V3H SoCs – are now in mass production and deployed worldwide for front camera, surround view, and LiDAR applications. They fully comply with the GSR2 (General Safety Regulation2) market requirements and in combination with our PMICs and timing ICs, offer a BOM optimized solution, enabling OEMs and Tier 1s for fast development and time to market.

Renesas is now entering the automotive radar market with the introduction of a 4x4-channel, 76-81GHz transceiver designed to meet the demanding requirements of ADAS and Level 3 and higher autonomous driving applications. Leveraging automotive expertise accumulated through years of global customer engagements, Renesas will incorporate the new RAA270205 high-definition radar transceiver into its growing sensor fusion portfolio, which combines radar, vision systems, and other sensing modalities.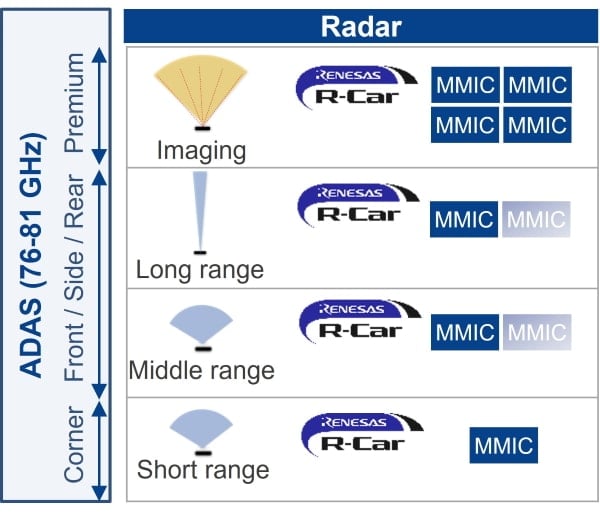 To capture the latest market trends for central computing, Renesas has now released the 4th generation of products, such as the R-Car S4 and R-Car V4H. The R-Car V4H has been developed to address a central AD domain controller with a high level of integration – It  processes raw data from cameras, radar and LiDAR, performs sensor fusion and driving planning, and communicates instructions with the ECU. 
Using the latest technology for software development and deep learning, the R-Car offers advanced AI capabilities that consume low power and meet the ISO26262 functional safety standard.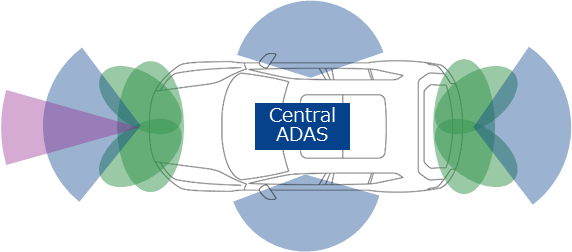 Renesas is working on next-generation SoC solutions to support software-defined vehicles and a central high computing platform for further integration beyond the AD/ADAS domain. Stay tuned for more updates from us.