Published: November 1, 2021
Renesas is pleased to announce its first hybrid, power line communication plus sub-GHz RF reference platform (Y-G-HYBRID-PLC-RF).  
Image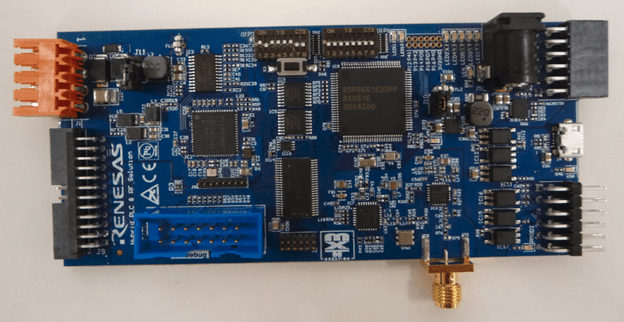 Renesas has combined its Cool Phoenix 3 (CPX3) (R9A06G37) device, the third-generation device of the award-winning Cool Phoenix family, with one of its high performance, low current consumption, IEEE 802.15.4g-compliant, system-on-chip sub-GHz wireless communication solutions, TsuRuGi (RAA604S00).
This combination creates an extremely powerful and versatile reference board capable of supporting all the key communication protocols such as WiSUN, G3-PLC, G3-PLC Hybrid, PRIME 1.3.6 + 1.4, PRIME 1.4 Hybrid and Meters and More, in all the global frequency bands for both media. All of which is achieved with a single PCB design.
This is the next evolutionary step for many of the communication applications in the industrial area, such applications include Smart Grid and Solar Power, Smart Metering, Building Management, Smart Home and HEMS, and HVAC and Lighting Control, to mention a few.
This reference platform follows Renesas' unique concept of flexible, highly modular and software-configurable communication systems to provide all the necessary reusable building blocks. This well-structured concept allows fast turnaround time and makes developing and designing robust communication systems simple.
Renesas' WiSUN software stacks are implemented and available on either the RX651 32-Bit Performance/Efficiency MCUs or the RL78/G1H 16-Bit Lowest Power Sub-GHz Wireless Communication Microcontrollers.
Both devices CPX3 (Power Line Communication (PLC) Solutions) and TsuRuGi (Sub-GHz/Wi-SUN Protocol Stack) are part of the "golden units" used for certification purposes in the related alliances.
Renesas will be showcasing this reference board at Enlit Europe on Stand 8.F46. Please register for a free entry pass (Enlit Europe 2021 (circdata.com)) and join us to learn more about Renesas Connectivity Solutions.