Published: July 1, 2022
Industry 4.0 is the next generation of industrial automation, allowing the affiliates to optimize their factories and augment their production process with the interconnectivity of industrial equipment and increasing computation. The Fourth Industrial Revolution conceptualizes rapid change in technology, industries, societal patterns and processes in the 21st century which is due to increasing interconnectivity and smart automation. It is a new chapter in industrial development, empowered by extraordinary technological advances commensurate with those of the first, second, and third industrial revolutions. These advances are converging the physical, digital, and living worlds in ways that create both huge promises and potential peril. It is more than just a technology-driven change; it is an opportunity to help the stakeholders harness converging technologies to create an inclusive, human-centered future to achieve sustainability. Interoperability, information transparency, technical assistance, and decentralized decisions are the basic principles of establishing Industry 4.0. Figure 1 provides the insights of same in identifying and implementing Industry 4.0. IoT facilitates the devices to communicate with each other, leading to the creation of a virtual copy of physical world data. This assists the operators to visualize/analyze the related process involved and eventually making decisions on their own to perform tasks as autonomously as possible.
Industry 4.0 is regarded as a series of disruptive and ever-growing innovations in production and leaps in industrial processes with the objective of achieving excellence in terms of productivity, safety, and related cost involved. Various key enabling technologies are being practiced in the industrial arena for the same (Figure 2).
From improving production and quality to related safety and cost involved, Industry 4.0 has created solutions for day-to-day industrial problems. It has demonstrated various paradigms for asset utilization and resource-energy optimization. Figure 3 summarizes some of the major add-ons which can be achieved through industry 4.0.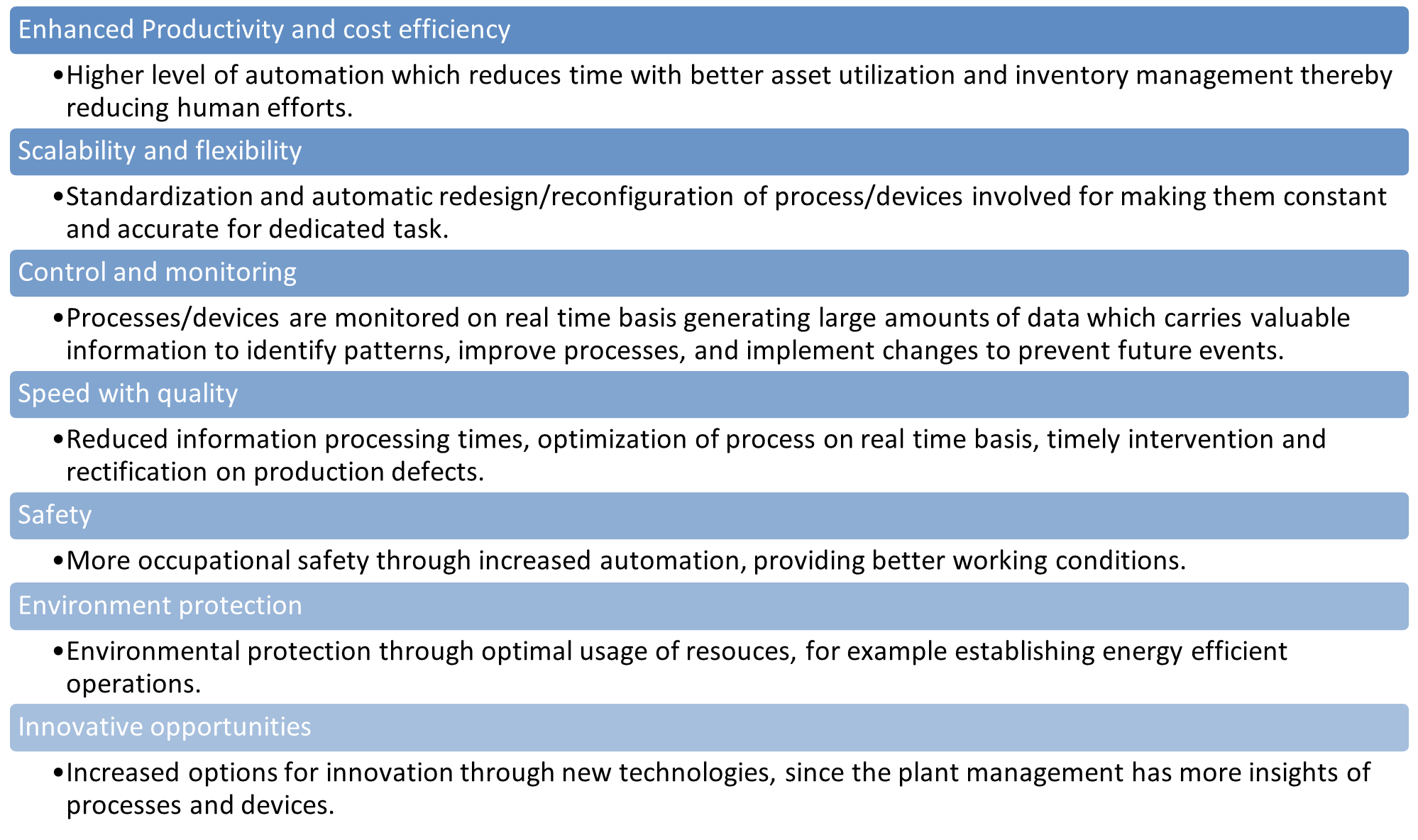 Key Challenges in Industry 4.0 Adoption
There are a number of challenges faced by Industry 4.0 solution providers. Some of them are associated with effective implementation of different technologies in a system while achieving optimal performance. In particular, integration of multifaceted technologies such as IoT, AI, multi-protocol communication interfaces, etc. coming from different vendors including proprietary software frameworks are the main barriers. In addition, a smart factory requires robust operation of its equipment to ensure the automation process is seamless and avoid any functional failures. Therefore, implementation of optimal functional safety measures is a key concern for any industrial manufacturer. This is ensured by complying to rigorous industrial standards and certifications regulated by various agencies worldwide.

Figure 5 demonstrates a typical Industry 4.0 use case covering different equipment, energy sources and dedicated sensors. In this case, the supply chain is equipped with tracking and monitoring of different equipment as well the overall factory operations on a real-time basis. All units share the information with a centralized cloud server and facilitate the operation in terms of resource utilization, energy, and process optimization along with improving the end-product/service. The large amount of data acquired during the whole operation provides the ability to augment at each level in an automated way. However, the success of the automation will require adequate understanding of processes along with effective convergence of Operation Technology & Information Technology and comprehensive data analytical approach.

Renesas Your Partner in Industrial Automation & Industry 4.0 
Renesas offers state-of-the-art solutions for a wide range of industrial automation applications that support the implementation of the industry 4.0 standards. Our product portfolio includes high-end industrial-grade ICs including MCUs/ MPUs, power devices, sensors, communication interfaces, and a number of connectivity solutions.  Whether you are developing a motor drive, system control, sensor solution, industrial network, or communication interface, Renesas accelerates application development with dedicated industrial automation solutions keeping robust industrial control, functional safety and security in mind. The winning combinations cover analog + power + embedded processing devices along with a supported software framework to ensure the end products can work together optimally, enabling customers to speed up their time to market. With focus on industrial, infrastructure and process automation, Renesas provides a complete portfolio of products to its customers and partners worldwide. Not limited to factory automation, Renesas provides efficient solutions for all types of Industry 4.0 applications in a wide range of segments.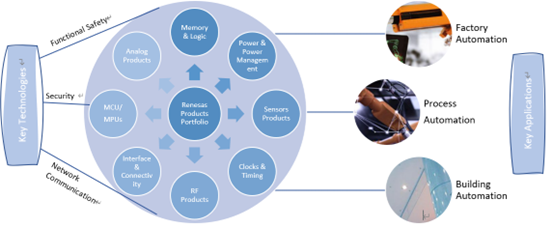 Industry 4.0 revolutionize the entire automation process. Emerging technologies like cloud computing, data analytics, AI, and machine learning (ML) are playing a vital role in the next generation of IA designs. Industry 4.0 allows for greater flexibility across the manufacturing operation, which helps to ensure better equipment utilization and in turn help to achieve increased revenue and future growth. The path to the development of billions of smart devices is opening up wide and creating new industrial applications and business streams that were not possible before. Unleash your imagination as what is to come is beyond expectations! 
At Renesas Electronics, we invite you to take advantage of our high-performance MCUs and A&P portfolio combined with a complete software platform and tools to build leading Industry 4.0 solutions.