Industry's highest class sub-GHz wireless communication solutions in terms of performance and ease of design
---
Sub-GHz Wireless Communication Solutions
Sub-gigahertz (sub-GHz) wireless communications1 technology uses waves around the 920 MHz band. With the proliferation of the Wi-SUN Alliance's international wireless communication standards, sub-GHz wireless communications are being rapidly adopted by the market. Compared to Wi-Fi and BLE (Bluetooth Low Energy), which use the 2.4 GHz band, sub-GHz wireless communications have the following features.
Renesas offers sub-GHz wireless communication solutions with a high-performance IEEE802.15.4g-compliant system on chip, convenient starter kits, and software stacks certified by the Wi-SUN Alliance to help you easily start developing your application.
Notes
FSK communication compliant with IEEE802.15.4g.
Range of communication varies depending on mode, obstructions, presence of shielding, layout conditions, surroundings, and so on, so these distance values are not categorical. They are reference values only, and are not guaranteed.
Applications of Sub-GHz Wireless Communication Solutions
Image
Smart grid
Building management and lighting
Infrastructure monitoring
Smart meter
Factory automation, sensing, and remote control
Smart agriculture and fishing industry
Disaster & crime prevention and security
Smart home and HEMS
Monitoring (sick, elderly, children)
Sub-GHz Wireless Communication Devices With High Performance and Ease of Design
Renesas' sub-GHz wireless communication devices are a wireless communications IC and microcontrollers (MCUs) with on-chip wireless function. The RAA604S00 wireless communications IC has built-in RF peripheral components and hardware supporting IEEE 802.15.4g/e, and realizes the lowest level of current consumption in the industry. The RL78/G1H MCU with on-chip wireless function is a single-chip solution integrating the ultra-low-power RL78 core with wireless communication function. Choose from these two devices according to the needs of your system.
RL78/G1H and RAA604S00 product information
Starters Kits For Easy Development and Evaluation
These evaluation boards have been certified for technical standard conformance for Japan and CE certification for the European Union, and are used by the Certified Test Bed Unit (CTBU) authorized by the Wi-SUN Alliance.
Choose from among three starter kits according to the needs of your system.
*These evaluation boards are developed, manufactured, and sold by Tessera Technology.
The evaluation boards can be purchased from Chip One Stop.
For evaluation boards details, please contact Tessera Technology.
Inquire about these evaluation boards RX651 product information RL78/G14 product information
Software Stacks That Facilitate System Design
Software for Renesas' sub-GHz wireless communication solutions are implemented on the Renesas RX651 microcontroller + RAA604S00 set or on the RL78/G1H microcontroller and it realizes the wireless communication protocol of Wi-SUN profile based on the international standard IEEE802.15.4.
The Wi-SUN Alliance, which is a standardization organization, has conducted an interoperability test and our solution has passed this test. In addition, since it is used as Wi-SUN Alliance certification standard parts, you can carry out system design for a wireless network with peace of mind.
Choose from the following packages according to the needs of your system.
Image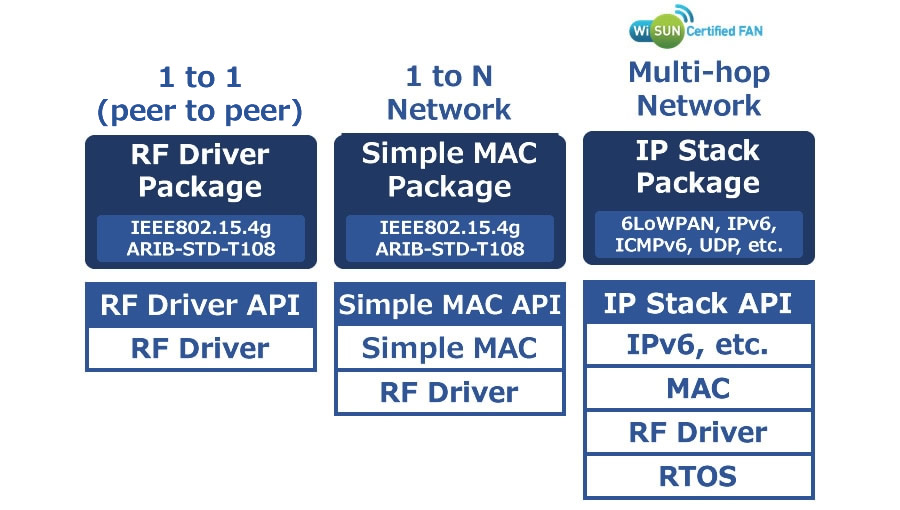 ---
Wi-SUN FAN
The IP stack package supports the IP network of "Wi-SUN FAN Profile". Wi-SUN FAN is expected overseas as a wireless network not only smart meters but also smart cities / smart grids represented by infrastructure management such as logistics / building automation, smart street lights, parking systems, traffic management, etc.
Image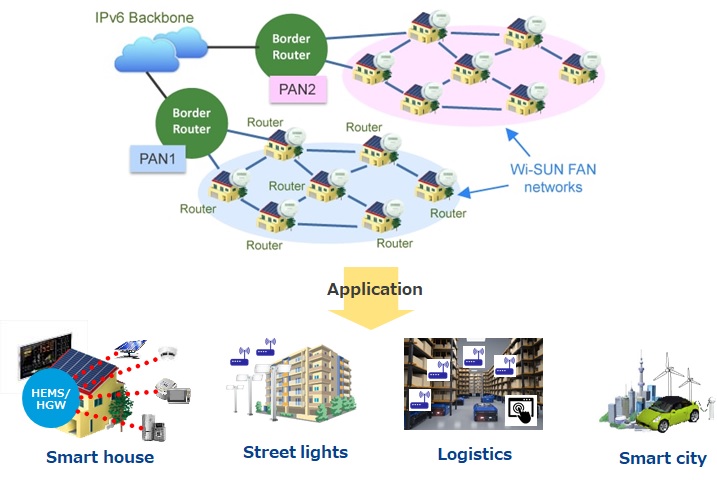 Wi-SUN FAN product information
Wi-SUN Alliance FAN Interoperability Demo
---
Evaluation Tools For Visualizing Wireless Communications
Wireless signal strength is easily affected by obstructions in an outdoor environment and other factors, so analyzing the state of communications is difficult. Renesas offers evaluation tools that can visualize wireless communication data and display an analysis of that data.
Inquire about these evaluation tools
Wi-SUN Alliance
With the spread of the Internet of Things (IoT), wireless networks are used to relay data back and forth between devices that are equipped with communication functions, and network system complexity and scale are expected to increase. The Wi-SUN Alliance drives the standardization and creation of profiles for communication protocols that can ensure interconnectivity in these diversifying networks. Renesas has been a strong promoter of research and development and international standardization for the Wi-SUN Alliance since its establishment, and develops solutions that support the protocols of the Wi-SUN Alliance.
Partners
Neona EmbeddedD LabZ
Inesh Smart Energy (P) Ltd.
Industrial Controls & Drives (INDIA) Pvt. Ltd.
Vizmonet Pte. Ltd.