LoRa®-based Solutions Make Low-Power Wide-Area Networks Possible
---
Overview
LoRa®-based Solutions
LoRa® is a spread spectrum modulation technique derived from chirp spread spectrum (CSS) technology developed by Semtech Corporation. Our LoRa® -based solutions use the sub-GHz frequency band of frequencies below 1 GHz), and can cover a wide area with low power consumption.
LoRa® realizes a maximum transmission rate of 11 kbps and a maximum transmission distance of around 20 km. LoRa® supports a wider transmission area than Wi-SUN.
The LoRaWAN® open specification is a low power, wide area networking (LPWAN) protocol based on LoRa® Technology. The LoRaWAN® is an open global standard maintained by the LoRa Alliance®, an open non-profit association.
Image

Applications of LoRa®-based Solutions
LoRa® is suitable for wireless data communications that send small amounts of data over long distances at a low data rate periodically or not so frequently.
Image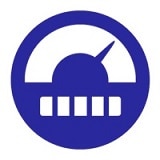 Gas meter
Water flow meter
Vending machine data collection
Image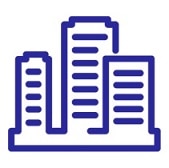 Structural change notification
Building/parking facility management
Warehouse inventory management
Image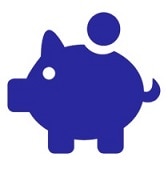 Agriculture/livestock management
Livestock feeding management
Livestock location monitoring
Image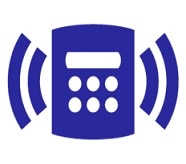 Healthcare data management
People tracking
---
Tools
Development Environment for Easy Development and Evaluation
The software development environment consists of the RL78/G23-64p Fast Prototyping Board, RL78/G23-128p Fast Prototyping Board or RL78/G14 Fast Prototyping Board and the Semtech SX1261/1262 Shield.
Product Information
Notes on using the RF transceiver:
The use of wireless receivers and transmitters is restricted by international standards and domestic regulations. Wireless receivers and transmitters must therefore be used in accordance with the applicable laws and regulations of the country in which they are being used.
---
Solutions
LoRa®-based Solutions for Low Power
One of Renesas' solutions comprises a low power RL78 microcontroller (RL78/G23, RL78/G14) and a LoRa® transceiver (Semtech SX1261/SX1262) for low power operation. This solution contributes to the realization of IoT sensor end-devices with long battery life.
System Configuration
Sleep/Reception/Transmission Current Comparison
LoRaWAN® Average Current (Estimation): LoRaWAN® Class A Operation - TX + RX (ACK)
Low power consumption of LoRaWAN® stack
LoRaWAN® stack shifts RF part to the most suitable low consumption mode automatically according to the internal operating state.
MCU part can be shifted to a low consumption mode during frame sending and receiving.
Low power timer function optimized for intermittent operation is supported. This can also be used from an application.
Software for Ease of Design
Renesas offers software for controlling a LoRa® transceiver (Semtech SX1261/SX1262) using a low power RL78 microcontroller (RL78/G23, RL78/G14). For applications that require interoperability, there is the LoRaWAN® protocol stack based on the LoRaWAN® specification which implements LoRaWAN® protocol (Class A, Class B* and Class C) specified in the specification version 1.0.2/1.0.3/1.0.4. Control is performed using AT commands. For applications for which interoperability is not necessary, there is a radio driver for LoRa® for custom protocol implementation. (*Class B conforms to version 1.0.3/1.0.4)
 
Supporting of Firmware Update over LoRaWAN®
FUOTA (Firmware Updates Over The Air) provides a function to remotely update a firmware over wireless communication. This function is a key feature for IoT applications deployed widely in the field and that require long term operation. The LoRa Alliance® standardized the FUOTA process utilizing the application layer protocols on top of the LoRaWAN® protocol, such as Clock Synchronization Message Package, Remote Multicast Setup Package and Fragmented Data Block Transport Package. These protocols can deliver a firmware image to multiple devices at the time specified by an application server.
Wireless Communication Tools for Ease of Evaluation
Renesas offers tools that make evaluating characteristics easy. Renesas LPWA Studio can perform continuous CW/Modulation transmission, PER (Packet Error Rate) / BER (Bit Error Rate) measurement, and RSSI measurement. It also has a sniffer function that captures LoRa®/GFSK modulation frames over the air and displays analysis results. Renesas also offers a tool that estimates power consumption.
Image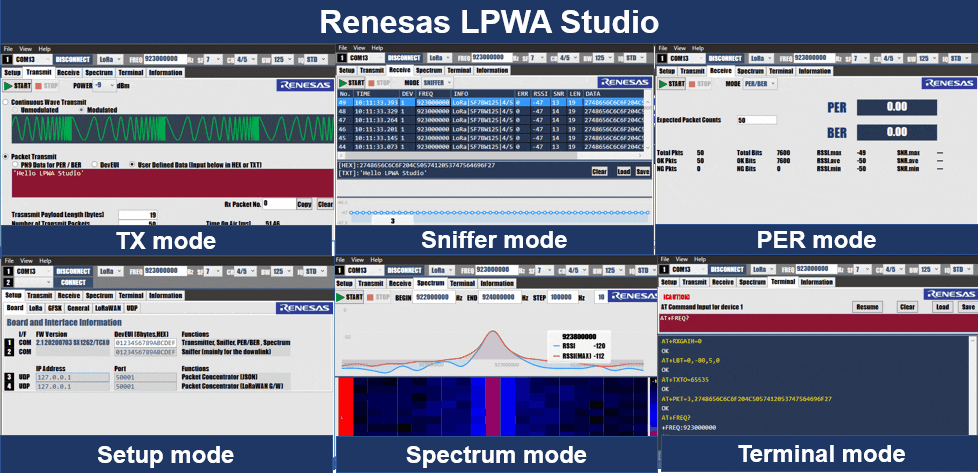 Example of Sensor Data Visualization
The transmission node side transmits the value of the HS3001 temperature and humidity sensor by LoRa®-based wireless. Then, the receiving node side can receive and visualize the data in real time.
Image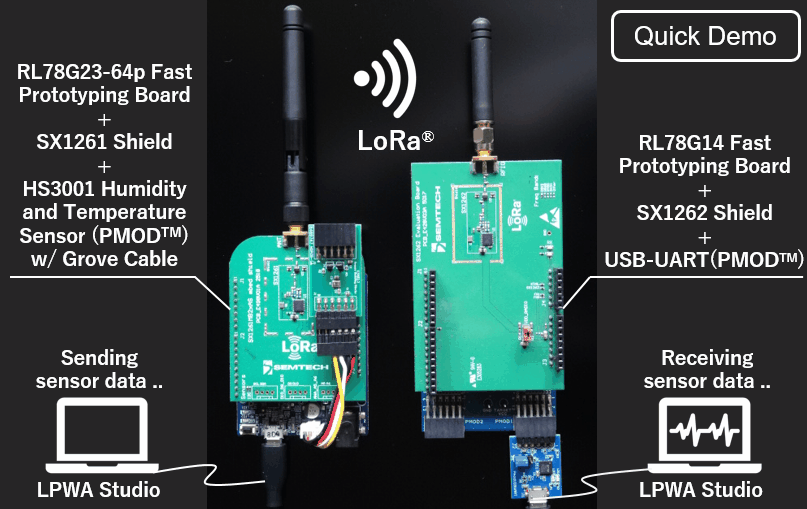 ---
Technical Standards
The development of LPWA wireless networks continues to progress with the proliferation of IoT. Various standardization and promotion organizations are making vigorous efforts to create specifications and promote widespread adoption of their specifications to create a global IoT market.
The LoRa Alliance® is advancing LoRaWAN® standardization and its promotion, and is engaged in efforts to develop low-power wide-area wireless networks that use frequency bands that do not require licensing.
Renesas is a contributor member of the LoRa Alliance®, and will continue to contribute to both the standardization and promotion activities of LoRaWAN®, which is expected to further expand in the future.
LoRaWAN® networks simplify system building. LoRaWAN® is a wireless specification that achieves low-power wide-area (LPWA) wireless networks for the Internet of Things (IoT) as an open global standard.
Learn more about the LoRa Alliance®
---
Example of Application
Introduces you how to visualize sensor data transmitted by the RL78 Sensor Node to the Cloud (AWS/Azure/GCP/Cayenne) via LoRaWAN® networks. Refer to LoRaWAN® Sensor Demo.
---
Partners
DTDS Technology Pte Ltd
Product Description & Features
DTDS's 622 Module is LoRaWAN® compliant with both Class A and Class C of the protocol specification and includes an embedded Renesas RL78/G13 microcontroller to provide leading low power consumption for use in smart utility, smart home, smart agriculture, smart lighting, and smart transportation applications. It is suitable for long range sensor-based interfaces with an external host MCU over AT commands and supports the 868MHz, 915MHz and 923MHz operation bands.
Key Features:
Best performance in operating voltage (VCC) range: 1.8 to 3.7V
Best performance in receiver sensitivity performance: -137dBm @ SF12 BW=125KHz
Lowest in transmission current: 122mA @ 22dBm
Low power consumption to enhance battery life (>10 years)
UFL connector for design flexibility
Evaluation board with industry standard PMOD interface and two antenna connector interfaces (SMA, UFL) for development purposes
Contact:
Image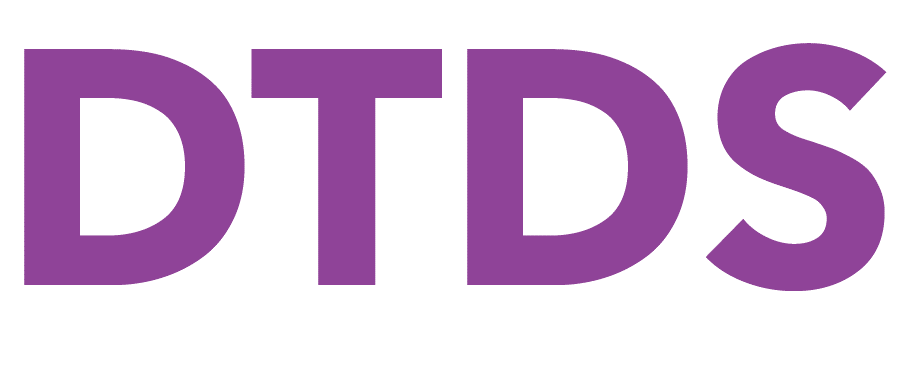 Image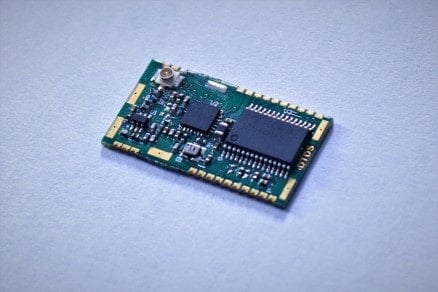 Image