Automotive Industry Trends
Megatrends - From Needs to Market Changes
As megatrends in the automotive market, the following markets are expected to grow rapidly: "electrification" due to the acceleration of global efforts to achieve "zero emissions," "automation" such as ADAS (Advanced Driver Assistance Systems) and AD (Automated Driving) due to the increasing demand for safety and security, and "connected" due to the pursuit of comfort and convenience and the evolution of in-vehicle E/E (Electric/Electronic) architecture. What will be the impact of these changing trends on automotive engineers?
Image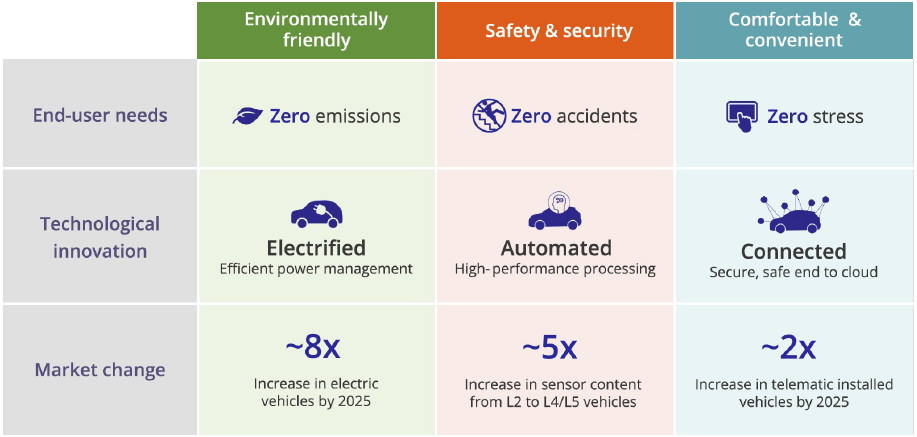 Significant Market Growth in New Areas and Changes in the Development Environment
These changes in global megatrends are having a major impact on applications such as xEVs, ADAS and Gateway. As a result, technological innovation in various fields, especially in software, will be required to shorten the development process and increase functionality as value-added.
Image

High Functionality and Complexity of System Will Lead to Increased Development Efforts
Value creation, which used to be centered on hardware (HW), is now shifting to software (SW) and services. As a result, the scale of SW running on the system is increasing exponentially, and a significant increase in SW development efforts has become an issue. The graph on the right shows the annual trend of the number of SW lines that control automobiles. Currently, the number of lines has reached 200 million, and the scale is expected to expand further with the evolution of functions such as autonomous driving. Therefore, SW needs to have a more efficient and user-friendly development environment in order to reduce the development burden on customers.
Why Software First?
Image
Renesas Solutions
To address the issues that automotive engineers are facing, such as the increasing sophistication of development and the resulting lengthening of the development period, Renesas offers two solutions for automotive engineers wanting to reduce development time and create more
Easy-to-start

Provide an environment that makes it easy for engineers to start development

Winning Combinations

Provide the most beneficial combinations of products for each application
Image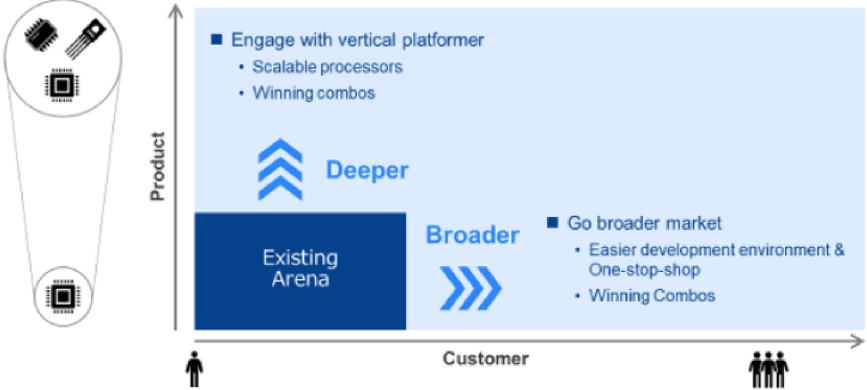 Easy-to-Start
In addition to user manuals and application notes, Renesas' solutions provide access to reference documents, and engineering community, training programs, and a host of other services to help engineers establish better development environments. Renesas' software products for client system development transcend software generations, segments, and applications, making them reusable and therefore reducing development costs.
Image

Winning Combinations
We offer a comprehensive lineup of MCUs, SoCs, Power, and Analogs. By using pre-verified reference designs with the right combination of products, we can accelerate design and shorten product development cycles while adding value.
Image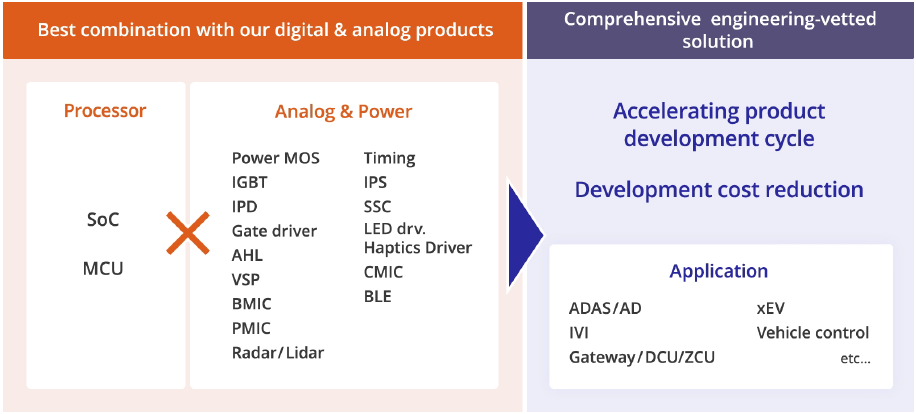 Renesas Achievements
Advanced automakers are already actively using Renesas solutions.