HVPAK™ Programmable Mixed-Signal Matrix with Operating Voltage up to 26.4 V and up to 3 A current per output
The HVPAK combines mixed-signal logic and high-voltage H-/Half-bridge functionality in a tiny 2 mm x 3 mm QFN package. One-time programmable (OTP) non-volatile memory (NVM) stores user-defined solutions in the form of interconnections of internal logic, I/O pins, and macrocells.
Get your motor running with HVPAK!
The HVPAK advanced PWM macrocells provide the ability to drive multiple motors with different PWM frequencies and duty cycles. Low idle current consumption in combination with a compact size further extends the field of possible applications. This highly versatile device allows a wide variety of mixed-signal functions to be designed alongside high-voltage capabilities within a tiny and thermally-efficient IC.
Savings
Replace multiple ICs:
motor driver + logic + comparator + voltage monitor + etc.
Safety
Add more hardware protection to increase system reliability
Flexibility
Create a custom motor driving solution or add more functionality into one IC
Application Optimization
Use HVPAK as a standalone load driver or integrate motor control functionality
---
画像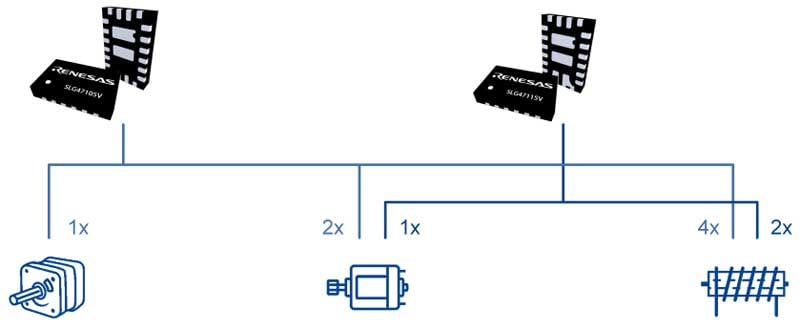 Stepper Motor
Full-, half-, microstep mode
Configurable current limit
Configurable fault monitor
Sleep mode
DC Motors
Constant voltage mode
Constant current mode
Custom current sensing
Custom fault monitor
PWM soft start
Solenoids
No need for external diode for relay coil
Multi-drivers
Zero-crossing detection

Check out HVPAK Application Solutions and discover its full potential for your next design!