Published: May 17, 2023
There are many challenges faced by customers who are building wireless IoT systems. There is a need to select the best communication method out of many available wireless communication methods, be able to design the wireless system easily, operate using batteries, and make the communication choice cost-effective. A solution from Renesas that addresses these challenges is based on the R9A06G062, a sub-GHz wireless communication transceiver.
Wi-SUN FAN network enables robust high-speed communication, ultra-low power operation and large scale network
Wireless communications based on the advantage of Sub-GHz band features: Compared to the 2.4GHz band which is used for Wi-Fi and many other wireless communications, the Sub-GHz band offers robust wireless communications that reach farther, bypass obstacles, and cause less radio interference.
Wi-SUN FAN (Wireless Smart Utility Network for Field Area Networks) is an international standard for wide-area and long-distance communications using radio waves in the Sub-GHz band – a frequency area below 1 GHz – which has been popularly used in smart electricity, gas, and water meters. Compliance with the Wi-SUN FAN 1.1 profile supports orthogonal frequency-division multiplexing (OFDM) modulation and ultra-low power consumption operation with intermittent operation (LFN: Limited Function Node). The high-speed communication of OFDM modulation enables data to be transmitted in a shorter period of time, while the LFN function is ideal for battery-powered devices such as sensor equipment.
R9A06G062 supports the Wi-SUN FAN 1.1 profile, which allows installation of many network terminal devices using LFNs and enables large-scale network construction while maintaining compatibility with the conventional Wi-SUN FAN standard FAN 1.0 profile.
International Standard: The new R9A06G062 Wi-SUN FAN 1.1 certified solution complies with the international Wi-SUN FAN standard. Communication between devices compliant with the standard is assured, allowing customers to focus on developing the application layer that controls the network.
No communication costs required: The Sub-GHz band is a license-free frequency band. Since there is Wi-SUN FAN network communication between the R9A06G062 devices installed in the customer's equipment, there is no special installation work or costs to be paid to telecommunication carriers. This leads to a reduction in system operating costs.
Rich development support tools: Renesas provides board design guidelines, PC tools for wireless performance evaluation, and PC tools for Wi-SUN FAN network evaluation. We also support hardware and software development for our customers.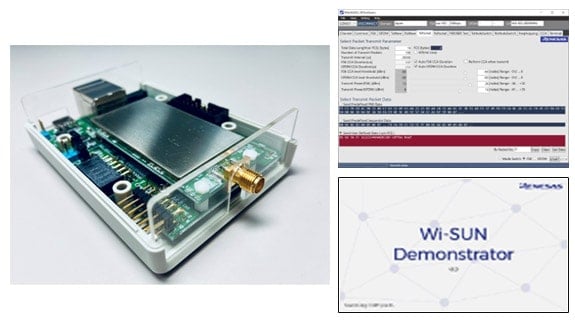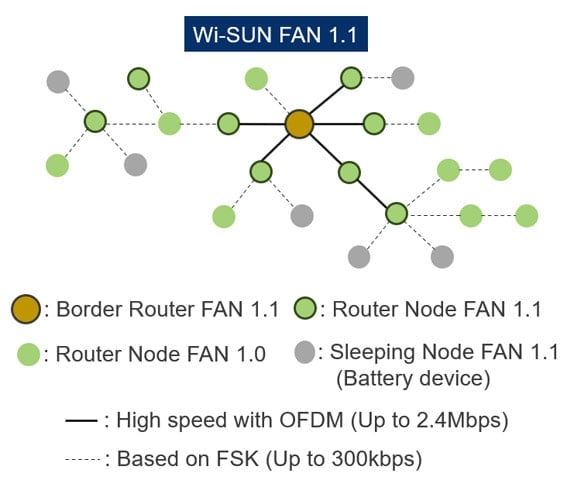 Renesas is a founding member of the Wi-SUN Alliance – the organization setting the standards for Wi-SUN – and has been a board member since its establishment, promoting the Wi-SUN standard. Through its many years of experience and activities in the Alliance, Renesas has been accelerating the penetration of Wi-SUN FAN not only in the smart meter field, but also in a wide range of wireless IoT systems. Renesas' R9A06G062 and Wi-SUN FAN 1.1 solutions are ideal for building and operating stable networks for accelerating a smart society.
For more details, visit the R9A06G062 Sub-GHz/Wi-SUN transceiver webpage.