Recently, motor applications are required to save energy, reduce system cost, and realize the integration of electronics and mechanics.
In this article, I will introduce a motor control solution for ceiling fan using RX13T that realizes these requirements.
This solution realizes motor and power supply control with a single chip while reducing external peripheral components by utilizing the build-in functions of the RX13T, and simultaneously achieving added values such as system cost reduction and energy saving.
Image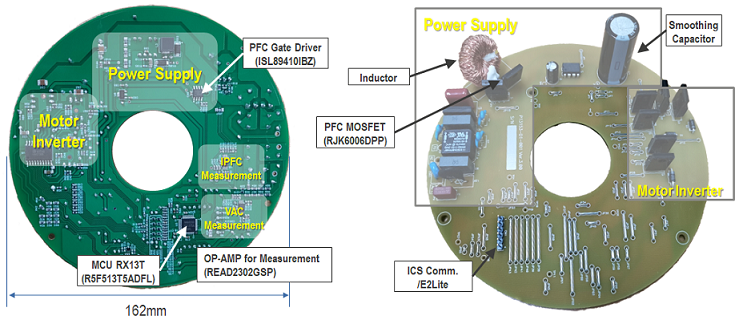 This solution has three features as below:
Reduces peripheral components and adopts a single-sided PCB board for reduction in board cost.
With RX13T built-in features such as high-speed on-chip oscillator (HOCO) that ensures ±1% even when stress occurs or due to deterioration over time, programable gain amplifier (PGA), and comparator, external peripheral components can be reduced and a cheaper single-sided board can be  adopted. 
Realizes implementation of smaller inductor on-board by High frequency PFC for power supply.
For the integration of electronics and mechanics, a smaller inductor was mounted on-board using high frequency PFC (carrier frequency of 50KHz) to replace a much bigger size transformer, which could not be mounted on-board before.
Realizes motor control (FOC + pickup control) and PFC control with a single chip.
Realizes motor control by FOC with pickup control that can restart during free-running, and PFC control (continuous current mode) with a single chip. This solution offers high power factor of about 99%, which is significantly improved comparing to other products without PFC offering which is about 65%.
Image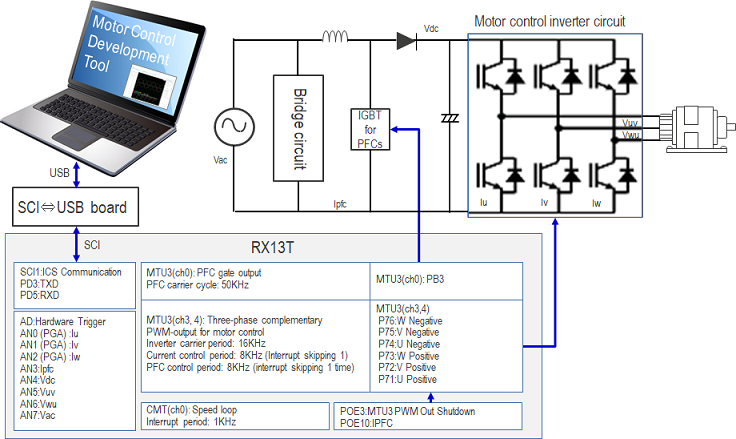 *As a support tool for motor control development, you can use Desk Top Lab ICS(In Circuit Scope) or Renesas Motor Workbench 2.0.
Renesas provides the Application Note, schematic of ceiling fan inverter board(Gerber data, BOM list), and the control software free of charge. You can start to build a system immediately by referring to this solution.
Please use this solution introduced this time as an example of energy saving, cost reduction, smaller footprint and many others added values. We will continue to pursue customers value improvement in both the solutions and MCUs, so please look forward to it.
Winning Combinations : Large Power BLDC Ceiling Fan with PFC