We offer a complete line of high quality software, high spec easy-to-use development tools, and various boards and kits for development environment for RX Family.
This fully designed development environment helps you develop your system more effectively and efficiently; reduces your development time and cost yet improves the quality of system. Furthermore, we offer our partner products and they will also enable you to have development environment best fit to your needs.
Development tool
Integrated developement environment
Renesas tools
e2 studio

e2 studio assists in setting up FreeRTOS, required drivers, network stack (TCP/IP, Wi-Fi, MQTT, etc.), component library (Device Shadow, etc.) to support software development for IoT devices.

Partner tool
Compiler
Renesas tool
CC-RX
Partner tools
Code Generation
Renesas tool
✔ Code generation function
✔ Importing Middleware
✔ Pin settings
Programmer
Renesas tools
PG-FP6
RX Family Solutions from Partners
Partner tools
Boards & Kits
Evaluation kits for solutions
Renesas tools
Renesas RX65N Cloud Kit

A cloud communication performance evaluation kit that provides an evaluation environment ideal for developers of IoT devices. Ability to make a Wi-Fi connection to Amazon Web Services (AWS).

✔ Touch key control
✔ Motor control
✔ Communications security
✔ HMI
✔ Industrial functional safety
MCU Evaluation Boards and Kits
Renesas tools

ALL-IN-ONE kits to jump start evaluating

For choosing an MCU
before starting system development
Boards and Kits from Partners
Partner tools
Software
OS / Middleware / Driver
Renesas tools

✔ Protocol Stack
✔ Security
✔ On-chip Flash Memory
Partner tool
Renesas's RX65N Cloud Kit is certified for FreeRTOS provided by Amazon Web Services (AWS). Renesas supports smart development of FreeRTOS projects with speed by supplying solutions such as the RX driver package and e2 studio with extensive support features.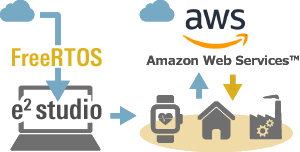 ✔ Device shadow
✔ MQTT
✔ Greengrass
✔ TCP IP
✔ Secure Socket
Software from Partners
Partner tools
Development Tool
Renesas supports all stages of the development of RX applications by supplying integrated development environments (e2 studio, CS+), easy-to-use emulators and programming tools that dramatically enhance the development process. A "Solution Toolkit," an extension plug-in designed to run on Renesas integrated development environments is also available to help users reduce the time and cost required for development.
| Product / Service | Description |
| --- | --- |
| e² studio | e2 studio can download the latest FreeRTOS projects from GitHub® and provides assistance with settings and building. If you want to make touch interface settings and tuning sensitivity or if you are interested in using some of development support tools available for systems with USB and Bluetooth® low energy, e2 studio is the ideal choice. |
| CS+ | You can easily install basic software tools needed for software development of Renesas MCUs, and use them right away. CS+ is recommended for customers who are interested in using standard features in a simple and convenient integrated development environment. |
| C/C++ Compiler Package for RX Family | In the development of embedded systems, the CC-RX compiler offers powerful optimization functions for enhancing execution speed and code efficiency, and a variety of embedded functions to increase productivity. |
| E2 emulator Lite | An affordably priced entry model recommended for new starters. Suitable for a range of applications from study or hobby use to full-scale development work. |
| E2 emulator | An advanced model designed for greater efficiency in development. Supports high-speed downloading and the input and output of external triggers. The hot plug-in function is also available without an optional adapter. |
| E20 emulator | A more advanced model with sophisticated debugging functions such as enhanced trace and RAM monitoring for RX600 and RX700. |
| Comparison of On-chip Debuggers for the RX Famil | Feature comparison of on-chip debugging emulators (also usable as flash programmers) for RX family. |
| PG-FP6 | A tool to program flash memory of Renesas microcontrollers. Ability to erase, write and verify programs on the user system. |
| Renesas Flash Programmer (Programming GUI) | Programming software that supports flash memory programming both in development and mass-production phases. Simple GUI is available, allowing even users with little experience in development to easily write programs. By using encryption, you can strongly protect program files against theft. |
Boards & Kits
A range of evaluation boards are available to match the needs of different users, such as performance evaluation and initial introduction of devices, or designing of evaluation circuits and prototyping of application products.
Search for products to buy on the product list >>
Product / Service
Description
Target Board for RX family
Target Board for RX can be used for simple RX MCU evaluation and development. With the built-in emulator circuit, there is no need for the E1 Emulator or E2 Emulator Lite to perform application development.
Renesas Starter Kits
Each kit contains all the necessary components of a development environment for evaluation and initial introduction of an MCU product. By using the emulator, integrated development environment and sample programs included in the package, you can dive right into coding, debugging and evaluating solutions.
Envision Kit
The Envision Kit can be used for evaluation of security for IoT devices and peripheral functions such Ether and SDHI. An on-board emulator is provided, allowing users to start application development without the need for the E1 or E2 Lite.
CPU Card
The CPU card allows evaluation of motor control of an MCU mounted on the board. Available as an option board for 24V Motor Control Evaluation System for RX23T
Renesas RX65N Cloud Kit
Renesas RX65N Cloud Kit is a cloud communications evaluation kit certified for FreeRTOS. By offering an ideal evaluation environment, it enables users to get started with development of IoT devices. With the built-in emulator circuit, there is no need for the E1 Emulator or E2 Emulator Lite to perform application development.
Capacitive Touch Evaluation System


RTK0EG0003S02001BJ




Y-RX113CAPT01

This evaluation kit makes it easy to evaluate touch key solutions. Using the board and software included in the kit, evaluation can be started immediately after purchase.
Software
Available software packages include board-specific programs, peripheral function drivers, middleware and documents illustrating usage procedures to enable customers to get started with development work right away. Numerous sample code and documents are also available, illustrating application examples that make use of these packages as well as examples of device control.
Product / Service
Description
RX Driver Package
The RX Driver Package includes everything from board-specific programs, peripheral function drivers, middleware to documents illustrating usage procedures. For security libraries and DSP library, refer to FIT modules supported by device group.
FIT modules supported by device group >>
RI600V4 Real-time OS for RX Family
Real-time OS for the RX family with compact design, superior real-time features and abundant service calls. Compliant with μITRON4.0 standard. Realizing high-quality real-time multitasking systems.

RI600PX Real-time OS for RX Family
The RI600PX was developed based on the RI600V4 with additional memory protection function of the µITRON 4.0 protection extension. Almost all service calls in it except Rendezvous are supported.
FreeRTOS
e2 studio supports software development for IoT devices connecting to Amazon Web Services (AWS).
For how to create and build a FreeRTOS project in e2 studio, refer to the following FAQ.
FAQ " Building FreeRTOS projects in e² studio "