Empowering Innovation Across Industries with GreenPAK
Renesas GreenPAK ICs are a family of configurable mixed-signal ICs that provide a small, cost-friendly, and personalized solution for many system-level circuit designs. GreenPAK provides a means of considerably reducing PCB size, BOM cost, and design time. Due to the features, configurability, and broad family of ICs, a designer can use a GreenPAK in almost any application within most industries. To help designers get started on how GreenPAK can be used in their designs we gladly provide the GreenPAK Cookbook and GreenPAK applications notes.
GreenPAK Design Examples: GreenPAK Cookbook
Renesas provides designers with the GreenPAK Cookbook, a valuable resource that illustrates a wide range of practical applications for GreenPAK devices. This comprehensive guide delves into two areas:
Techniques are focused on a task accomplished using only one or a few macrocells
Applications describe how techniques can be meshed together to create real, valuable applications
Each application comes with an associated downloadable GreenPAK design file, that allows you to view and customize the design.
Making Your Own Design with the Cookbook
Within the cookbook, we present simple real-world applications that showcase the capabilities of GreenPAK ICs. Yet, these devices possess ample macrocells and functionalities that extend beyond the cookbook designs. GreenPAK technology has enabled designers to create countless unique designs, expanding, combining, and personalizing basic applications, often similar to those in the cookbook. For example, by combining the "Basic Sequencer" application with elements from "Chapter 4: Safety Features", a custom self-regulating sequencing application emerges.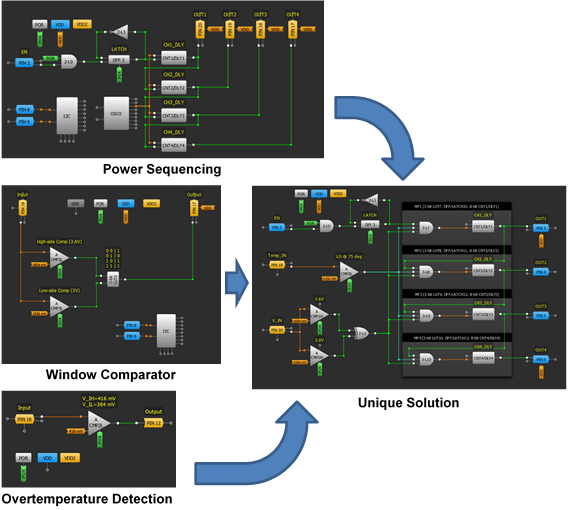 The resulting integrated solutions, although more complex, tap into only a fraction of the available macrocells. With the complete range of GreenPAK ICs at your disposal, possibilities for modifying the cookbook designs are virtually limitless. Whether adapting existing designs or incorporating techniques from this resource into your own creations, the freedom to innovate is entirely yours.
Application Notes Library
Explore a comprehensive array of application notes that encompass GreenPAK™, HVPAK™, AnalogPAK™, and Power GreenPAK™ products in the documentation section below. These notes showcase diverse design examples, providing practical insights while spotlighting embedded features and macrocells. Use our free Go Configure Software Hub to access these files, see circuit designs and make customized changes.
Designed for both newcomers and experts, our intuitive design files enable seamless exploration, adaptation, and integration of these designs into your projects. Find inspiration, streamline workflows, and expand possibilities through our application notes library in the documents section below.