Published: December 6, 2021
Motors are built into everything from simple home appliances to advanced industrial equipment in factories requiring multiple motors. The speed of technological innovation continues to advance and motors are growing more diversified according to the application. Simple DC motors can be controlled by switching while electronic control is performed by the MCU or MPU to adjust speed, torque, and in some cases, accurate position. In addition, as energy-saving regulations are adopted in each region, companies are having to develop products with the aim of realizing highly efficient motor control while consuming less power.
Due to the coronavirus pandemic, the need for home appliances has increased and changed now that more people are working remotely and spending more time at home. The demand for the replacement of air conditioners is on the rise, and in place of traveling, the sales of kitchen appliances have increased, especially in the high-end machine categories. In turn, motor equipment developers face the challenge of achieving early market launch of new features at a low cost. 
Renesas has supported this market by developing MCUs and various solutions for motor control for many years. Because we know manufacturers require complete systems with devices designed to help achieve these demanding design requirements, Renesas has also been creating a library of motor control reference solutions, also known as winning combinations. The latest of these is the BLDC Traction Motor Drive design.
This new motor control winning combination is built around two dedicated motor control devices, the RA6T2 MCU and RAA227063 3-phase smart MOSFET driver. These two devices offer the perfect combination of processing speed and power efficiency, making them ideal for traction motors that require miniaturization, such as those used in factory transfer robots, among others. RAA227063 integrates power management to power both the driver and RA6T2 directly from the battery, reducing the overall size of the circuit. The programmable RAA227063 allows designers to optimize the inverter power stage for different power levels by simply modifying the MOSFET and adjusting the slew rate, dead time, and gate drive with software. RA6T2 is equipped with abundant interface options, such as serial communication, SPI, I2C, and CAN FD and can communicate with the host system as well as provide synchronous operation with other motors.
Image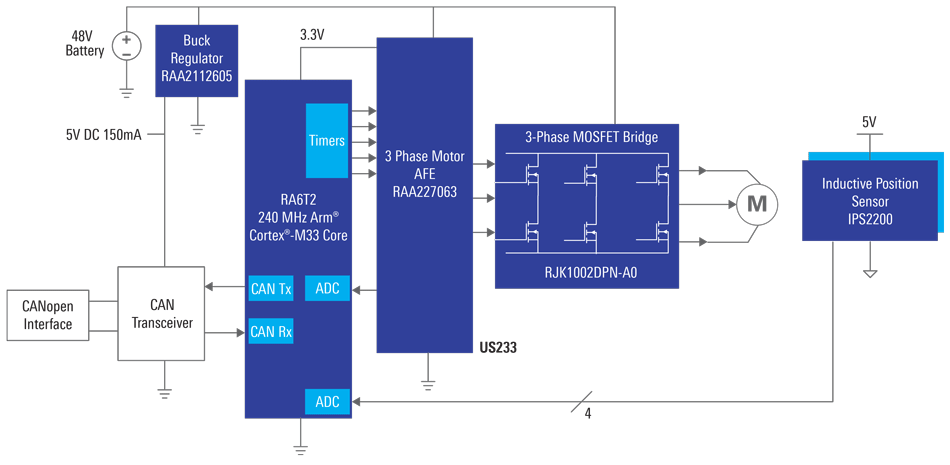 Figure 1: BLDC Motor Control for Traction Motors Winning Combination
New Featured Devices for Motor Control
The RA6T2 MCU is the second product in the RA family of application-specific standard products (ASSPs) for motor control that combines the Arm® Cortex® M33 CPU, high-speed flash memory, and peripheral functions required for motor control systems.
Image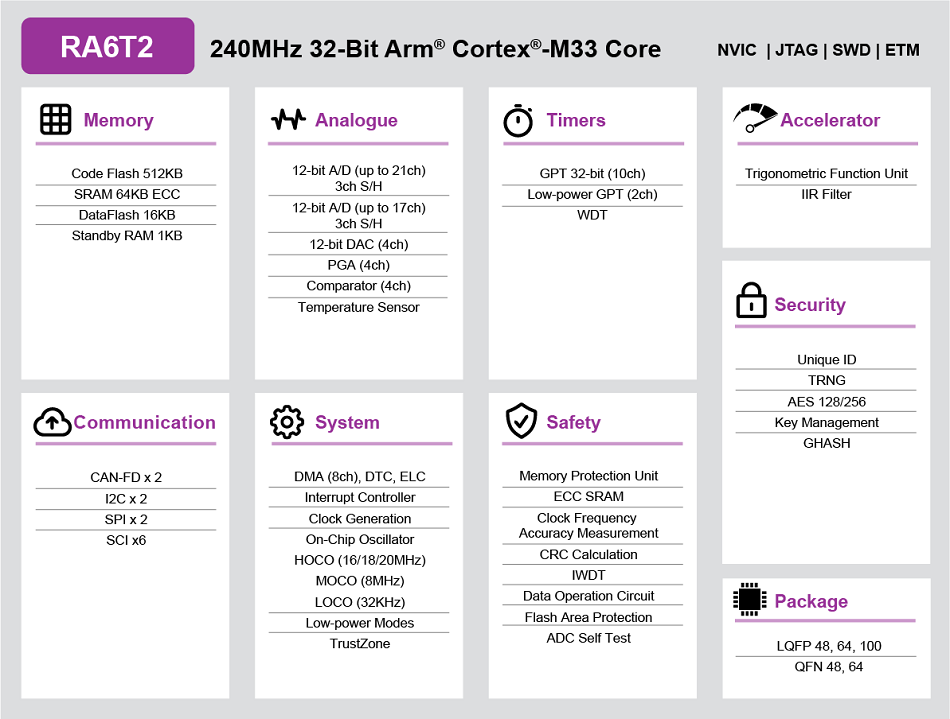 Figure 2:  RA6T2 Block Diagram 
A major feature of RA6T2 is the high real-time performance achieved by its CPU and flash memory operating at 240 MHz. Cache memory is effective for high-speed CPUs, but in the case of low-speed flash access, performance is degraded due to cache miss-hit penalty. For sequential programs, the prefetch feature and cache provide stable peak performance. Generally, motor control programs generate branch instructions and interrupts so access to flash memory is unavoidable as a miss-hit penalty. Even if a cache miss-hit occurs in RA6T2 and the flash memory is accessed, the performance is maintained due to its high speed. This is a great advantage for motor applications where real-time performance is paramount.
Image
Figure 3: RA6T2 real-time performance
The RAA227063 is a high-precision, high-efficiency smart 3-phase driver that simplifies BLDC motor design by driving a variety of motor configurations and motor control algorithms without making hardware changes. It pairs easily with any MCU so customers can scale the MCU to their application requirements. Integrated analog power components save board space, lower BOM cost, and allow for easy tuning.
RAA227063 integrates three half-bridge smart MOSFET drivers that are capable of driving up to three N-channel MOSFET bridges and supports bridge voltages from 4.5V to 60V. Each gate driver supports up to 1A source and 2A sink peak drive current with programmable drive strength control. Adjustable and adaptive dead times are implemented to ensure robustness and flexibility. The active gate holding mechanism prevents a Miller effect-induced cross-conduction and further enhances robustness. It is available in a 7 mm x 7 mm 48-lead QFN package.
Image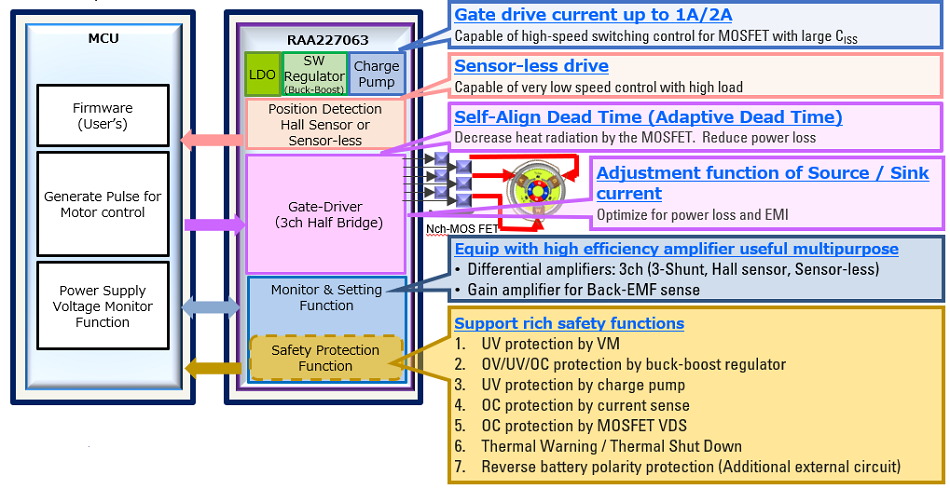 Figure 4: RAA227063 Block Diagram and Features
We have also created a motor control development kit including a motor and inverter board for 3-phase BLDC motors to build an environment where designers can evaluate the motor latest Renesas motor control solution for themselves. Learn more and order one at renesas.com/mck-ra6t2. 
Image
For more information, including technical documentation and samples please visit the following pages: