Published: May 8, 2021
Installing a GUI into embedded devices is becoming more common; however, it usually takes a long time to kick off the GUI development and accumulate the know-how when first starting development. For those who can't afford such long development times, we would like to introduce the QE for Display, which has achieved further improvement through new version updates.
By installing this tool as a plug-in for e2studio, which is an integrated development environment (IDE), a project with a GUI can be set up in 10 minutes. For more details about installation and setup, please also refer to the former blog, Easy GUI development by using Renesas development tool "QE for Display".
With v2.1.0 released in March 2021, the support for the Aeropoint GUI tool provided by CRI Middleware has been added. This allows not only existing evaluation boards such as the Envision Kit, but also user-created boards to immediately enable a PowerPoint slide to be displayed as a UI on an actual device. Thus, you can quickly start a proof of concept (POC) design to create a UI using PowerPoint slides which you are familiar with, without learning how to use the special GUI creation tools.
Refer to the tutorial video below to learn how to use this tool.
Image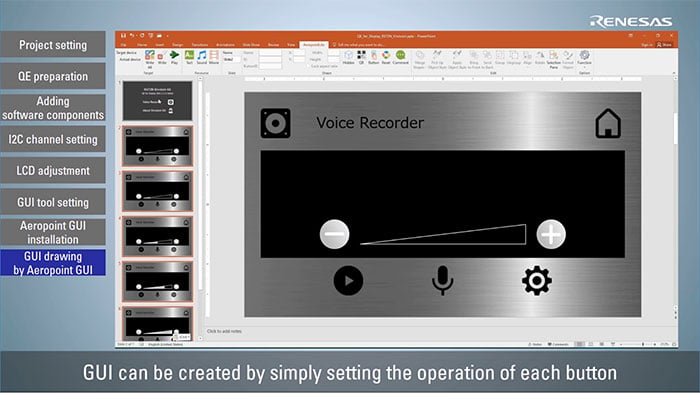 In addition, an auto adjustment function is also implemented. By setting the timing parameter of the display panel, the refresh rate is calculated and set automatically. Those additional functions are smart and helpful.
Image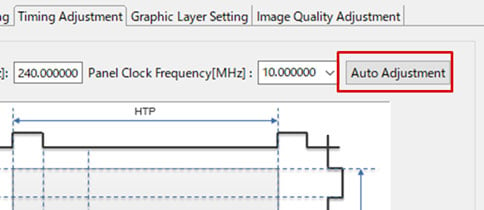 In the embedded industry, as the development becomes more complex, the developer has to make more of an effort in development. Using tools such as PowerPoint which everyone knows and is familiar with can greatly contribute to reducing the development man-hours. Our development motto is "Everyone can use!"
Learn more about the Aeropoint GUI.