In recent years, there is an increasing number of 8-bit MCU users realizing that their built-in oscillators are not accurate enough, and the number of available I/O ports is not enough. Furthermore, there are increasing requests on reducing BOM cost of the entire system, rather than the price of the MCU itself, and reducing the number of components to develop smaller products. The RL78/G15 MCU, a new release of the RL78 family products, is designed to solve these problems.
4 Features of RL78/G15 MCU Solve the Existing Issues Faced by Many 8-bit Users
RL78/G15 is a general-purpose microcontroller operating at 16MHz, optimized for 8-bit MCU applications, and suitable for a wide range of applications including industrial, consumer, sensor control, lighting, and inverter.
1. No External Oscillator Required – High-precision HOCO
RL78/G15 features a high-speed on-chip oscillator (HOCO) with an accuracy of ±2% or higher over the entire temperature/voltage range of -40 to 85°C, resulting in ±1% accuracy. When using UART, the clock frequency error of the transmitter and receiver devices must be within a total of 5% to establish communication. RL78/G15 has a high-precision HOCO of ±2% or less, resulting in no adjustment and no external oscillator needed, leading to overall BOM cost reduction.
2. Almost All Pins Can Be Used As I/O Ports
Have you experienced before in selecting a low-pin count and small package MCU but finding it inconvenient to use due to the lack of available I/O ports? The RL78/G15 package lineups enable all pins other than the power/GND pin to be used as I/O ports. Furthermore, RL78/G15 is highly pin-compatible with existing RL78 products (RL78/G10 – 10pin, 16pin; RL78/G12 – 20pin), making it easy to replace existing RL78 products. In addition, RL78/G15 contributes to the miniaturization of devices with its low pin count and small package lineup (8pin to 20pin, 3mm x 3mm).
3. Extensive Peripheral Functions Reduce Equipment Costs
RL78/G15 has an embedded reset function, comparators, and data flash, reducing the need of these external components. An external oscillator for UART is also not required, eliminating the need for external components and contributing to overall device cost reduction. In addition, debugging and self-programming functions are implemented to make the product easier to use.
4. Wide Operating Temperature Range to Simplify Thermal Design
Three product grades are available to support different application. (A-version: -40°C to 85°C, G-version: -40°C to 105°C, M-version: -40°C to 125°C) The maximum operating temperature of 125°C allows easy thermal design, making it possible to mount MCUs in IoT devices that are getting smaller in recent years, or to place MCUs near heat-generating components such as motors, lights.
Image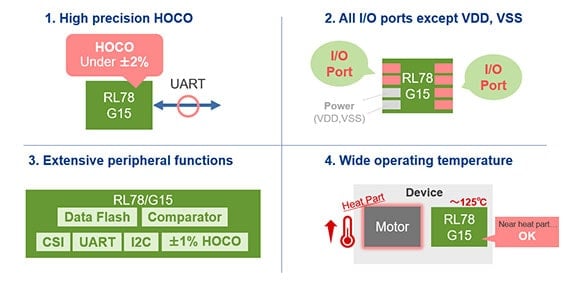 Easy-to-use Development Tools
1. Easy Initial Setup, Smart Configurator
Smart Configurator, a GUI tool that enables automatic and easy generation of initial configuration programs, is supported. Smart Configurator is a well-proven tool that is supported by many Renesas MCUs, enabling speedy and smart software development tailored to your application.
2. Ready-to-Use Evaluation Board
Fast Prototyping Board is equipped with Arduino Uno and Pmod™ Type6A interfaces allowing access to all pins of RL78/G15 in addition to debugging and programming with only a USB cable. This evaluation board is recommended for users who want to easily evaluate RL78/G15 MCU.
3. Debugging Environment Without An Emulator
RL78/G15 can be debugged and programmed without an emulator by using an inexpensive USB-UART conversion IC.
4. Arduino Library
Arduino library that runs on the Fast Prototyping Board is available. Users can benefit from not only the RL78 assets, but also from the vast quantity Arduino assets, allowing you to implement your ideas as early as possible.
Image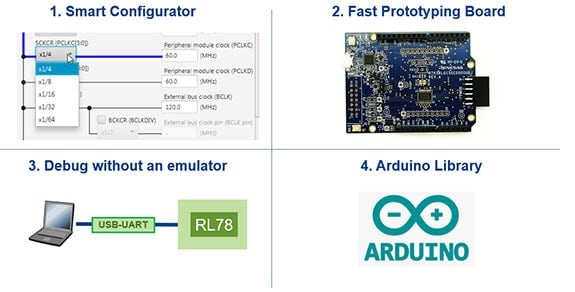 Evaluate RL78/G15 that can solve existing challenges faced by 8-bit MCU users with a full range of development tools. Also, refer to 100W USB Power Delivery (PD) Adaptor with Multi-Output for more information on application usage.