Introducing this year's achievements of the R-Car Consortium Proactive Partner Program which was launched in 2019. The program consists of four ecosystem activities - Solution Matching System, Market Place, Educational Program, and Engineering Community and aims to provide support for advanced and innovative product developments of customers. Renesas provides three values: "open" (the provision of a flexible and diverse development environment using an open platform), "innovative" (the ability to provide advanced technologies and solutions that resolve user problems), and "trusted" (the ability to make highly reliable system proposals based on the strength of a proven track record in the automotive business) to customers with these activities.
Image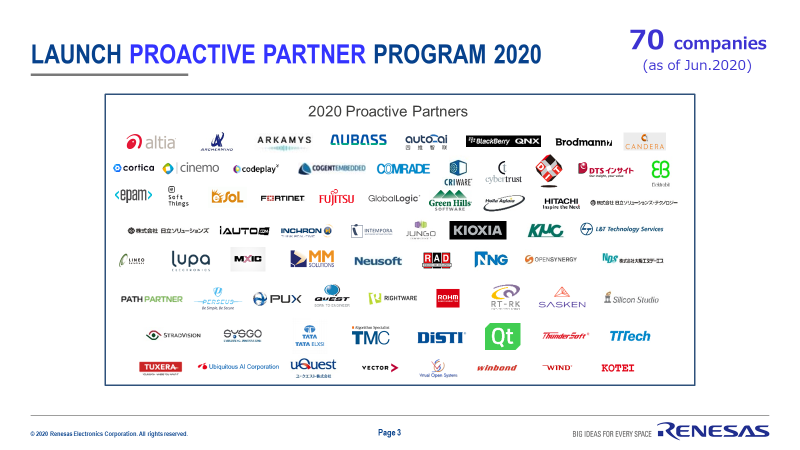 Solution Matching System
Renesas launched "Solution Matching System" in 2019; this allows customers to search Proactive Partners' solutions quickly. Renesas reviewed membership of Proactive Partners this year, selected 70 partners as Proactive Partners and completed a database update of the Solution Matching System with solution information for new Proactive Partners. Please refer to the press release "Renesas Electronics Introduces the R-Car Consortium Proactive Partner Program to Accelerate Automotive Mobility Innovation" published in 2019 for more information.
Image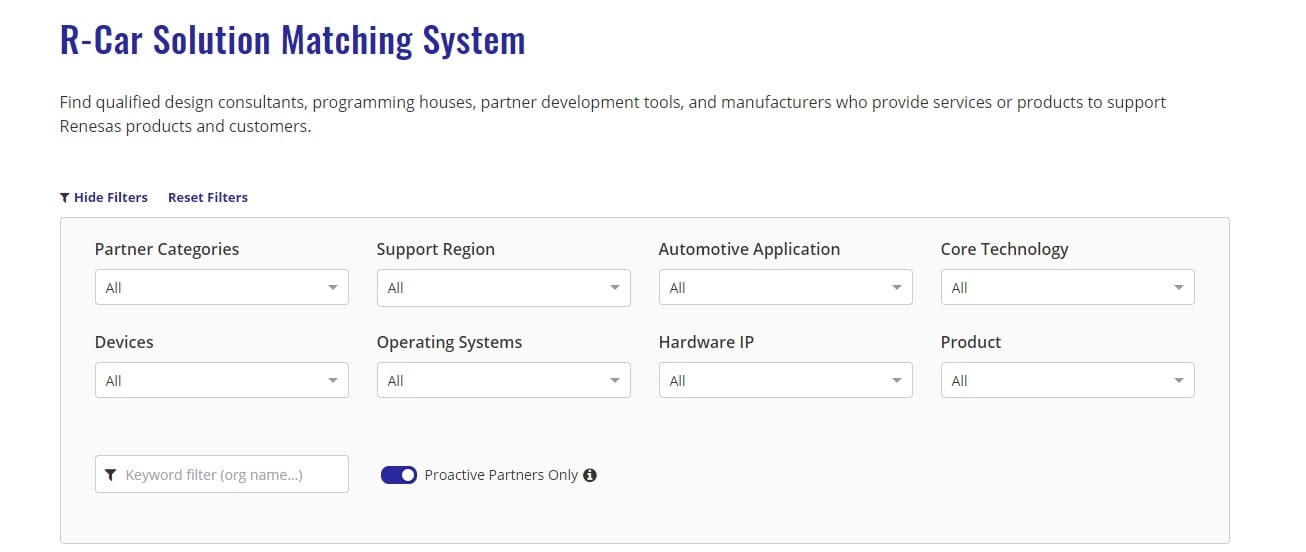 Two partner solutions for ADAS and Cockpit applications are introduced in this session:
eSoftThings: eSoftThings offers "eCube", a turn-key solution with R-Car V3H for ADAS application. This solution enables early prototyping with the support of innovative use cases and can be installed as is into the vehicle for customer demonstration. For more information of "eCube", please visit the eSoftThings website, "eCube, our embedded ADAS ECU for prototyping".
KOTEI: KOTEI offers "Smart Cockpit", a reference kit solution for cockpits with R-Car H3 and R-Car M3 that realizes a cockpit system with software solution supporting multiple screen display and real-time 3D rendering. This solution can also work on QNX hypervisor provided by BlackBerry, and support a variety of application software for QNX and Android OS. For more information about "Smart Cockpit", please visit the KOTEI website "Smart Cockpit".
Renesas continues to help customers and provide optimal solutions based on strong collaboration with Proactive Partners.
Market Place
Renesas launched a web system called "Market Place" on 2020/Oct./27th which enables customers to download a variety of content directly from the website. Market Place directly provides R-Car technical information including documents, Proactive Partner reference software packages and FAQ to customers; it can contribute to efficient improvement and time reduction of mobility system development. Renesas continues to improve the content of reference evaluation software packages via further collaboration with Proactive Partners and support customers on development. For more information on Market Place, please refer to the press release on 2020/Oct./27th, "Renesas Shifts Mobility System Development Into High Gear With Its New Online Market Place for R-Car SoC" and download the introduction material from here. Please contact r-car-market-place@lm.renesas.com if you have any question and/or comment.
Image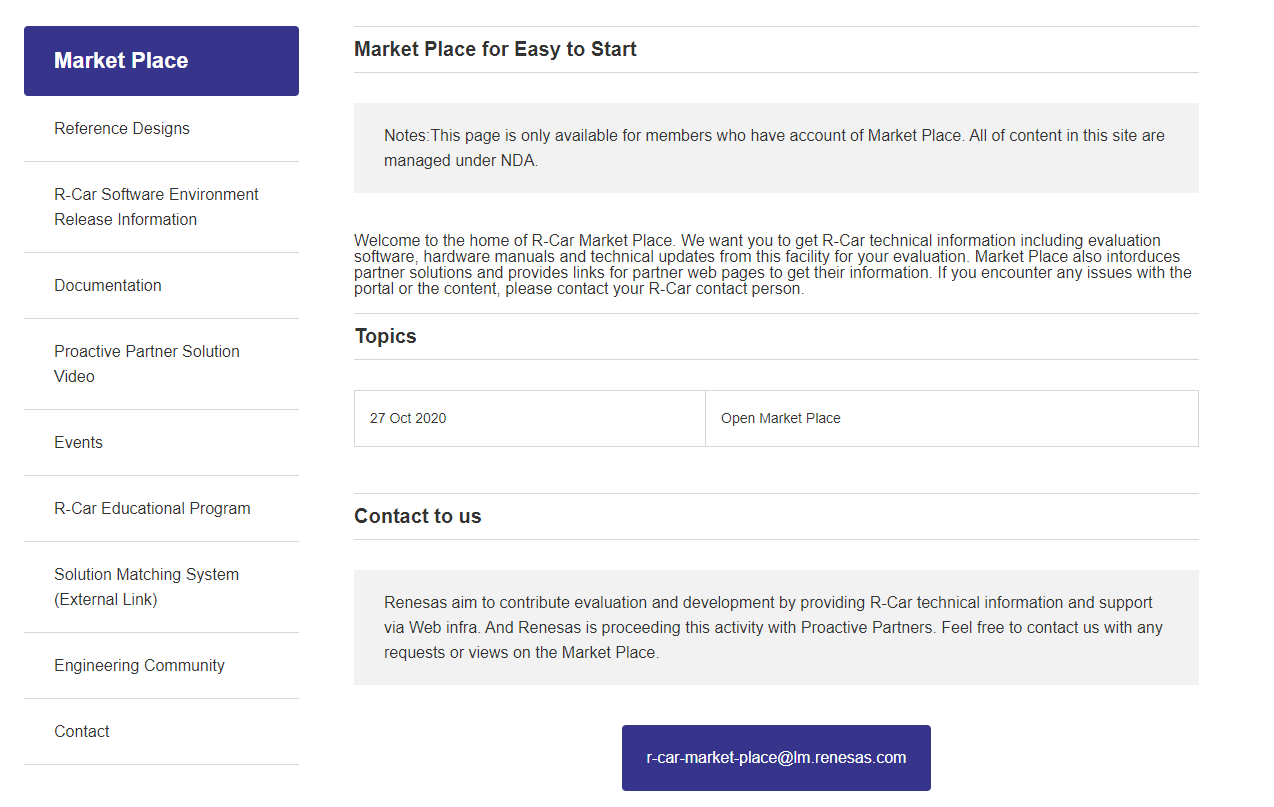 Educational Program
Renesas launched a web system called "Educational Program" to provide webinar content on R-Car technical information for easy viewing at any time. The webinar content for the Hardware and Software categories is provided via the Educational Program; content with Japanese and English narration is also prepared. Please contact to r-car-educational-program@lm.renesas.com with your request to improve content and the Educational Program system. 
Image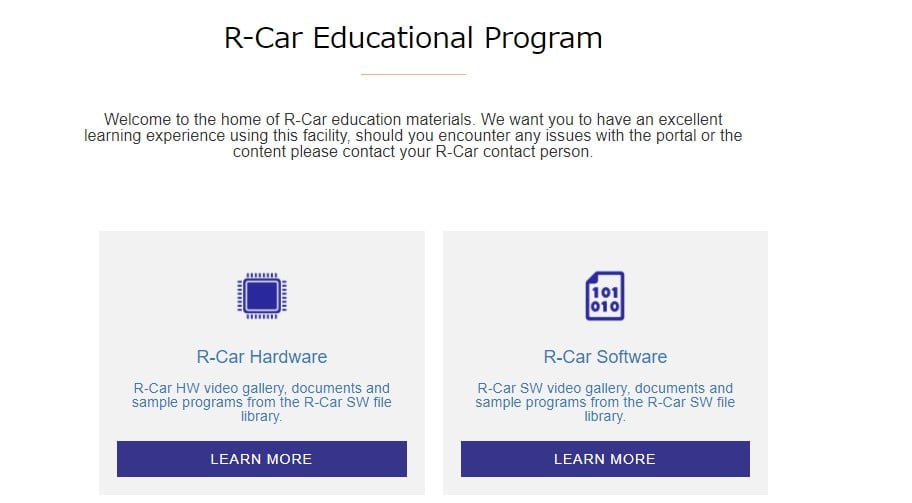 Engineering Community
Renesas launched new a technical support scheme called "Engineering Community" in July 2020 to solve issues with the R-Car Starter Kit for customers and make the evaluation of the R-Car system easy with open community activity. Engineering Community consists of the "eLinux" site and "Renesas Rulz", and aims to provide software and document based on open source and solve customer problems by collaboration with R-Car Consortium partners and professional community members on those websites. For more information on the Engineering Community, please refer to the blog titled "To Realize Customer Value of Automotive Business (Series 2): R-Car's Engineering Community Website is Now Open!".
R-Car Consortium supports customer development via the active collaboration with partners and the provision of valuable solutions and content based on our three values, "open", "innovative" and "trusted".