Most of us know that CO₂ is a colorless, odorless gas that's soluble in water and often seen as the bubbles in fizzy drinks. But it's also a greenhouse gas, a by-product that's released when we burn materials containing carbon, as well as a gas formed in the respiratory and metabolic processes of living organisms. It is a part of our everyday lives and keeping an accurate measure of it in both useful and harmful concentrations is necessary in many applications.
The Thermopile CO₂ Detector Winning Combination is a reference design (see Figure 1). This CO₂ detector solution uses Renesas' RTD120D dual thermopile to detect the ambient CO₂ concentration. It has a Non-Dispersive Infrared (NDIR) thermopile-based gas sensing circuit, and the concentration of CO₂ gas is measured based on the intensity of the NDIR radiation.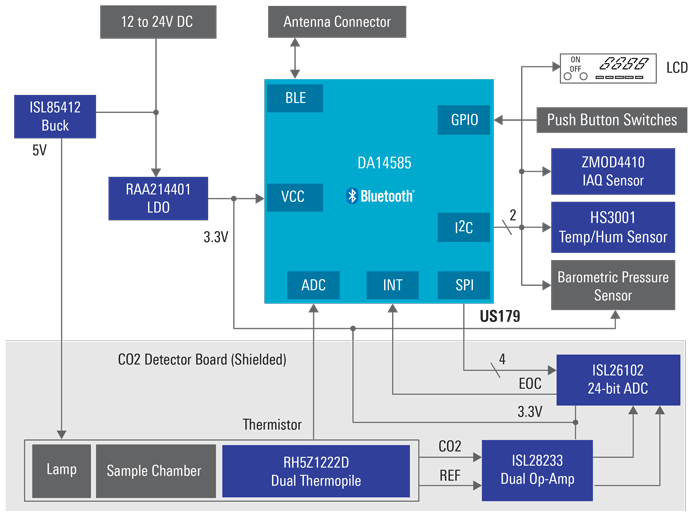 The Renesas RTD120D thermopile has a two-channel silicon-based thermopile detector that offers a low-cost solution with high output and has two small active areas of 1.2mm x 1.2mm. It responds quickly to intensity changes with a time constant of 25ms, and its nitrogen encapsulation gas allows stable performance and long lifetime.
The DA14585 is part of a family of devices that are the smallest, lowest power and most integrated Bluetooth® solutions available. This versatile SoC is ideal for adding Bluetooth Low Energy (LE) to products like remote controls, proximity tags, beacons, connected medical devices, and smart home nodes. It supports all Bluetooth developments up to and including Bluetooth 5 and Bluetooth Low Energy Mesh. Plus, users can take advantage of the onboard Arm® M0 CPU, memory and peripherals for system control as well.
The ZMOD4410 is our gas sensor module, designed for detecting total volatile organic compounds (TVOC) and monitoring indoor air quality (IAQ). While the HS3001 is a highly accurate, fully calibrated relative humidity and temperature sensor. The high accuracy, fast measurement response time, and long-term stability, along with the small package size, makes it ideal for a wide number of applications from portable to harsh environments.
In order to get the most accuracy out of the design, we use the ISL26102, it is a low-noise programmable gain amplifier along with a 24-bit Delta-Sigma analog-to-digital converter (ADC) with two channels. This ADC features a third-order modulator providing up to 21.5-bit noise-free performance, with user-selectable word rates. While the system power is managed with our ISL85412 for the CO₂ detector board and RAA214401 for the Bluetooth LE module, sensors and other functions. The ISL85412 is a 150mA synchronous buck regulator with an input range of 3.5V to 40V with a continuous output current up to 150mA. While the RAA214401 is a linear regulator that operates with a very wide input voltage range (4.5V to 40V) at a fixed output at 3.3V and up to 150mA of output current.
This Winning Combination provides a compact design for a high accuracy gas concentration measurement. For more information on this and other Winning Combinations visit the winning combinations page, www.renesas.com/win to see more solutions which can be used to help accelerate your designs to get to market faster.