掲載: 2021年9月25日
Embarking on a new system design is easily compared to a traveler's journey. When the road is well-paved and roadside services are plentiful, traveling is much easier for the driver. Just as the iconic Route 66 encouraged intrepid travelers to take and enjoy the transcontinental road trip through the American west, the easy-to-use Renesas RA MCU family and its extensive supply of design resources promise to make your next design simpler, maybe even fun!
The RA family of microcontrollers offers countless options to solve any challenge in your IoT designs, both today and in the future. Seamless migration from both the hardware and software point of view due to the Flexible Software Package (FSP) is a key reason for the market success of the RA family. In particular, our customers love the high-performance level perfectly balanced with the low-power consumption which is needed in today's IoT designs that commonly have power constraints and require intensive sensor data calculation at the same time. The request from our customers was to optimize the integration level and offer the same great performance vs. power consumption balance. To do this, we developed the RA family entry-level groups. The new RA4E1 and RA6E1 groups are designed to match to your entry end-product with an easy migration to RA family mainstream lines, the ASSP lines and vice versa.
Introducing the newest RA entry-level options
The RA6E1 group shows unprecedented performance in the entry-level category with a 200MHz operating frequency using an Arm® Cortex®-M33 Core. There is no other entry-level product in the market with this performance level. It achieves 790.75 CoreMark, which is 3.95CoreMark/MHz using the Arm Clang Compiler 6.15 and executing the CoreMark algorithm from Flash and RAM is truly impressive. The CoreMark performance of the Cortex-M33 is up to 17.5% higher compared to a Cortex-M4 implementation, which is also a performance boost.
With up to 100MHz operating frequency on the RA4E1 group, we deliver high performance and low power at the same time. Due to our latest 40nm process technology we are able to improve power consumption in active but also in standby modes. With 81µA/MHz while running the CoreMark algorithm from Flash, the RA4E1 is truly a high-performance and low-power MCU.
We have optimized the feature integration here by keeping essential high integration with large Code Flash and RAM for a wide temperature range of Ta = -40 °C to 85 °C. The optimized integration of both the RA4E1 and RA6E1 MCUs has great impacts on system cost-efficiency with the inclusion of Data Flash, large Flash, RAM, and on-chip-oscillators saving an external high-speed crystal, low-voltage detection, internal reset function, and many more. Value-optimized features and streamlined connectivity integration include Ethernet (with integrated MAC and DMA), USB 2.0 Full-Speed with crystal-less operation, serial communication (our SCI with flexible synchronous and asynchronous modes, I2C, SPI), CAN, SSI, SDHI, QSPI, and the great Renesas timer and advanced analog IPs.
In summary, the new RA4E1 and RA6E1 perfectly balance high performance with low power down to 60µA/MHz (Normal mode) with value optimized feature and connectivity integration reducing system cost. The entry-level is the perfect entry into the world of RA family microcontrollers with hardware and software compatibility and scalability to the mainstream line and our ASSP products and vice versa.
Easy-to-use Flexible Software Package
The Renesas FSP is a fast-start software for security and connectivity, with great development tools from Renesas and the Arm partner ecosystem. The RA hardware abstraction layer HAL offers high-performance and highly efficient drivers optimized to our hardware with portable APIs. Our tools offer intuitive configurators for the HAL drivers, stacks, pin selection, and the clock tree. The FSP is an open ecosystem, open to integrate any existing customer applicational and middleware code. Customers can choose any RTOS and use the entire Arm software ecosystem.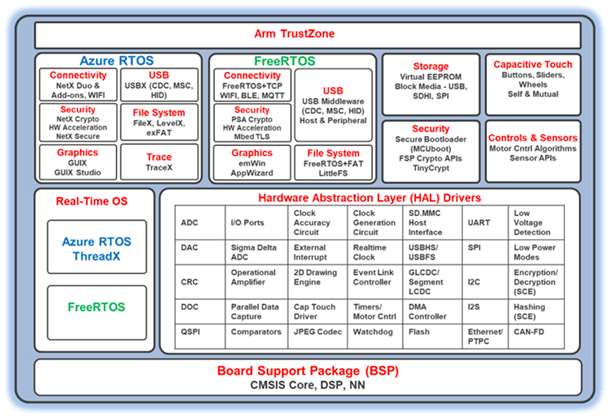 We are here to help solve your design challenges. For evaluation and development, we have prepared new Fast Prototype Boards (FPB) which are available to start new projects now for a jump start at a very low cost and supported by the Renesas FSP. Visit the RA4E1 FPB and RA6E1 FPB board pages for more details and to get started today.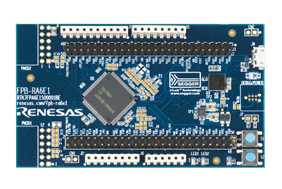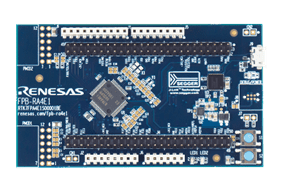 With industry-leading hardware options and easy-to-use design resources, what could be better than getting your kicks on the Route RA?
Visit RA4E1 and RA6E1 pages on our website for links to additional resources, including technical documentation and samples.