Published: September 16, 2022
In recent years, manpower shortage has become a problem across industries, particularly for medical sites during the COVID-19 pandemic. As a solution to this problem, remote monitoring with the help of IoT sensing devices for data collection has been expanding. However, when developing such IoT devices, developers face trouble selecting suitable components such as MCU, sensor, communication module, etc.
Renesas provides the "Winning Combination" of infusion level monitors, which is crucial for every medical site, as an example to address these challenges. This Winning Combination solution can detect the remaining amount of liquid using capacitive touch sensors configured with low-cost copper electrodes for remote monitoring (e.g., a nurse station) via wireless communication. The block diagram below shows the main components at the system level, such as the latest capacitive touch IP equipped RX140 MCU, Wi-Fi + Bluetooth LE module, and regulators, offering a reference design to reduce the components selection time.
The key advantages of this system are as below:
32-bit RX140 simultaneously performs capacitive touch sensing and system control.
The simple configuration using only the electrodes can detect the remaining amount of liquid, which contributes to BOM cost reduction.
Battery-powered operation is extended thanks to the low power consumption of RX140 MCU and Wi-Fi + Bluetooth LE module.
Image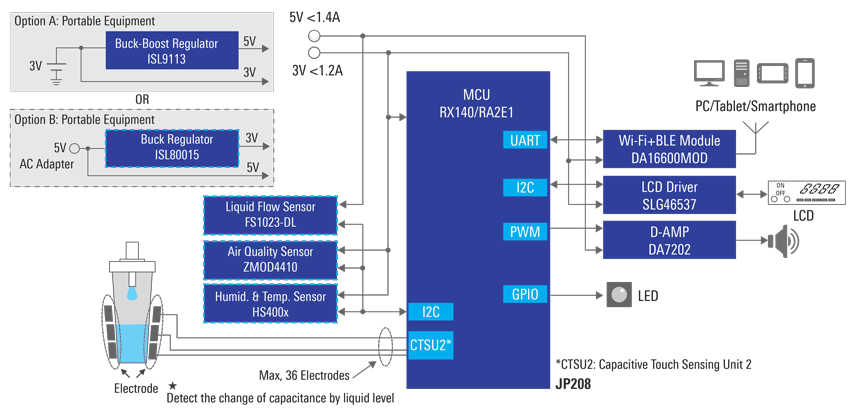 This configuration could be applicable to various use cases where measurements of fluids within tanks. It can be a solution to manpower shortages not only in medical fields but in many other fields. When considering developing such an application, please refer to it.
For more information: