The Starter Kit M3A-2152G52A and M3A-2152G52 are provided for the evaluation of the 32176 Group microcomputers.
Example of System Configuration
Image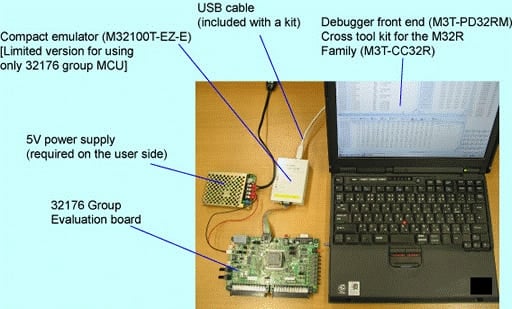 Contents of the Package
Hardware
32176 Group Evaluation board
Compact emulator (M32100T-EZ-E) [Limited version for using only 32176 group MCU]
Software (CD-ROM)
Debugger front end (M3T-PD32RM)
Cross tool kit for the M32R Family (M3T-CC32R) [trial version]
SFR Header file, Sample program
Others
Power supply cable
USB cable
CAN connecting cable
Cable to connect an evaluation board and compact emulator
Operating Environment (required on the user side)
(1) Recommended Host PC
| | |
| --- | --- |
| Host Machine | IBM PC/AT compatibles |
| CPU | Pentium 3 500MHz or higher CPU is recommended. |
| Memory | 192Mbytes or more system memory is recommended. |
| OS | Windows 98, 2000, XP, Me |
(2) Power supply (5V/1A)
Evaluation Board Specification
32176 Group Evaluation Board
Board Specification
Mounted MCU
M32176F4VFP
System clock
40MHz (f(XIN)=10MHz, multiple-by-4)
MCU operation mode
Single-chip / External extension / Processor
MCU internal memory
Flash memory: 512KB
SRAM: 24KB
Input/Output function
LED x 8: 1 port
Toggle switch x 8:1 port
VR control x 2: A-D converter (2 channels)
Reset switch
Connector
Communication connector for compact emulator (10 pins)
RS-232C connector for serial communication
CAN communication connector
MCU functional evaluation connector*
Power supply connector
Power supply
3.0V to 3.6V or 4.75V to 5.25V (0.5A or more)
*: Accessory boards M3A-2142G03 and M3A-2142G04, which can be connected to MUC functional evaluation connector, are sold separately.
Features
The evaluation board mounts M32176F4VFP with 512 kb flash memory by IC socket.
Free from restrictions on MCU resources (ROM, RAM or I/O) during evaluation via on-board debugger by SDI
The evaluation board comes with extension connectors for all ports except those used for power supply and MCU control
Includes dedicated debugger front end accommodating M3T-PD32R (emulator debugger for M32100T-SDI-E) to GUI operation system
The evaluation board can operate stand-alone after programming flash memory