Published: November 25, 2021
Due to the COVID-19 pandemic, we have seen more and more contactless services.
I think some of RX MCU users have already started developing products related to contactless service, and others are about to develop.  
At actual development, you would usually purchase a kit to learn how to implement or how practical it is by trial and error method. 
However, it would be troublesome to purchase a kit every time.
This time, I will introduce a new solution that can solve this problem. 
Renesas has provided a remote development environment called "Lab on the Cloud", where users can access online to test Renesas proven evaluation boards and software.  
The demonstration prepared this time is implemented using the RX72N Envision Kit, processing voice collected by the MEMS microphones together with the voice recognition middleware to control the applications.
You can easily experience voice recognition which is one of the RX contactless solutions. We recommend that you access the site and try it!
★Visit here >>> Lab On the Cloud: HMI Solution Board with High-end 32-bit MCU RX Family
Image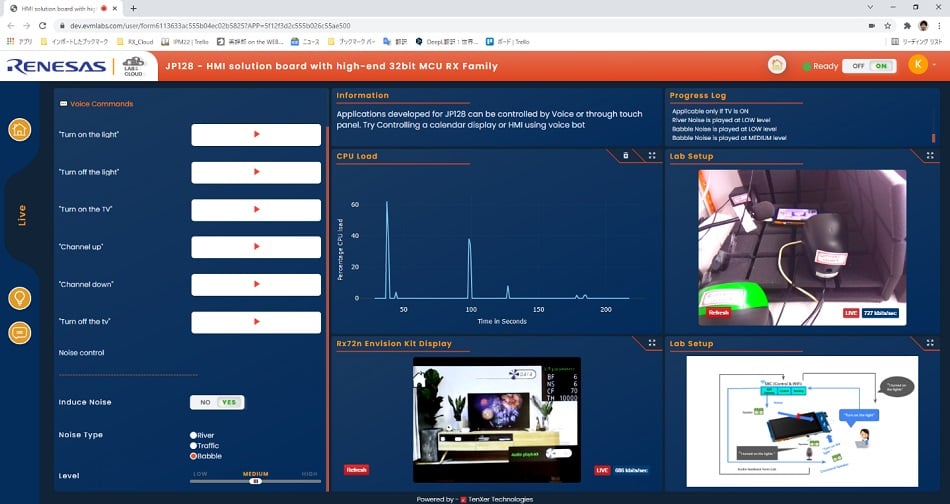 In addition, the demonstration available in the Lab on the Cloud is also published in Renesas web page as an Application Note. If you have purchased an RX72N Envision Kit, you can experience the good response coming from the voice recognition on hand. Please try it!
Downloadable sample software: RX72N Envision Kit Voice Recognition Demonstration Sample Code
Lastly, I will introduce a blog on the voice recognition solution.
*Others
For the voice recognition software that is used in this demo, please refer to the page link below.
Voice Recognition Solutions web page: https://www.renesas.com/application/personal-electronics/voice-recognition-solutions