Published: July 13, 2021
Hello everyone, hope you are keeping healthy. This is Ehara, I'm responsible for Automotive IGBT product development and customer technical support. 
We have, in the past blog, introduced Renesas Power devices in series. The last time was the introduction of development activities of power device for xEV powertrain application. This time, let me introduce the superiority of Renesas power devices in the electric vehicle and the provision of value to customers (please refer to the link). In this blog, let me introduce the features of the Automotive IGBT product that I am in charge of.
The traction motor of xEV (electric vehicle) has extremely high output power, and it is necessary to convert high power in the 100kW class from DC to AC by inverter to control it. IGBTs are used as the power conversion switching devices that make up the inverter circuit. The IGBT performance is directly linked to the energy saving and high performance of xEV, and lower power loss (high efficiency) is required in high power operation. Specifically, as shown in the figure, the on-voltage performance that determines the loss when the IGBT is energized and the switching performance that determines the loss when the IGBT switches on / off are important parameters. At the same time, it is very important to have a high robustness (excellent short circuit withstand and RBSOA)  for the vehicle safety. However, in power devices, generally there is a trade-off between low loss and high fracture capacity.
Image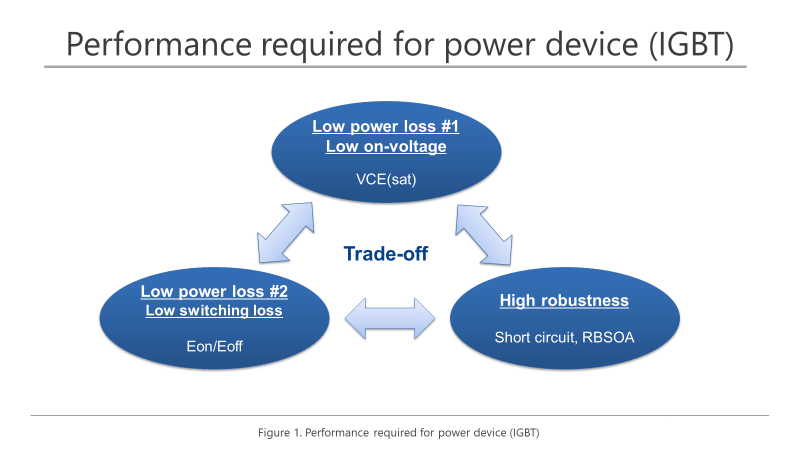 Renesas IGBT AEx series for traction motor control has evolved generations while breaking through this trade-off with innovative technology.
The miniaturization of IGBT cell structure and Renesas unique high conductivity structure enable low on-voltage without sacrificing robustness, and the low gate capacitance structure realizes low switching loss. 
Image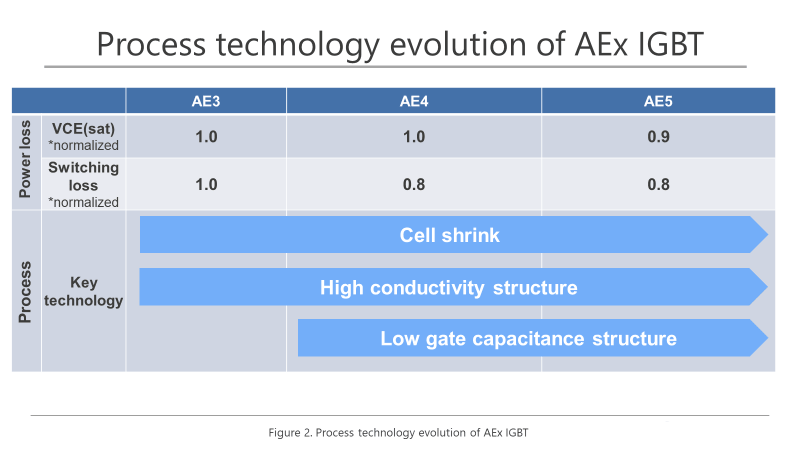 From AE3 to AE5, Renesas continues to provide the market with products that have the highest level of low loss and high robustness in a timely manner. 
Image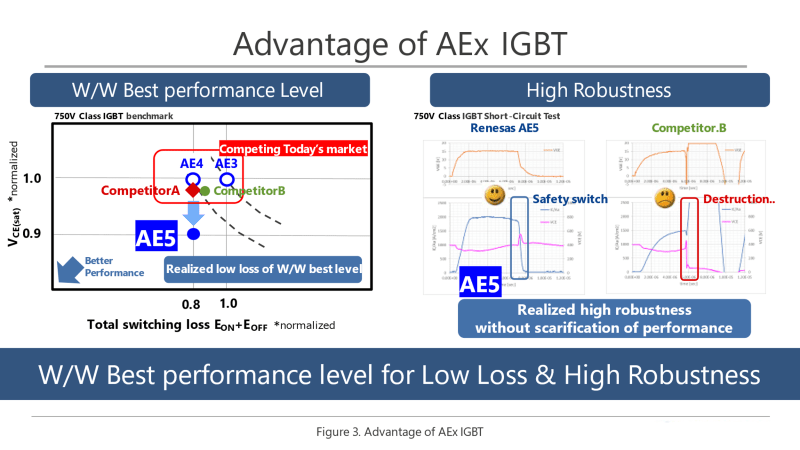 AE3 and AE4 are currently in mass production status and have been adopted by many customers worldwide and have been well received. AE5, which is under development as the next generation, is scheduled to release a working sample at the end of 2021, and many customers have already inquired about it and are considering adopting it. In the future, we are planning to develop a product lineup centered on AE5 according to the trends of xEV and customer needs, so please look forward to it. 
This time, I introduced lower power loss and high robustness, which are some of the features of the AEx series. In addition, there are other features that are of great benefit to customers, such as the reduction of variation in characteristics and ease of control.
Thank you so much for having a look at this blog. Please feel free to contact us if you are interested in our IGBT products.
And, there is more to come in this blog series. See you next time!