Published: December 17, 2021
Overview
With the evolution of AD/ADAS, Digital Cockpit, Electrification, and Connected technologies, we now live in the age where software determines the value of Car. It is no exaggeration to say that the value of a car is now determined by its software. We are working on developing software development environments such as AI tools, virtual platforms, and IDE (Integrated Development Environments) to support Software-centric vehicle development.
Background
With the evolution of AD/ADAS and Digital Cockpit, it is said that the number of in-vehicle microprocessors installed per vehicle will exceed several dozen, and the scale of software will exceed 50 million lines. Renesas is offering many processor products for automotive solutions which are the foundation of the software in the vehicle (ref. 1, 2, 3). We believe that our important mission is not only to provide semiconductor products but also to support our customers' software development.
Image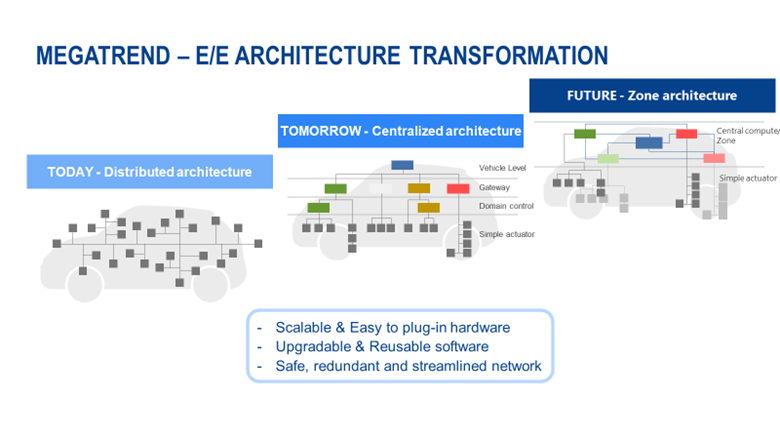 Examples of our challenges
In order to assist customers' Software-centric vehicle development and the value proposition, it is of course important that Software development is on the actual in-vehicle processor (real environment), but it is also important to enable development of a virtual environment where software can be developed and verified even before the processor product is available and contribute to realizing "Shift-Left" development. To realize the solution to address such issues from the development environment and tools perspective, we are working on strategy building, solution proposal planning, customer engagement, and more. For example, the following development environments and tools are in the scope of our activity:
Ease AI development:
Compiler technology and simulation environment that supports easy porting and optimization of neural networks to Renesas' automotive processors, which are the basis of image analysis and recognition technology for AD/ADAS.
Realize "Shift-Left" in vehicle E/E architecture development:
Development of a virtual platform that emulates Renesas' automotive processors on a PC with high accuracy and enables the verification of the system requirements from the initial conceptual stage.
Visualize & Optimize E/E architecture:
Profiling and Adaptation tools that visualize the behavior of increasingly complex vehicle E/E architectures and support system optimization.
Image
Conclusion
In the future, it is expected that not only the quantity of in-vehicle software will increase, but also the property / nature of in-vehicle software will evolve, such as SDA (Software Defined Vehicle). As a leading company of automotive semiconductors, Renesas continues our efforts to provide the ideal development environment & tools that support development of in-vehicle software for the age of Software determining vehicle's value.