Published: March 31, 2021
There is a growing trend to move from brush to brushless motors, especially when developing energy-efficient, battery-powered systems as BLDC motors offer many advantages over traditional brush motors. While BLDC motors are more complex, we generally see greater power efficiency, less radiant heat and more torque in smaller sizes without compromising on either robustness or reliability. Not to mention there aren't any brushes to worry about replacing.   
The RAJ306000 family of motor drive ICs simplifies motor drive designs even further by integrating the controller, power stage and power management blocks in a single package. These motor drive ICs also offer additional features like a double boost charge pump, BEMF detection circuitry, current sense, and Self Align Dead Time (SADT) generator circuitry. We designed the RAJ306001 and RAJ306010 specifically to reduce the BOM and overall board size while improving overall performance of the motor drive. External MOSFETs are used to allow designers to choose the appropriate power level for their system.
Bidirectional Brushed Motor Control Circuitry
Image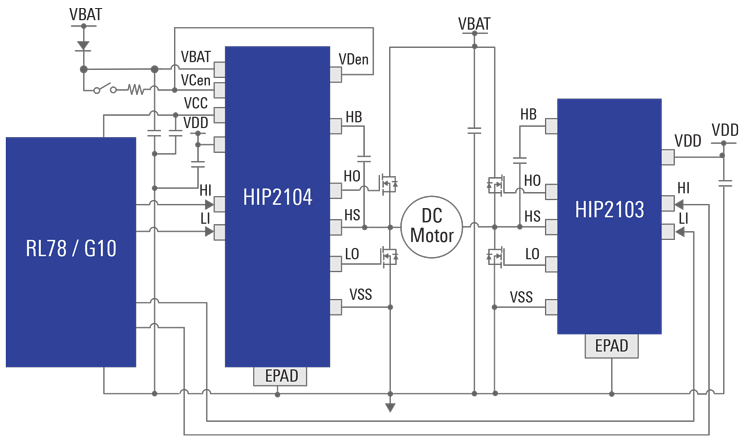 BLDC Motor Circuitry Using RAJ306001
Image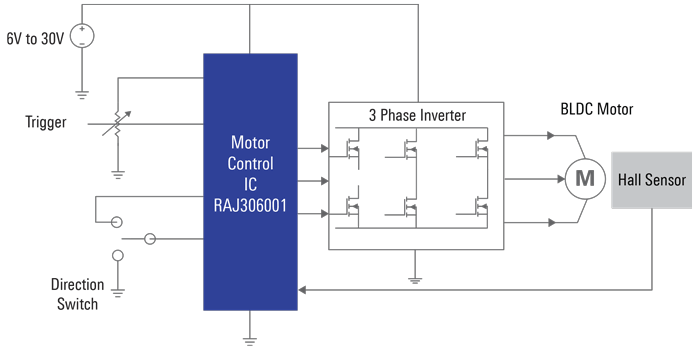 The RAJ306000 family integrates an RL78/GIF MCU which allows us to leverage motor control firmware that has been used and proven in the market for many years. By offering software flexibility along with enhanced hardware features, these motor drive ICs are positioned to support many different applications with varying power and performance requirements.  
For example, in cordless vacuum applications, high RPM is required to move large amounts of air to generate greater air flow and vacuum suction. In customer evaluation and our own testing, the RAJ306000 motor drive ICs have driven single pole motors as high as 90K RPM.  
In power tool applications, the devices have supported the complicated motor control algorithms these systems require. Power tools have to start in a high torque condition when the motor is completely stopped. They also have to handle large load changes demanding fast response times to maintain consistent RPM.    
Today, even low cost, high-volume applications that use 120-degree motor drive algorithms are moving to vector control and FOC drives. Since the RAJ306000 motor drive family has an MCU, it can adapt to the new trends and offer the latest software that becomes available.   
For additional details on these devices, including technical documentation and samples, please visit our Motor Control ICs landing page.
For example reference designs that can simplify your system design even further, please see our 24V Cordless Blender, Portable Power Tools, or Electric Fan winning combinations.