Published: August 9, 2022
Recently, we often hear the term DX. This DX is built on the foundation of "connectivity." The industrial world has been trying to improve productivity through "connectivity" for some time. The so-called Industry 4.0 is one example of the move to IIoT, which is sometimes referred to as the DX-ization of the manufacturing industry. This trend has been driven significantly by the maturation of Ethernet infrastructures, and the realization that high-capacity communications at higher speeds will lead to a shift from traditional fieldbus to Ethernet.
Also, the industrial world has begun to use industrial networks to link a wider range of "connections" across the Information Technology (IT) and Operation Technology (OT) layers. It is important to mix real-time and non-real-time communications to achieve this "connectivity." Supporting TSN, a network technology with time synchronization and scheduling functions is necessary to achieve a mixture of real-time and non-real-time communications.
These communication requirements must be met not only by newly developed equipment, but also by existing equipment. However, making major changes to existing systems is undesirable because of the man-hours required. Therefore, there is a need for an "easy" method to add industrial Ethernet to existing systems.
To meet this need, Renesas released the RZ/N2L microprocessor, which is ideal for industrial Ethernet communications and TSN, making it easy to add networking capabilities to industrial equipment and devices.
As shown in the figure below, the RZ/N2L is equipped with a parallel host I/F and a serial host I/F as interfaces (I/F) for connection to a host CPU in external applications, enabling the RZ/N2L to be directly connected to a host CPU for high-speed access. The host CPU can also directly access communication data stored in the RZ/N2L's system RAM.
The RZ/N2L performs network processing independently from the host CPU, making it possible to support industrial Ethernet without major changes to existing application software. Furthermore, the RZ/N2L is equipped with a 3-port Gigabit Ethernet switch that enables TSN support going forward. Having three ports also allows for flexible network topology.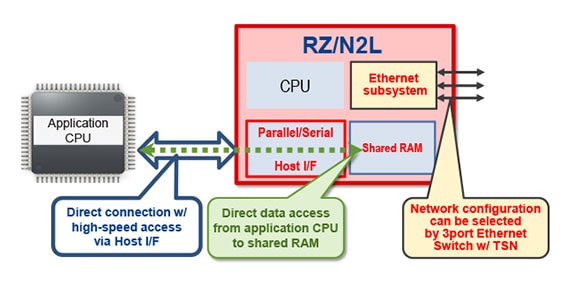 In addition to the main functions listed above, the RZ/N2L is also equipped with a wealth of peripheral functions such as Delta-Sigma (ΔΣ) I/F, A/D converter, PWM timer, UART, and CAN. By combining these peripheral functions with the Arm® Cortex®-R52, which has a maximum operating frequency of 400MHz, the RZ/N2L can be used not only as a companion chip but replacing the Application CPU for remote I/O, sensor hubs, inverters, gateways, etc. which support industrial Ethernet.

Next, the Renesas Starter Kit+ for RZ/N2L is an evaluation board suitable for initial evaluation and firmware development. Our Flexible Software Package (FSP) combines drivers for peripheral functions and OS, and the Smart Configurator generates driver software tailored to users' use cases with an intuitive GUI enabling easy development. In addition to FSP, Renesas provides a sample protocol stack for industrial Ethernet communications, reducing development man-hours spent on these protocol implementations.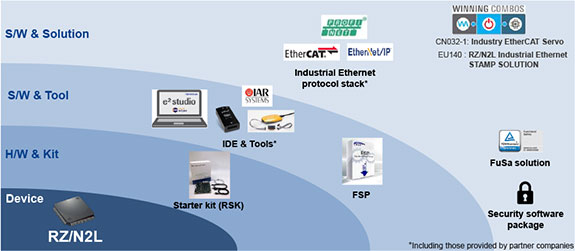 Please refer to the RZ/N2L, Renesas Starter Kit+ for RZ/N2L, and Winning Combinations Solution for more details.