Published: September 6, 2023
As more connected devices are deployed, countless new business opportunities are unlocked. But the security concerns of today's IoT devices also mean increased risks. Independent IoT security certification has never been more important as consumers, governments and the broader IoT industry demand a universal baseline of requirements.
PSA Certified™ (Link) provides a framework for securing connected devices, from analysis to security assessment and certification. The framework provides standardized resources for solving increasingly fragmented IoT requirements and ensuring security is no longer a barrier to product development.
The RZ/G2L series is the world's first PSA Certified Level 2 MPU equipped with Arm® 64-bit CPU.
Image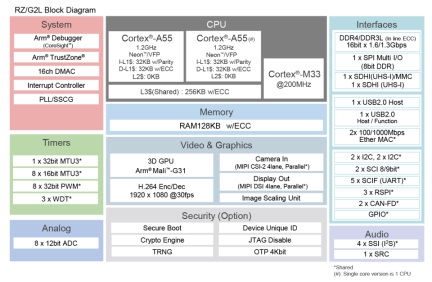 RZ/G2L series, RZ/G2L, RZ/G2LC, RZ/G2UL and RZ/V2L, is a set of general purpose MPU for industrial applications and equipped with Arm® Cortex®-A55 CPU. These MPUs were simultaneously certified for PSA Certified Level 2 as the MPU series with the same security functions. (Link) PSA Certified Level 2 provides a laboratory evaluation of a PSA Root of Trust (PSA-RoT) to provide evidence that it can protect against scalable software attacks. And, these MPUs also have SESIP™2 certification at the same time.
These certified MPUs allow you to get the following benefits:
Efficient development in accordance with the security framework for IoT devices.
Root of Trust to provide evidence that it can protect against scalable software attacks.
Reliability that has been evaluated with vulnerability analysis and penetration test by the accredited lab (ECSEC Laboratory (Link)).
These benefits reduce costs and resources related to security design and shorten development time. In addition, you can improve the BOM cost of your product if you remove a dedicated security chip such as TPM. You can do it because these MPUs already have its functionalities inside.
You can download the RZ MPU security package (Link) now. The security package provides the following functions:
Secure boot
Trusted Execution Environment
Hardware Cryptographic IP
Secure Debug
Security Configurator
These functions are provided by the incorporated security IP module. The module consists of an access management circuit, encryption engine, and true random number generator. In combination with the driver software, the module can prevent eavesdropping (confidentiality), falsification of information (integrity), and impersonation (authenticity). Key information to be used in encrypting and decrypting data is only stored within the module, and any external access can be shut out to obtain a system with strong security.
The security package includes the security user's manual that introduces these functions in detail. Please visit and download the security package first.
The Renesas RZ family MPUs provide not only security but also various functions, performances, and I/F. Please visit the Renesas RZ family MPUs (Link) and find the suitable MPU for your development.