Published: July 21, 2021
The ongoing transformation of the automotive industry and the E/E architecture towards CASE (connected, autonomous, shared, electrified) requires enormous efforts and investments. Whereas such transformation is considered indispensable, it creates high-cost pressure on "legacy systems", especially for entry to mid-range car lines.
Cockpit-related modules such as in-vehicle infotainment (IVI) and digital cluster systems are facing such cost pressure. Nevertheless, the pace of innovation remains high, e.g., towards larger displays, richer content, and overall improved user experience (UX). At the same time, no compromises are allowed regarding automotive quality and functional safety.
As a market leader in these segments, Renesas has decided to re-launch its successful R-Car Gen3 with the "R-Car Gen3e" series to address especially cost-sensitive entry to mid-IVI, digital cluster, and integrated cockpit systems. In combination with Renesas PMICs, the new series is also well suited for applications such as driver monitoring systems, LED matrix light, connected gateway, and other systems requiring low to mid CPU or graphics performance.
Image

What's New on R-Car Gen3e?
The "R-Car Gen3e" is directed at our existing R-Car Gen3 users and new customers alike.
If you are new to R-Car, find here an R-Car introduction and line-up, and an overview of related PMICs.
If you are already familiar with R-Car Gen3, you might be interested in the improvements on R-Car Gen3e and how you can benefit from an upgrade:
New 2GHz speed variants for M3Ne, M3e, H3e, offering CPU speed up to 50k DMIPS

Fully pin and software compatible upgrade to higher CPU performance, e.g. for car facelifts with new apps, larger displays, etc.

New reference software (SW) solutions using the CR7 real-time core as a "robust domain" for HMI, fast boot and Functional Safety (FuSa)

Reduced BOM and shortened development time using pre-integrated software

Improved options scheme and optimized specification, especially for digital cluster

Easier access to all required R-Car functions and simplified pricing scheme
"Winning Combo" to Reduce System Cost
R-Car Gen3e aims to reduce the system cost, and one way to achieve it is to enable higher integration and simplify the software architecture.
On the hardware side, R-Car Gen3e in combination with a Renesas PMIC as a "Winning Combo" allows you to eliminate an external vehicle controller by activating the on-chip real-time CPU (Arm Cortex R7). On the software side, such configuration provides the system robustness to easier select open-source OS such as Linux, and to simplify or even remove a hypervisor for multi-domain systems.
Especially in case the following use cases sound familiar to you, you should consider R-Car Gen3e:
Fast boot for CAN network, welcome animation, 2.5D cluster HMI, and rear-view camera
Functional safety (FuSa) up to ASIL-B for telltale monitoring, alarm sound, and display/camera freeze detection
Non-hypervisor multi-domain cockpits including digital cluster and IVI or others
Integration of camera-based applications such as driver monitoring and surround view
Example: Digital cluster with integrated driver ID on R-Car E3e
Image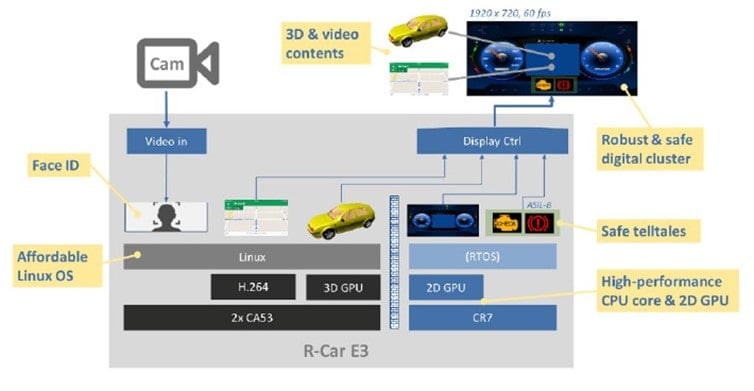 Example: Integrated cockpit with Android on R-Car M3e
Image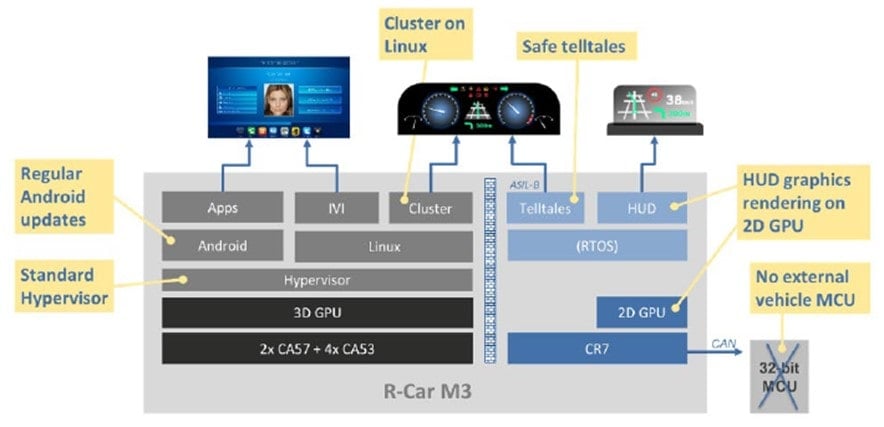 How to Get Started on R-Car Gen3e?
R-Car Gen3e is fully pin and software compatible with R-Car Gen3. If you have a running R-Car Gen3 environment, you can use it for development start and change to the R-Car Gen3e series during development. Boards, BSPs and libraries from R-Car Gen3 can be re-used on R-Car Gen3e.
Evaluation boards: Boards and starter kits based on R-Car Gen3 are available and can be used for R-Car Gen3e evaluation and development. Upgraded boards with R-Car Gen3e devices are planned from Q4/2021.
Embedded Software (CA53/57 core): On the CA5x application cores, BSPs and middleware are available for Linux, Android, QNX, and Integrity OS. For information on versions and supported SOCs, please contact us.
Embedded software (CR7 core): On the CR7 real-time core, Autosar MCAL and reference software on FreeRTOS for HMI, fast-boot, and FuSa are available. For more detailed information, please contact us.
Samples: R-Car Gen3e device samples are available; mass production is planned from 2022.
R-Car Consortium: Find a variety of solutions on R-Car from our partners, such as system integrators, middleware/application developers, and OS/tool vendors. The Solution Matching System helps you to find the partner fitting your use case.
Please contact us to find out how R-Car Gen3e can simplify our cockpit design!