Published: December 10, 2021
With the advancement of IoT, more and more sensors have been mounted on equipment to monitor and notify users of their status. Particularly in the fields of home appliances and OA equipment, it is expected that the demand will grow for applications like monitoring the amount of remaining expendable items such as water or ink, and sending a notification to refill it.
However, when implementing a floating type or weight sensor to measure the amount of remaining water or ink, the cost would increase due to the replacement of deteriorated parts, implementation of high-cost sensor elements and peripheral circuits.
To address these challenges, Renesas provides a reference design demo that measures the amount of remaining liquid, keeping the cost low.
This demo applies the capacitive touch key solution to measure the water level with a one-channel self-capacitive electrode and a one-channel shielded electrode. This system consists only of the RX130 MCU with Capacitive Touch Sensor Unit (CTSU) and low cost copper electrodes. There is no need for additional electric components such as a floating type sensor, and the cost can be reduced, as the electrodes do not deteriorate easily.
The demo is configured with the RX130 CPU board, two water tanks, copper electrodes for water level detection, a pump for changing the water level, and the demo control board connecting them. You can check the demo operation when connecting the RX130 CPU board to the PC.
Image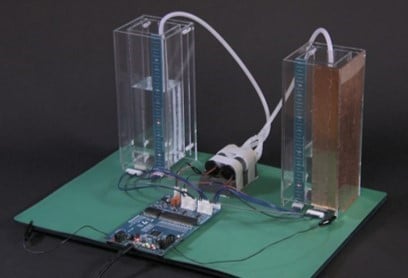 The procedure for the demo is as below.
Get the sample software for water level measurement from the Capacitive Sensor Application Reference Design web page.
Download the sample software to RX130 using the Integrated Development Environment (IDE), e2 studio.
Press the switch to transfer water between tanks using the pump.
You need only three steps to confirm the changes in water level in real-time using the dedicated monitoring software.
Renesas provides the sample software for the water level measurement demo system and the reference design such as the circuit diagram and the electrode pattern, enabling you to evaluate and start to develop the system immediately.
Please consider the replacement of the existing sensing system or the installation of a new one by using the RX Family MCU with our CTSU. 
For the video introducing this demo, see the Water level measurement demo page.
Learn more about our Capacitive Touch Sensor Solutions.
Learn more about the Water Level Measurement Reference Design.
For more about the RX130 CPU board, see the Capacitive Touch Evaluation System for RX130 board page.