Published: July 21, 2023
The term "Industrial Ethernet" (IE) refers to the use of Ethernet in an industrial context, specifically one that employs deterministic and real-time control mechanisms. In this blog, we will introduce the major industrial Ethernet protocols and Renesas' solutions.
Currently, protocols such as TSN, OPC UA, EtherCAT, PROFINET, EtherNet/IP, CC-Link IE and Modbus are used in a wide variety of industries. The target applications are wide and varied; some example industries include oil and gas, aerospace and defense, energy and power, electrical and electronics, automotive and transport, chemicals, and many more. (Figure 1)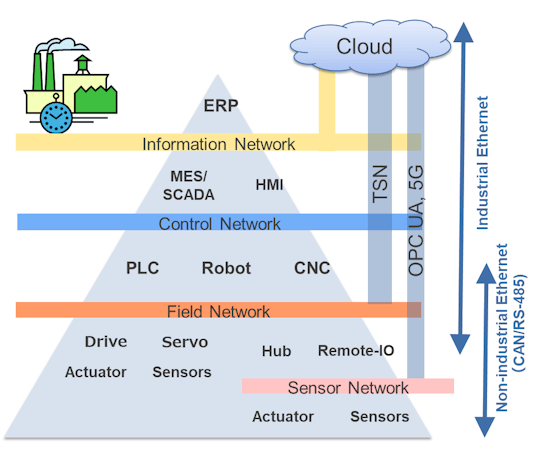 TSN
Time-Sensitive Networking, often known as TSN, is one of the key entities at the heart of the cyber-physical systems that make up Industry 4.0 which is driven under more deterministic industrial Ethernet (refer to Figure 2).
Nevertheless, the vast majority of industrial Ethernet standards from the present generation call for the use of proprietary hardware and protocols. Renesas provides targeted products and solutions linked to time-sensitive networking (TSN).
IEEE 802.1 TSN task groups integrate IEEE standards (Figure 3) to enable real-time deterministic behavior, and vertical and horizontal scalability in TSN technology.
One of the earliest CC-Link IE TSN Class B controllers is the Renesas R-IN32M4-CL3 SoC. The R-IN32M2 SoC series and RX72M MCU also have solutions to support CC-Link IE TSN Class A. These enable high-speed, large-capacity communication without a software real-time operating system and external parts.
OPC UA
The OPC Foundation created Open Platform Communication Unified Architecture (OPC UA) for industrial automation M2M communication. OPC UA is suitable for components in all industrial domains, including industrial sensors, actuators, and control systems. These systems are used for industrial process command and control. OPC UA is a layered, adaptable, trustworthy, open, and standard protocol (refer to Figure 4)

EtherCAT
EtherCAT is an Ethernet-based fieldbus system and maintained by the EtherCAT Technology Group and the capable of both high-speed data collection and real-time control simultaneously. EtherCAT has been one of the leading protocols in the industry for its high performance, low cost, and flexible topology. For example, Renesas is expanding its equipment control and networking portfolio with Renesas' new 3rd generation RXv3 proprietary CPU core and 32-Bit RX72M, RX72N and RX66N MCUs for industrial automation that combine equipment control and networking function on a single chip (refer to Figure 5).
The RX72M is a strong and adaptable microcontroller suitable for many industrial applications that combine equipment control and networking function, especially those that need EtherCAT connectivity on a single chip.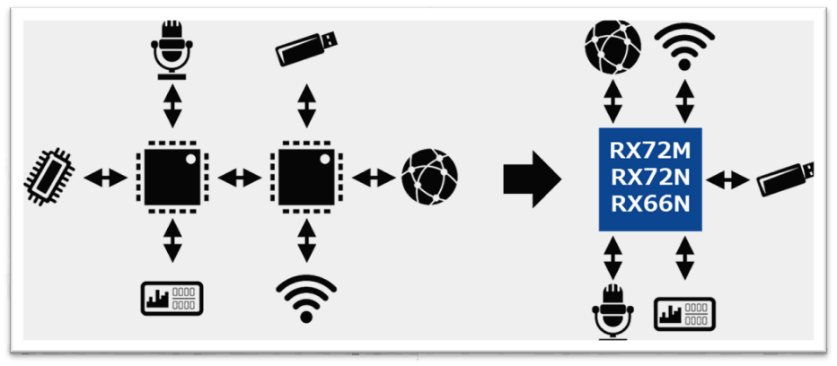 PROFINET
The PROFINET standard is an open, standardized Industrial Ethernet protocol. Renesas TPS-1 is a PROFINET IO device chip solution that supports PROFINET (IRT), reduces the time and cost efforts for implementation to a minimum, and provides device manufacturers with a fast, easy and cost-saving integration of a PROFINET IO device interface. The RX72M MCU is capable of supporting PROFIBUS in addition to PROFINET (RT), a popular fieldbus protocol used in industrial automation applications. It supports both PROFIBUS DP (Decentralized Peripherals) and PROFIBUS DP-V1 (Version 1) protocols, which are widely used in industrial automation applications for communication between PLCs and other devices.
EtherNet/IP
EtherNet/IP enables Ethernet-connected industrial automation equipment to interact. It is one of three Ethernet-based industrial automation protocols, together with EtherCAT and PROFINET. EtherNet/IP is a protocol that allows industrial devices such as PLCs, HMIs, sensors, and other automation equipment to communicate and control in real-time. It offers scalable, high-speed communication using Ethernet networking and IP. EtherNet/IP provides cyclic and acyclic communication. EtherNet/IP can communicate via TCP/IP and UDP/IP. This makes it a versatile protocol that may be utilized in industrial applications from small control systems to large distributed systems.
In cooperation with our partners, we offer RX72M network solutions that have passed certification tests for these three major protocols (EtherCAT, PROFINET, and EtherNet/IP).

In addition, Renesas enables a comprehensive partner solution ecosystem to deliver an array of software and hardware building blocks that will work out-of-the-box with Renesas MCUs. This ecosystem will help accelerate development of IoT applications, including core technologies. As was already highlighted, today's factory floor requires a versatile and robust deterministic as well as non-deterministic Ethernet framework to achieve the highest degree of industrial network connectivity.
As a market leader in this domain, Renesas solutions cover ease of use to enable accelerated adoption. Renesas offers a variety of development and solution kits to help engineers quickly create value added industrial Ethernet solutions.
Check out Factory Automation, Industrial Ethernet & Fieldbus, Industrial Network, and RX72M Network Solution to discover more about a whole host of Renesas-based Industrial Communication solutions.