Published: October 1, 2021
In the development of connected cars that are paid more attention to in the future, do you have any of the following problems?
Want to focus resources on the development of added-value software for connected cars
Want to verify the connected services in the car at an early phase
Currently, it is said that the automobile industry has rushed into a once-in-a-century great transformation. As each technology field of CASE (Connected, Autonomous, Shared, Electrified) continues to progress, automobiles become one of IoT edge and communicate between vehicles, between vehicles and infrastructure, and between vehicles and other road users, such as cyclists and pedestrians. Therefore, automobiles are required to create new services, experiences and values in advance, aiming to develop a new business field, not only in terms of transportation services as a conventional.
On the other hand, the large scale of software development in the connected systems is a serious problem and this could have been a blocker to providing in advance the added value service by customers.
By utilizing the development environment for connected cars that is introduced in this blog, R-Car users can set up the development environment "easily" and "quickly" and focus on the development of added-value software.
What is the Connected Car Platform - Starter Kit (CCPF-SK)?
This is a development environment that extends the functionality of the R-Car Starter Kit which has already shipped over 5000 units worldwide in order to help out the development of connected cars by Renesas customers. It has been developed through the joint efforts of Renesas Electronics Corporation and Shimafuji Electric Incorporated.
Renesas has prepared the development environment that has three features while at the same time having a compact size, in order to contribute early to providing the new services for connected cars by R-Car users as software development acceleration and pre-verification by rapid prototyping in the car.
Quick start and bring into car (Easy to Use)
Modern tech. integration and low initial cost (Easy to Develop)
Remote access and control easily through the cloud (Easy to Access)
Image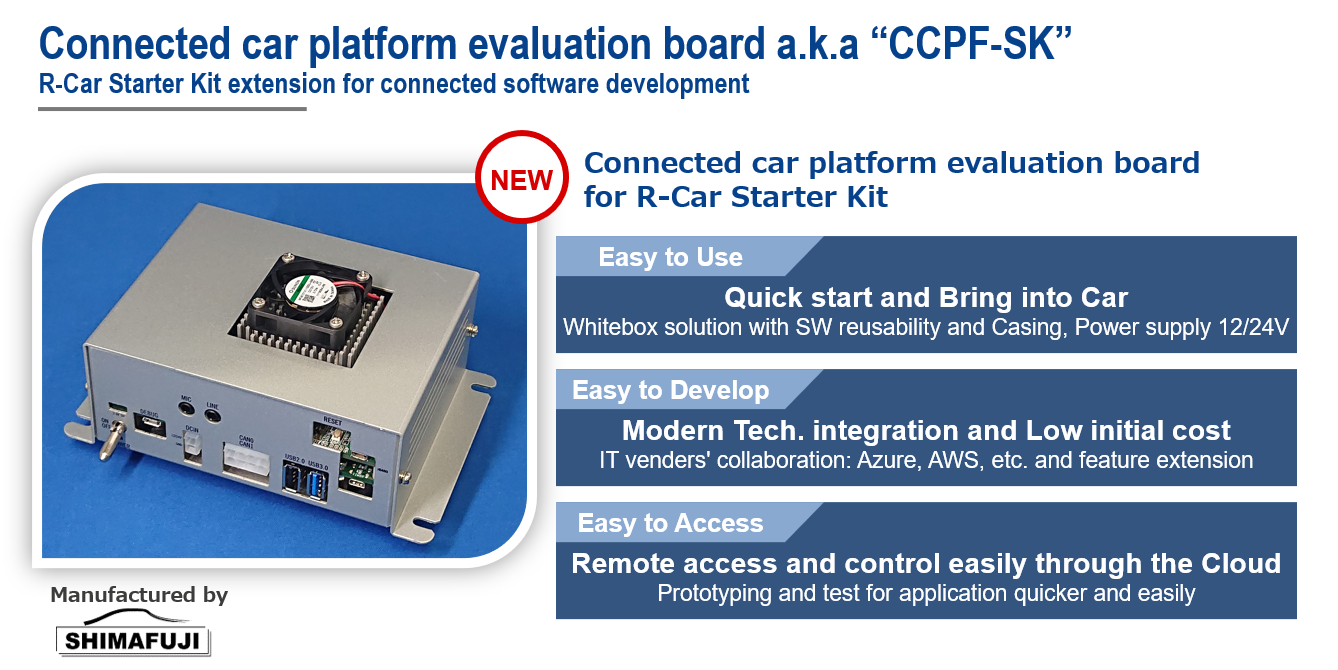 Image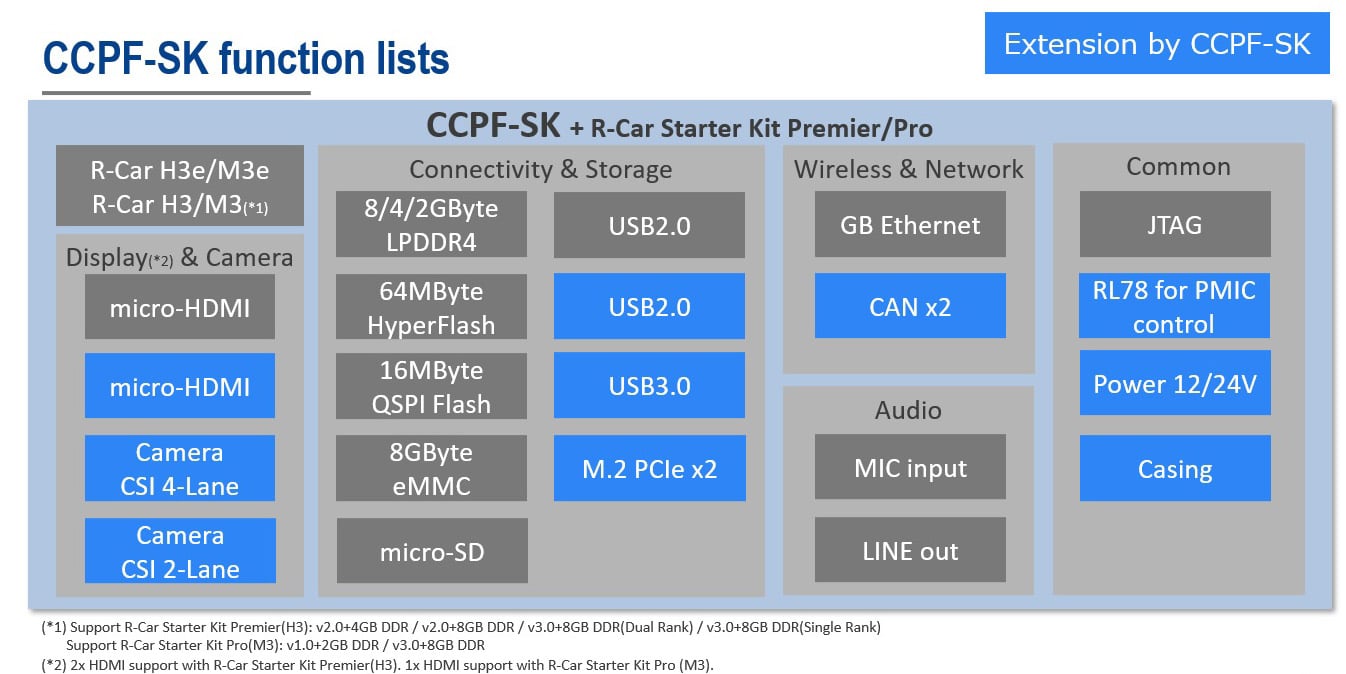 Quick Start and Bring into Car (Easy to Use)
With the conventional R-Car Starter Kit, it took a long time to make a software license contract, download the package, build it, make binaries, write them, and boot up. CCPF-SK was planned so that users can actually use R-Car within 30 minutes after receiving the board. This CCPF-SK is used in combination with an R-Car Starter Kit provided by Renesas. It is very convenient, as set up can be done in less than 30 minutes including assembly. And, Renesas has also prepared procedures using video, so users can easily set it up. Also, CCPF-SK can be power supplied directly from a cigar socket or battery. Thereby, it is possible to bring into the car and verify the application at an early phase.
Modern Tech. Integration and Low Initial Cost (Easy to Develop)
Conventionally, it took several hours for booting because users had to build the software from source code according to the manual. Renesas prepares binaries for CCPF-SK in advance so that users can address the development of added-value software quickly without a troublesome software build. In addition to the binaries for Yocto distribution, Renesas plans to provide binaries that can be connected to Microsoft Azure IoT Edge, Microsoft Azure IoT Hub and Amazon AWS Greengrass. Since CCPF-SK is an extension board for a starter kit certified as an IoT Edge device of Microsoft Azure IoT Edge, Microsoft Azure IoT Hub and Amazon AWS Greengrass, users can work on the software development for connected cars quickly by using these modern IT components.
Remote Access and Control Easily Through the Cloud (Easy to Access)
As CCPF-SK has an external control connector for the power supply, it supports remote access and control. Recently, since board supply may be put under a hard situation due to the difficulty in procuring materials, Renesas is also preparing a remote access environment for CCPF-SK known as Renesas Lab on the Cloud. It is useful in the following use cases.
Trial run before purchasing the boards
Temporary increased demand for the boards
Sharing the development environment worldwide
Easy to debug by using same environment
Lastly
How about the newly design tool CCPF-SK?  This blog introduces CCPF-SK and its features.
If you are interested in CCPF-SK, you can purchase it here.
For technical materials and software related to CCPF-SK, access from here.
*Azure IoT Edge, Azure IoT Hub are a trademark of Microsoft Corp., or its affiliates in the United States and/or other countries.
*Amazon Greengrass is a trademark of Amazon.com, Inc. or its affiliates in the United States and/or other countries.
*All names of products or services mentioned in this press release are trademarks or registered trademarks of their respective owners.