In recent years, building lighting has been required to save energy, maintain less, and create a comfortable space to reduce installation and operation costs and to acquire tenants and users. The keywords to realize these are networking, dimming, and digital power supply. As a lighting network, there is DALI (Digital Addressable Lighting Interface), which is spreading worldwide. Renesas offers DALI solutions that promote networking and digital power supply solutions that achieve dimming and toning. We contribute to the realization of comfortable and energy-saving lighting by providing solutions.
*Renesas provides semiconductor solutions.
Applications & Solutions
Analog Downlight
This application supports phase dimming signals and DC current dimming with PWM dimming signal sources. It can also easily support worldwide power input due to outstanding line regulation. Furthermore, the diverse MOS lineup enables a wide range of power selection.
LED Light Bulb
This application achieves high efficiency 92%, high power factor 0.9, and high LED current accuracy (line regulation 0.5%). Renesas will contribute to the development of high-quality LED bulbs with optimized solutions for LED bulbs with different needs in each region. In addition, the universal Vin solution for the world contributes to the construction of a worldwide common platform.
Digital Baselight, Downlight and Outdoor Lights
Renesas offers digital power and analog solutions for base lights / downlights / street lights. Features of digital power supplies include reduction of the number of parts, shortening of the development period, and improvement of power supply performance.
Lighting System Communications
The communication evaluation environment is a reference solution for those who develop communication-compatible dimmers like communication masters, DALI switches, sensors, etc. It can also be used as an evaluation of communication with lighting equipment (DALI, DMX512, infrared communication).
Recommended Devices for LED Lighting
Renesas provides a range of dedicated lighting microcontrollers (ASSPs) and driver ICs together with easy to use development tools to support the high intelligence trend by high integration and low cost.
Evaluation Environment
Renesas' LED lighting evaluation environments consist mainly of reference solutions for developers of LED lighting fixtures. These resources include LED lighting evaluation environment, software development environment, communication evaluation environment and application notes that describe detailed information and usage.
LED lighting evaluation environment
The LED Lighting Evaluation Environment is a reference solution mainly for those who develop LED lighting fixtures. We have evaluation boards with various types of topologies and dimming interfaces including DALI, which you can choose according to your application.
For evaluation board details, click on each board to see the linked information.
APPLICATIONS: For routers and switches supporting LED lighting and DALI communication.
Image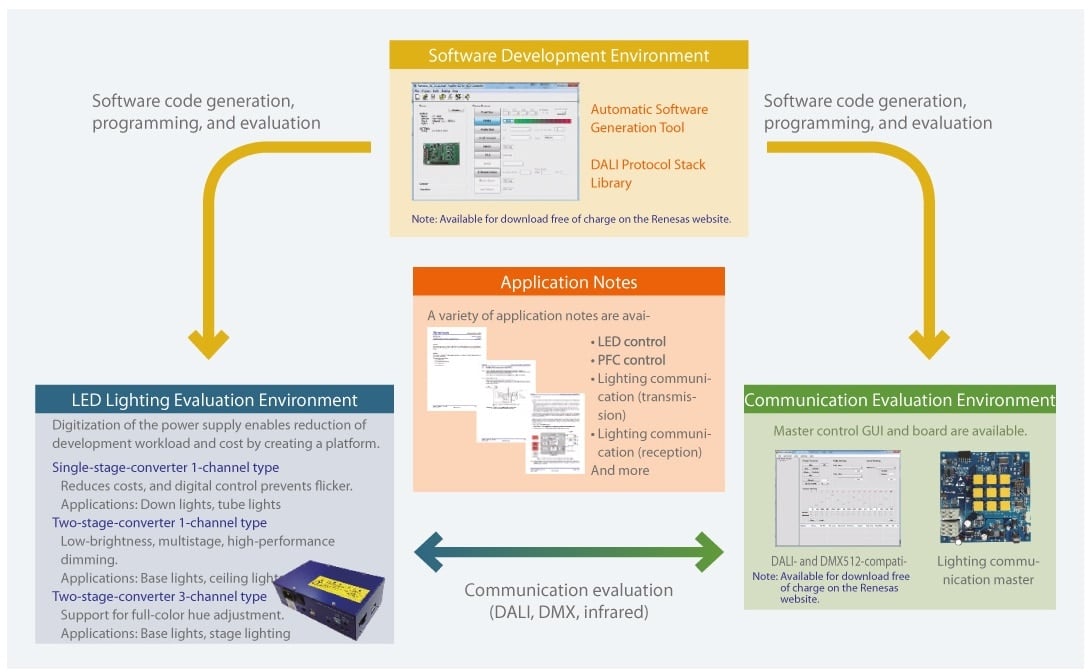 Solutions