The next evolutionary step for narrowband powerline communication (PLC) technologies has taken place with the introduction of the "Hybrid" extension. This allows each node in the mesh network to use either PLC or RF communication depending on the best available channel and to keep maximum coverage, the selection can be adjusted dynamically. Furthermore, the hybrid specification opens new use cases beside the classical automatic meter reading, for instance sub-metering, in-home displays, lighting controllers and others.
To address this technology Renesas is using the well-known connectivity products CPX3 (R9A06G37) and TsuRuGi (RAA604S00).
CPX3 is Renesas' software configurable PLC modem which supports all main PLC standards covering all global frequency bands with a single PCB design (Power Line Communication (PLC) Solutions | Renesas).
TsuRuGi is the sub-GHz transceiver which in combination with the RX651 MCU supports the wireless communication profiles defined by the Wi-SUN alliance based on the international standard IEEE802.15.4. (Sub-GHz/Wi-SUN Protocol Stack | Renesas)
Both devices CPX3 and TsuRuGi are part of the "golden units" which are used for the certification in the related alliances.
Looking at the overall system architecture of Renesas' G3-PLC hybrid solution, shown in Figure 1, it is clear to see that any end product platform can retain its flexibility and modularity and is able to extend a pure PLC product, into a hybrid one, by simply adding an RF transceiver module.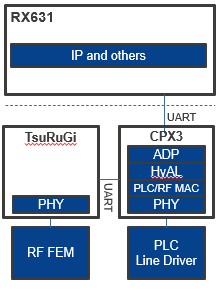 Renesas will be showcasing this solution at Enlit Europe which will take place from November 30th to December 2nd in Milan, Italy.