In recent years, there has been a trend to include additional value and simplify the development of wireless solutions. Not only does it have to be eye-catching but it also has to make customer development easier.
The real challenge is the evaluation of the actual device. For wireless evaluation, the actual operating environment is a key factor, and on-site measurement and real-time analysis of the solution are required.
Therefore, Renesas has developed a solution in collaboration with Silex to develop the "SX-23BT-EVK" wireless module with Radio Law certification that allows the development of Renesas' RX23W BT5.0 MCU from the device level to the actual wireless evaluation board. This solution enables code development for wireless evaluation in a single environment using the Renesas integrated development environment (IDE) - e2 studio.
To use the RX23W, please prepare the followings:
Wireless evaluation board "SX-23BT-EVK"
E2 emulator Lite
Renesas' e2
Image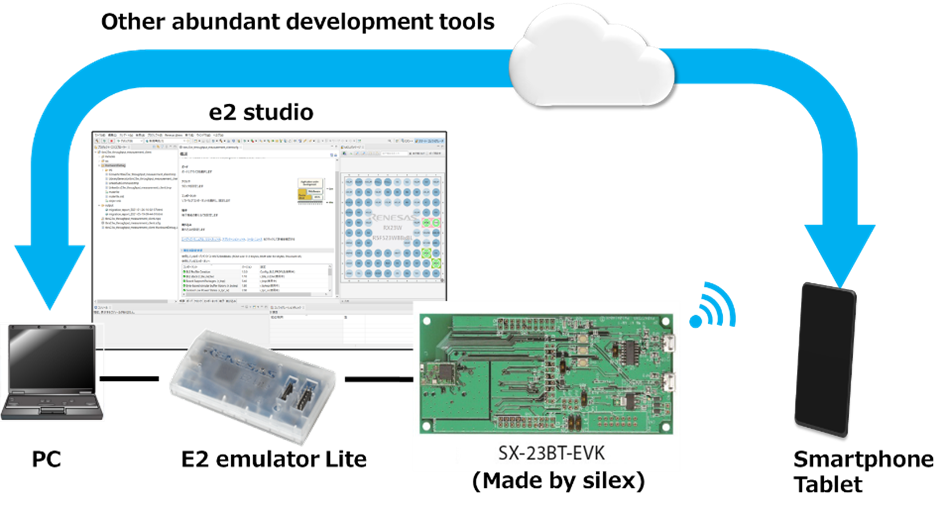 This enables each evaluation to become easy.
Wireless Evaluation
With the following 3 steps, actual wireless evaluation can be done in the same development environment.
Build a project environment for the sample code.
Refer to the Quick Start-Up Guide provided by Silex.
Integrate the wireless unit and build an environment capable of wireless transmission.
Total Power Evaluation
As most of the pins are on the outer side of the wireless evaluation board, you can connect your preferred components and evaluate both wireless and total power.
Thus, by adding a board that can be built easily for evaluation of wireless and total power to the development environment, customers can easily evaluate in their own operating environment.
This solution truly demonstrates our partner's strength in providing a "reliable wireless" solution as well as Renesas' development environment capability.
For more information on RX23W: Click here
For more information on the e2 studio IDE: Click here
For more information on the evaluation board by Silex: Click here
For more information on the demo kit: Click here
The solution introduced this time enables wireless evaluation and total power in the actual operating environment using the Renesas integrated development environment. The result of the wireless evaluation can be easily captured even at the very early stage of the development. Feel free to try this!