Many applications and products require to be in the market for long and at such will need to have components supply to be able to support them 10 years and beyond. This is specially so for application like automotive, medical, and industrial automation. 
Renesas has a product longevity program (PLP) to address this requirement, this is especially so for its Microcontroller since this provide the brain for any embedded application and is not likely to find a 100% drop-in replacement without making changes unlike memory or discrete component.
Today, I would like to introduce to you on the Renesas's PLP for RX Microcontroller and where to find more detail information, i.e. date of termination for support device. RX MCU has more than 700 devices under this PLP program. All the RX general purpose microcontroller with LQFP packages (from 48 pin  ~ 176 pins) support a minimum of 15 years for PLP and 10 years of PLP for BGA and LGA packages. Below shows the lineup of the RX MCU that has PLP in place.
Image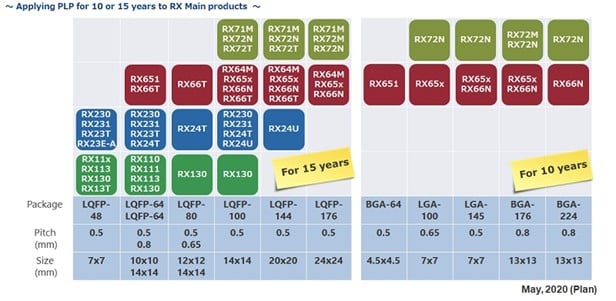 You can check for RX MCU PLP products on each MCU series product page. Applicable products are indicated by a data display in the PLP column of the Product Option table. See below diagram for an example.
Image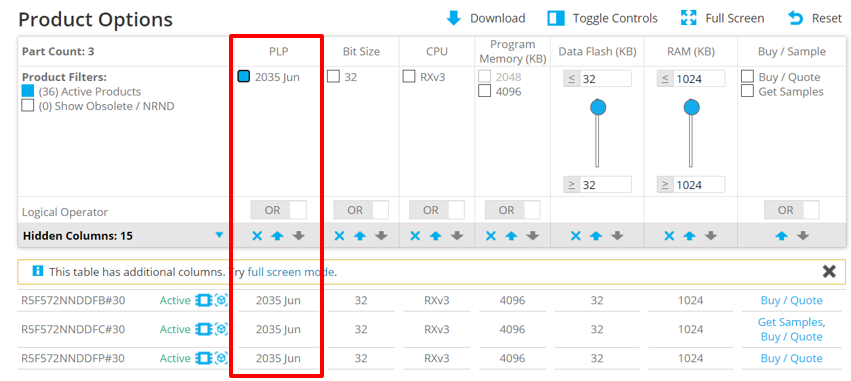 Click here for more information on Renesas Product Longevity Program (PLP).
Click here for the RX Microcontroller PLP website.