Published: March 14, 2023
Connectivity has improved productivity in manufacturing industry. With the integration of production management (IT) and the production floor (OT) to further improve productivity recently, Industrie4.0 is an example showing the advancement of IIoT. With this trend, the networks that connect manufacturing equipment are undergoing a major shift from conventional field buses to Ethernet, enabling faster communication.
There are several communication protocol standards for Ethernet for industrial equipment, such as PROFINET and EtherNet/IP, but EtherCAT has grown particularly rapidly in recent years. EtherCAT has grown in market share by 7% in the past two years as shown in the graph below.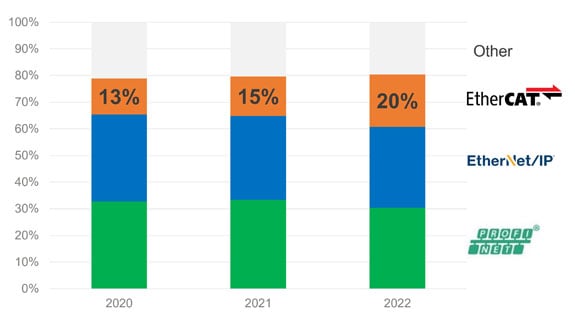 The reason for EtherCAT's growing market share is its usage in a wide range of markets outside manufacturing equipment, including building automation equipment, medical equipment, and power generation equipment such as wind power generators. The trend for equipment used in these expanding and maturing markets and standards is that it requires a broad and varied product lineup, ranging from high-performance products to smaller, less expensive products. Hence, Renesas offers an MPU lineup that enables the development of a wide range of products and provides the development environment needed.
Therefore, the RZ/T2L – an EtherCAT-compliant MPU that enables high-speed and high-precision real-time control – is added to our product lineup to meet the needs of EtherCAT.
The RZ/T2L specification is based on the hardware architecture from the higher-end RZ/T2M and the RZ/N2L for industrial Ethernet communication, with a focus on the fast-growing EtherCAT communication market mentioned above. The main CPU is the Arm® Cortex®-R52, operating at up to 800 MHz, which is the same as in RZ/T2M. The peripheral functions are also the same as RZ/T2M, enabling high-speed, high-precision, real-time control. The industrial communication portion is focused on EtherCAT, and it is equipped with an EtherCAT slave controller from Beckhoff, which has a proven track record in the market.
With the on-board functions' optimization, RZ/T2L achieves both high-speed processing required for AC servo motors and EtherCAT communication ensuring high real-time performance. On top of that, its surface area is up to 50% smaller than the RZ/T2M, which enables the development of smaller products.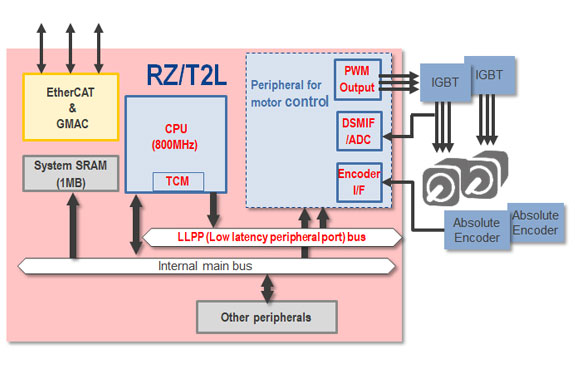 In addition, it can use up to three EtherCAT ports supporting EtherCAT branching slaves. This increases the availability and flexibility of branch wiring and can be used to develop devices with reduced network wiring.

Furthermore, the software development environment for the RZ/T2L – Flexible Software Package (FSP) – is the same as the RZ/T2M, RZ/N2L, and other MPUs and MCUs, making it easy to reuse software assets. There is no need to design software from scratch, even if the MPU or MCU is changed for each product model, greatly reducing software development time.

With this new product release, Renesas expanded our product lineup from the RZ/T2M with high precision control and multi-protocol support to the compact RZ/T2L with EtherCAT communication, and the RZ/N2L for communication. The scalable use of software assets and development environment accelerates the product development needed to respond to various market needs.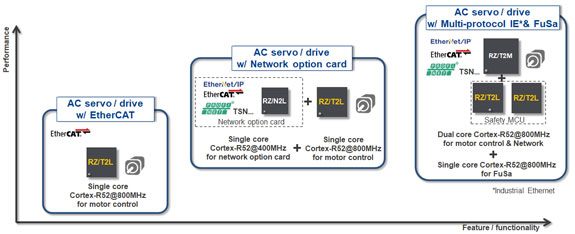 Visit RZ/T2L・Renesas Starter Kit+ for RZ/T2L・Winning Combination web pages for more details.