Renesas' protected and intelligent power switches offer single/dual high-side outputs with optimized protection functions and analog current feedback for body, lighting, and heater applications.
Intelligent Power Devices Enhance Safety and Robustness of the Application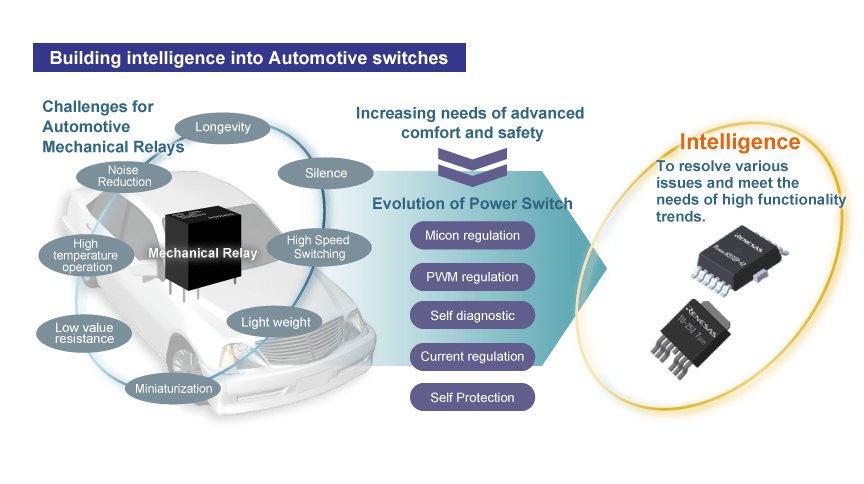 With the evolution of automotive applications, the performance required of switching devices is also changing. Advanced power devices with built-in intelligence such as self-protection and diagnostic functions are changing the traditional automotive switches. The features of the following three product series show why intelligent power devices (IPDs) are perfect for automotive load-switching applications.
High Current Operation Series
Advantages of built-in protection/self-diagnostic functions - For safety, large current switches use components such as fuses and fault detection circuits, not just relays. By using an IPD with protection/self-diagnostic functions built-in, the number of peripheral components necessary can be reduced.
Efficiently drives a large current load with low on-resistance - A large current load can be driven using 1/40 of the current compared to a mechanical relay. Power loss is also low compared to competitor products due to the low on-resistance, thus contributing to the reduced power consumption of the ECU.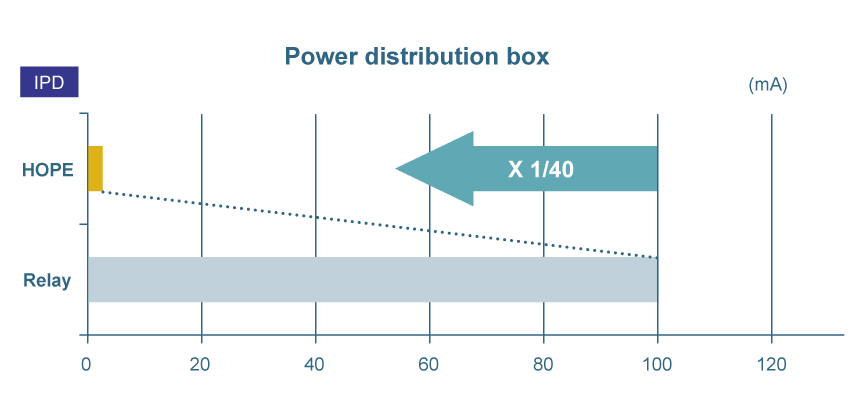 Compact size and high reliability - The size is greatly reduced compared to an equivalent mechanical relay product. Moreover, since IPDs do not have mechanical points of contact, there is no deterioration of characteristics from mechanical wear. A high level of reliability can be maintained even over prolonged use and maintenance is unnecessary.
Intelligent protection function - The overcurrent protection function cuts off current to the load when overcurrent detection value is reached. Not only do IPDs protect themselves from excess power, but they also protect related components through wire harness.
Power distribution box benefits - By using IPDs instead of mechanical relays, power distribution boxes can become maintenance-free. The diameter of the wire harness can be reduced thanks to overcurrent protection and current sensing functions, which helps reduce the weight of the car body.
Highly accurate current detection function: New feature of RAJ2810024H12HPD
Switches for high-current applications are used as power switches for ECUs in addition to directly driving loads. Therefore, accurate current sensing is required when all loads connected to the ECU are operating or not.
The RAJ2810024H12HPD is integrated with a HIGHLY ACCURATE CURRENT DETECTION FUNCTION improved current-sense ratio accuracy in the current range lower than the nominal current, which enables the system to be built up for safe power management.
Image

Specifications
Two types of products are available for your choice – Current Driven and Voltage Driven. Click below to get more product information or download datasheet.
---
Robust & Safety Series
A wide product lineup for your choice of design - Resistance ranging from 6mohm to 70mohm, comes in single and dual channels, provides a best fit to body and lighting applications in automobiles based on load current.
Pick and change easily among the same packaged products - Same pin orientation for products of the same packages. Sudden design changes requiring a different on resistance value could be done easily, without the need to re-design the whole board.
High level of safety through built-in protection and self-diagnostic functions - The built-in self-protection functions protect the device and the load when a malfunction, such as overcurrent or overheating, is detected. The status of the load can be monitored using the malfunction detection signal or current sensing function.
High reliability - Characteristics did not deteriorate in the 1 million cycle load short circuit testing stipulated by AEC-Q100-012. This high level of robustness increases vehicle reliability.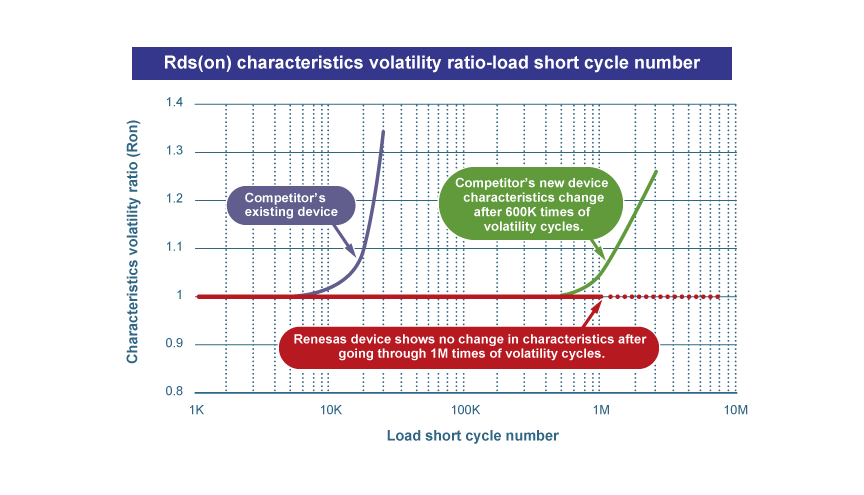 Specifications
Click below to get more product information and datasheet.
New High Side IPD Product Lineup
---
Self-Oscillation Intelligent Motorcycle Flasher Driver Series
Best fit device for 2 and 3 wheelers flashing application - Realized automatic flashing by connecting Renesas Flasher Driver to a lighting bulb and external capacitor. Specially developed for 2 and 3 wheelers, in which Flasher Driver has built-in protection functions that reduce the devices needed thus enabling the development of a smaller board.
High safety and resolve life span issues - Flasher Driver enhances safety in the circuit as it has various built-in protection features, such as short circuit protection, over-temperature protection with current limitation and open load detection. In addition, being an electronic device, Flasher Driver resolves mechanical wear issues that existing electro-mechanical relays face. With the use of Flasher driver, maintenance cost is reduced with higher performance.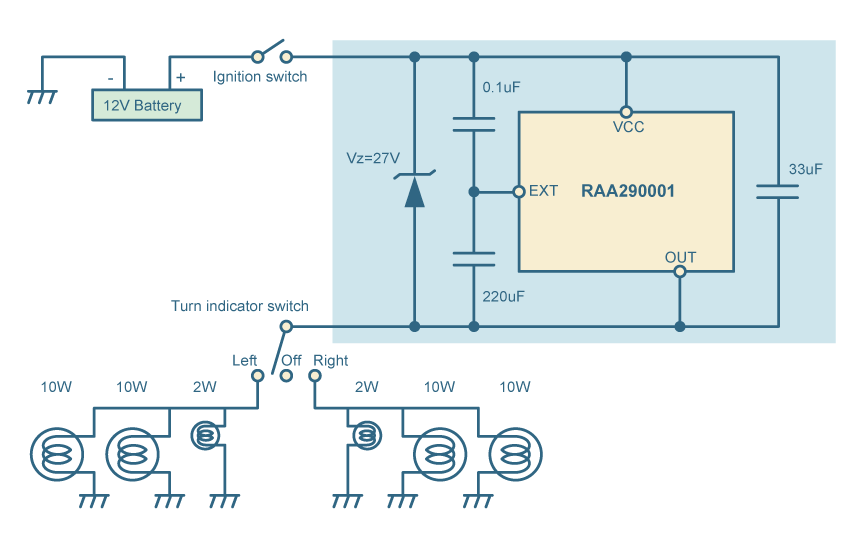 Specifications
Three product types suitable for various types of flashing applications.