Published: November 8, 2021
Hello everyone, hope you and your family stay healthy. I'm Keisuke Furuya from Renesas. I'm responsible for marketing and customer support of Automotive MOSFET products.
We have, in the past blog, introduced Renesas Power devices in series. The last time was the introduction of IGBT products that responds to energy saving and high performance of xEV. If you missed our previous blog about IGBT, you can check here. In this time, let me introduce Automotive Power MOSFET products.
From the viewpoint of the countermeasure to global warming in the worldwide, many countries mentioned the electrification of vehicle. Japanese government set the target; by 2035, all new cars will be electrification vehicles. "Electrification vehicles" which Japanese government mentioned means not only battery EV and fuel cell vehicle but also hybrid and plug-in hybrid vehicle. On the other hand, EU shows assertive stance to electrification vehicles. EU proposed effective ban on the sales of new petrol and diesel cars in 2035. This proposal includes 100% cut in CO2 emissions from the vehicles by 2035.
The activity of hybrid and battery electric vehicle is accelerated in the world, but do you know the mild hybrid vehicle? High voltage over several hundred volts is used in the battery voltage system of hybrid and battery electric vehicle. For the battery system over 60V, strict standard for safety is applied and the cost for the safety will be increased. Therefore, mild hybrid vehicle for 48V battery system is developed to decrease both the cost and CO2 emissions. Electrification vehicle has the political aspect, and some Tier 1s and OEMs consider that it needs much time to complete electrification and there would be still some shares for mild hybrid vehicle in the future. I would like to introduce our Power MOSFET for mild hybrid vehicle in this blog.
Renesas offers an ANM2 series product for 48V battery system in mild hybrid vehicle. Renesas released the latest ANM2 product; RBA250N10CHPF. TO-263 7pin SHL package is applied to RBA250N10CHPF, and RBA250N10CHPF can achieve not only low On-Resistance (Ron) but also low thermal resistance. Many customers in the world use our ANM2 products mainly for motor control application. Now, ANM3 product as the next generation of ANM2 is being developed.
Image
Image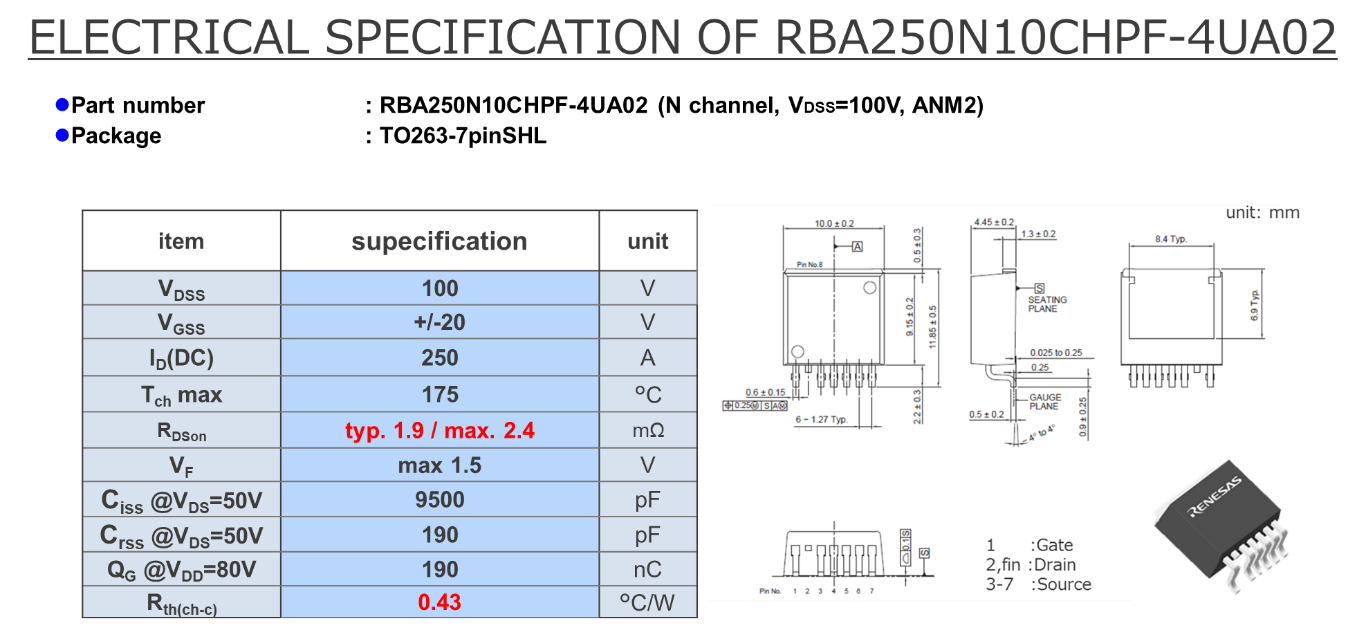 Renesas focuses on low Ron MOSFETs. For next generation ANM3, by our own wafer process technology to lower Ron, Ron index can be lower than that of ANM2. *Ron index means Ron as wafer process; 1.0 (ANM2) → 0.8 (ANM3 100V), 0.58 (ANM3 80V). Renesas will apply TO-LL (Leadless) package to ANM3 and TO-LL package can decrease package Ron from conventional TO-263 7pin SHL (Short Head Lead) package. New wafer process and new package can make Ron lower drastically from 1.9mΩ in ANM2 product. By them, ANM3 products can achieve top class Ron performance.
Image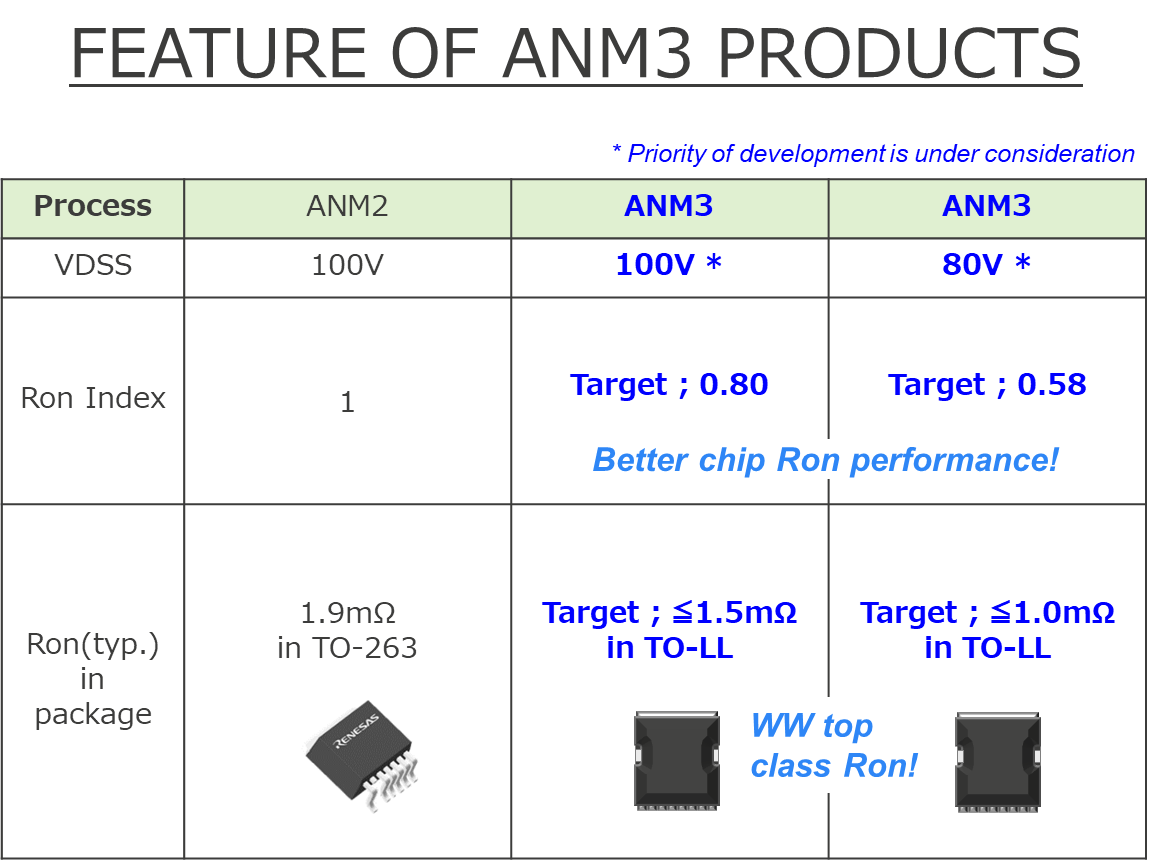 ANM3 sample will be available; proto sample from November 2021, WS from Q4/2022, CS from Q4/2023.
Renesas also has a Power MOSFET line-up for 12V and 24V battery system besides for 48V battery system. If you have an interest, please check here. We can provide sample as same as ANM3 product. If you are interested, please get contact to us!!
We will continue the introduction of our power device products in this blog.
Next time, we will introduce Industrial Power MOSFETs, so please look forward to it!