Published: November 19, 2021
A.L.I.Technologies Inc. has selected our products for its XTURISMO Limited Edition, a "flying motorcycle". The performance of the manned run at Fuji Speedway on October 26, 2021 was open to the press and reported by various media.
Image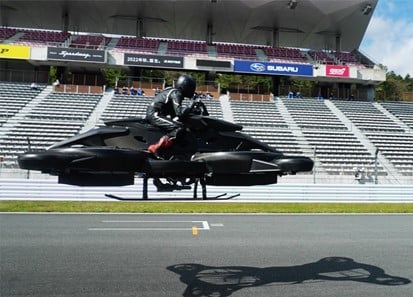 This practical hoverbike is not equipped with tires, but instead uses a hybrid of a gasoline engine and an electric motor to turn the propeller and float like a drone. The start-up aims to enable the emergency use of the hoverbike in times of disaster, and at the same time, the use in entertainment in times of non-emergency.
Our RH850/F1x series, automotive MCUs for body control, and RH850/C1x series, suitable for inverter control of hybrid electric vehicles (HEV) and electric vehicles (EV), have been adopted for the hoverbike. Our products and solutions will continue to contribute to the expansion the possibilities of future mobility.

A.L.I.Technologies Inc. news about XTURISMO Limited Edition can be found here. An overview of the product is as follows;
Product Name: XTURISMO Limited Edition
Base Price: 77,700,000 JPY (Tax included) – 777K USD
Dimensions: 3.7m(L) x 2.4m(W) x 1.5m(H)
Available units: 200
Reservation Start Date, Orders from:
– Japan: October 26th 2021
– Outside of Japan: Beginning of 2022 *the date will be confirmed later*
To learn more about our automotive products and solutions, please visit our website.