Published: August 19, 2021
The Renesas Quick-Connect system launched in July and has already proven to be a hit. Customers can quickly connect Pmod compatible sensors to their MCU of choice. With the Pmod connector being standardized to Digilent's Type 6A (which Renesas worked closely with Digilent on), all of our Pmod sensor boards will connect to our newest MCU development kits. And with an interposer board, it will also connect to any of our prior development kits.
Software is either pre-integrated into popular software packages like the Flexible Software Package for RA, or it can be directly downloaded from the Renesas website. Example projects and application notes walk through the entire process of getting a sensor connected to the MCU. For some sensors, this can be as simple as four simple API calls to start realizing sensor data in your system. See Figure 1.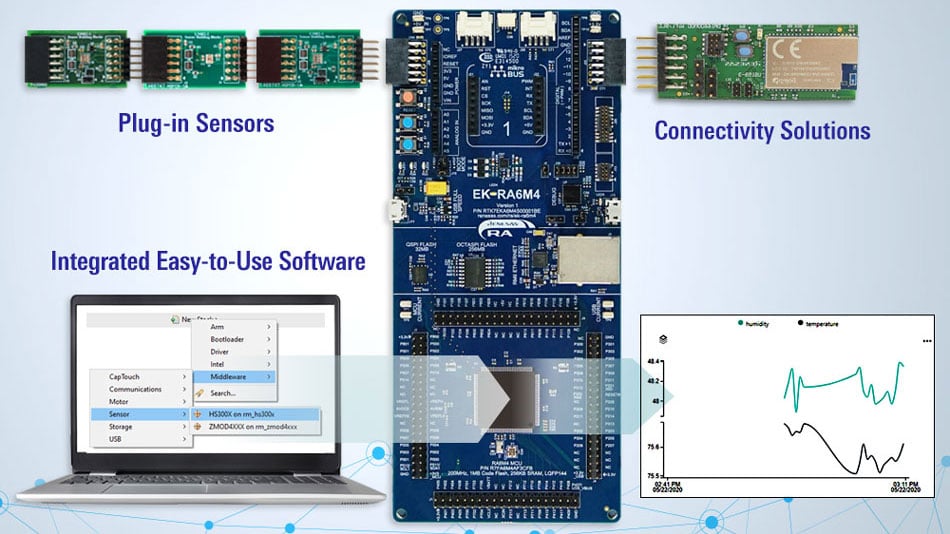 Now is where the real excitement starts. With the acquisition of Dialog Semiconductor by Renesas, we have access to many new and complementary devices to the existing Renesas product portfolio. One of the more exciting areas and the biggest addition to the Renesas portfolio comes in the connectivity arena. Bluetooth Low Energy (LE), Wi-Fi and Bluetooth LE/Wi-Fi combo devices from Dialog allow you to easily connect your IoT system to your smartphone, an existing Wi-Fi infrastructure and so much more.
But what good is having access to all this great technology if the integration effort is cumbersome? Well, the Renesas Quick-Connect team has been working hard to simplify this process. Now that the Dialog acquisition is complete, we can announce the project we have been working on. To celebrate the acquisition, we are pleased to announce our first Renesas Quick-Connect connectivity Pmods using Dialog silicon and technology.
We have developed three connectivity Pmods to cover Bluetooth Low Energy and Wi-Fi. Our first Pmod is based on the DA14531 module and provides Bluetooth LE v5.0 connectivity in a very small form factor (Figure 2). The second option is a Wi-Fi connectivity option using the DA16200 Wi-Fi module (Figure 3). This low power Wi-Fi module for always-on IoT systems is a cost-effective way to easily add Wi-Fi to any design. And lastly, we have created a Pmod with the DA16600 Wi-Fi and Bluetooth combo device that provides both LAN and WPAN connectivity (Figure 4), which is especially helpful when on-boarding new devices to existing Wi-Fi infrastructure.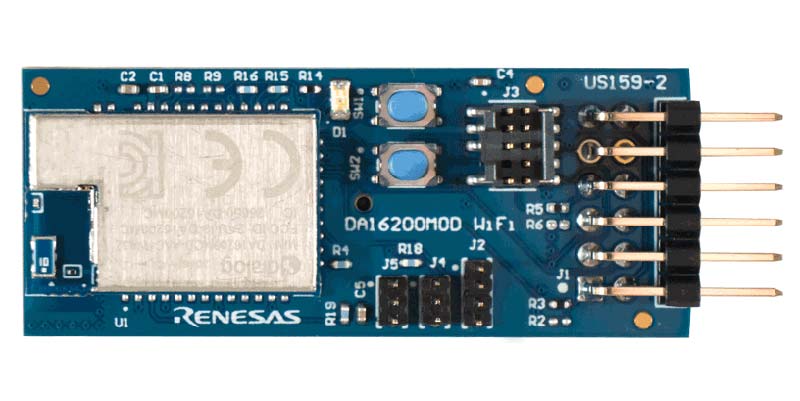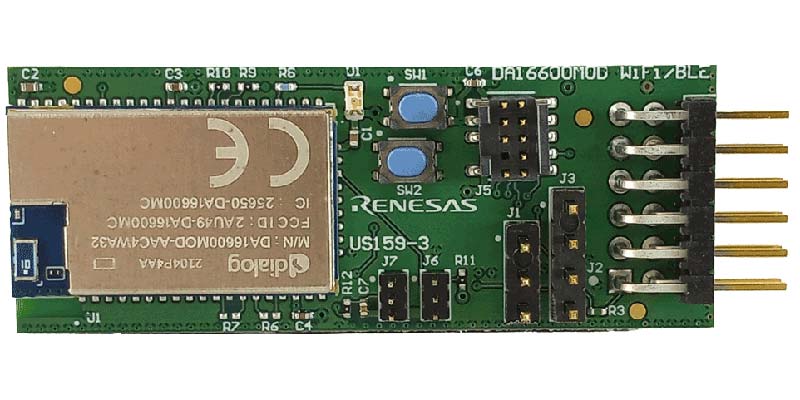 The overall integration of Dialog hardware and software solutions with existing Renesas products will obviously take more time. However, what we are very excited to show is the ease of use, practicality and synergistic compatibility that Dialog and Renesas bring together as a single company. We have hardware solutions available today for the three new Dialog connectivity Pmods that can be sampled from the sample store. Software demos and example projects are also available on the Quick-Connect webpage.
And, stay tuned! A tighter integration of Dialog devices into existing Renesas software packages, like the Flexible Software Package, is already underway. We are also hard at work to develop new Pmods for many other Dialog devices, as well as our existing Renesas portfolio. Quick-Connect was developed to make prototyping and initial development easier for customers looking to evaluate and integrate sensors with Renesas MCUs and MPUs. And, now we are extending that to enable seamless connectivity integration with your designs.
For more information, please visit the Renesas Quick-Connect page at renesas.com/quickconnect.