Published: October 6, 2020
With the newest generation of RA Family MCUs, we are setting the scene for your innovative product ideas. State-of-the-Art Arm® Cortex®-M33 cores based on the latest generation of Armv8-M architecture, excellent embedded Flash, cutting-edge security, powerful performance, and best-in-class peripheral IPs, all combined with the highest levels of integration and designed for optimum ease-of-use to assure a fast time-to-market.
Smaller System Cost and PCB Size
The RA Family reduces system costs with its unique level of integration. The integrated secure element functionality is just one of many examples of how external components can be made redundant, and not necessary. Internal data flash can eliminate the need for an external EEPROM for non-volatile updateable storage. The high-precision on-chip oscillator enables crystal-less operation of both USB FS Host and Device modes. The MCU operates with a broad input voltage range single-rail power supply. Leveraging these features presents many options to reduce external components and free GPIOs, resulting in the ability to select smaller packages and to reduce PCB size as well as BOM cost.
Image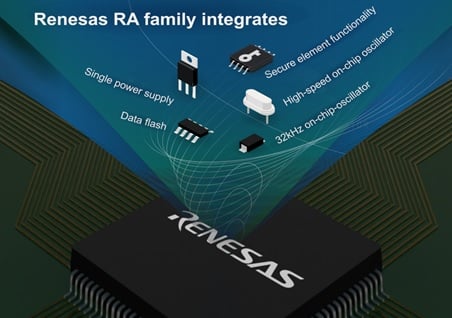 Performance Increase and Low Power Consumption
The RA Family with its new RA6M4 Group member boosts performance and reduces power with up to 200MHz operating frequency and power consumption down to 99µA/MHz while running the CoreMark algorithm from Flash. With the latest 40nm process technology, we were able to improve both active and standby power consumption. The RA Family is truly a high-performance and low power MCU.
Faster Development with Renesas' Flexible Software Package (FSP)
The RA Family Flexible Software Package (FSP) shortens time to market with production-ready, high-performance, and highly efficient drivers with portable APIs. Our tools offer intuitive configurators for drivers, stacks, pin selection, and clock tree configuration. The FSP is an open ecosystem that is open to integrating existing applications and middleware -- a truly open software package available through GitHub.