Did you know that Renesas leads the automotive market in the low-end and mid-end vehicle control segment for 16-bit and 32-bit microcontrollers (MCUs)? Technical benefits of the RL78- and RH850-series devices drive this success, with proprietary CPU cores and automotive-tailored feature sets and performance. But another major driver of this success story is the dedicated technical application support that Renesas provides to automotive customers. Over many years, our skilled engineering teams have been established and cultivated to support our customers, who operate globally. Phone and email hotlines are available, and a well-managed ticket system ensures quick response times and high-quality service.  To date, these support resources have been focused primarily on our Automotive Tier 1 customers – a pure business-to-business (B2B) technical support system. 
The support infrastructure smooths and speeds the process, but the real value of our technical support is not in the support channel or procedures, but in the engineers themselves, and the mindset they bring to each request. While it functions well, the current system is limited, and a question remains: how can we share this valuable asset more widely, for the support of customers who are not well-established, for growing companies in emerging markets, for advanced engineering groups at car companies, for software companies, and for research institutions, all without disturbing the existing B2B support?
An ideal approach could both expand the Renesas customer base on the one hand while fostering future business from a very early stage on the other. The answer is a convenient online portal, satisfying regional and global legal requirements, including legal checks, export control enforcement, nondisclosure agreements (NDAs), and software evaluation license agreements, in addition to providing guidance for device selection, development ecosystem, and download links for technical documentation. Moreover, the sale of samples and shipment of tools have presented some barriers to entry for quick and easy customer support if a Renesas sales account was not yet created for a new customer.  In such cases, the infrastructure had to be established manually and, in many cases, such customers were referred to the support of a 3rd party distributor. While this allowed the support system to function, it transferred not only the support responsibility but the sales traceability and control of such project opportunities to a 3rd party.
After a deep look at the current state of things and the direction of the market, in terms of digital technical support, we have decided to improve the system through the creation of the Easy To Start (ETS) Digital Platform concept:
The main functionality and content of the ETS portal are: 
MCU hardware and software user's guides

Application notes

Training and overview materials

Migration guides

Additional software and tools

Technical support via email, FAQs, and forums

Functional safety (ISO 26262) support

Security support

3rd party software vendors
3rd party compiler vendors
The major motivation is to offer the digital development infrastructure to support our customers' short-term design-in work activity with existing state-of-the-art MCU products and to allow our sales and marketing teams an automatic connection to new customers and emerging marketplaces.
The MCUs featured first are the 16-bit RL78 (F13, F14 and F15 series) and 32-bit RH850 F1K series. The implementation of further Renesas MCU series is in the planning stage. Customers can enjoy wide memory and package scalability and a high degree of software reuse across projects – a great benefit in reducing development effort for faster time-to-market. Device selection is made easier with our parametric search engine.
The new ETS online portal can be accessed here (Japanese and Chinese versions are also available).
Directions for use are described below.
Image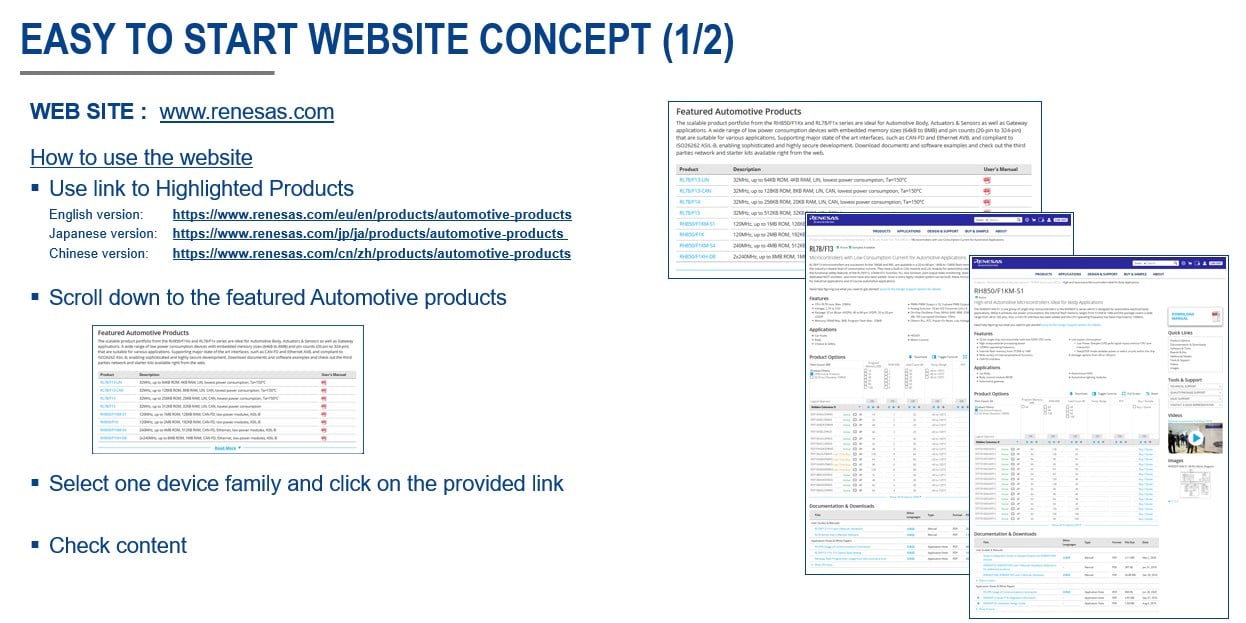 And, the ETS portal content is structured as follows:
Image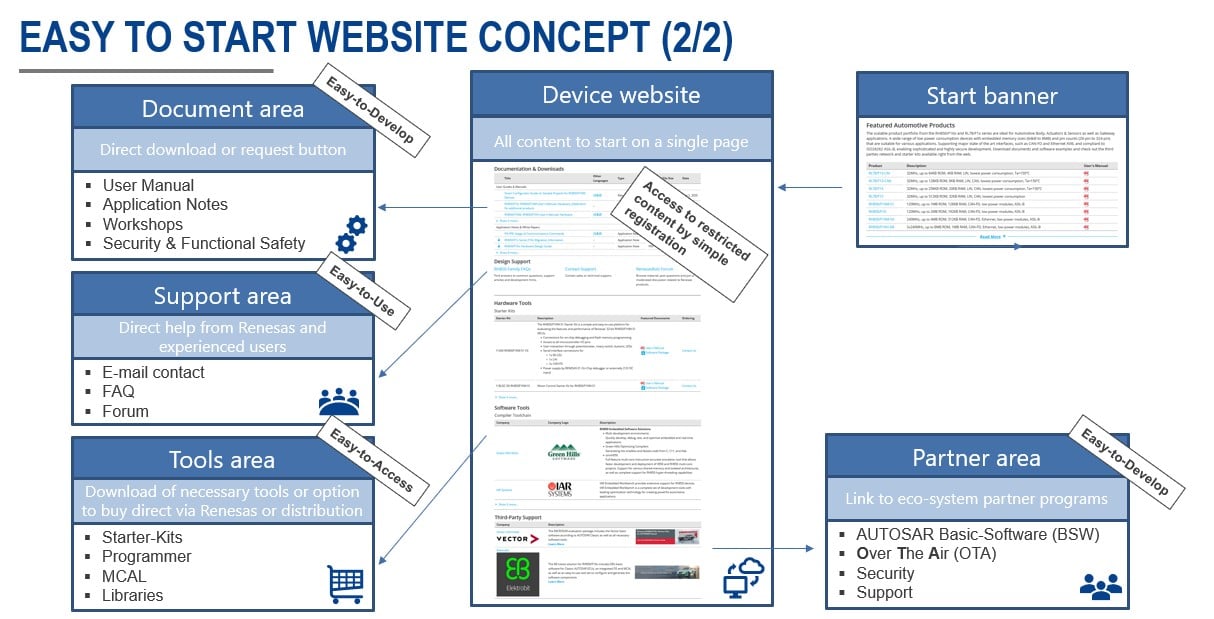 Please visit our new ETS portal and do not hesitate to contact us!