Published: December 1, 2020
Renesas is recognized throughout the automotive market for high-performance/low-power consumption digital semiconductor products. But many of our customers' engineers and purchasers are not aware of our acquisition of two analog semiconductor companies over the course of the last few years. In fact, our acquisitions of Intersil and IDT enabled Renesas to combine embedded solutions excellence with analog mixed-signal product competence to help customers succeed in developing fast-growing applications for technology-driven trends in the automotive industry.
The COVID-19 pandemic has changed our daily, consumer and business lives. We horribly miss face-to-face events with our highly-valued customers, be it technical meetings, workshops, congresses, or trade shows, and nobody knows how long the pandemic will continue to challenge this exchange of product and project information and our personal relationships. As a result of this ongoing uncertainty, Renesas Electronics Europe has decided to switch the regularly held analog TechDays to virtual events in the December 2020 timeframe.
Via Microsoft Teams, our customers will have the opportunity to interact with our expert team, learning about market and system challenges and how Renesas solutions help to solve them. Our experts will host demo sessions and offer hands-on advice for your solutions.
Customers can choose topics that are relevant to their applications from our catalog of tracks here. Once selections have been made, each customer will receive a tailored agenda according to the topics chosen from the following list.
Image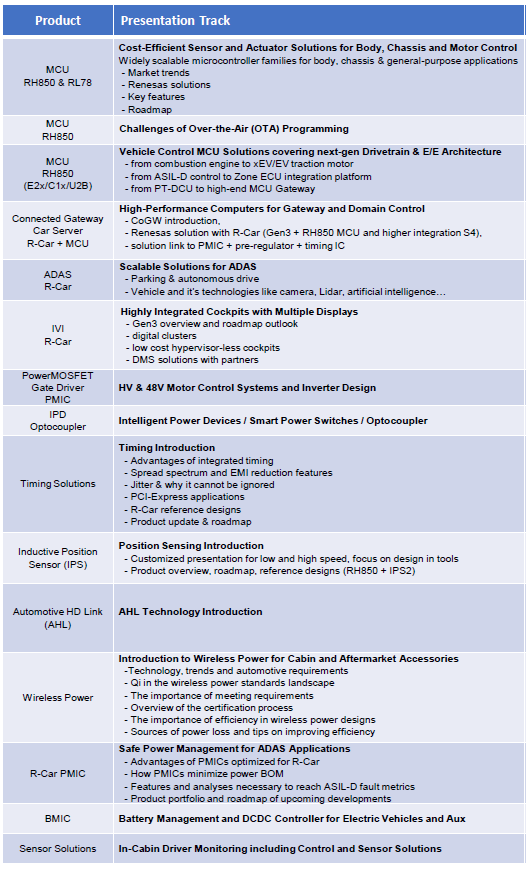 It's very easy to participate in one of these free-of-charge events.  
Please visit our website for more details about our entire product line-up and do not hesitate to contact your friendly salesperson for meeting arrangements. Looking forward to meeting you during one of Renesas Virtual TechDay 2020 events soon!