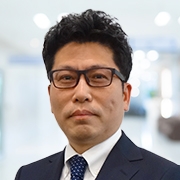 Senior Vice President, General Manager of Production and Technology Unit
Mr. Shono serves as the Senior Vice President and Head of Renesas' Production and Technology Unit (PTU) since April 2022. Mr. Shono served as the Acting Head of PTU since November 2021.
Previously, Mr. Shono held the position of Vice President of Supply Chain Management, where he successfully guided the company through turbulence in the supply chain. Mr. Shono also has extensive expertise in business operation and corporate planning, serving multiple managerial roles in Renesas.
Mr. Shono started his career in production planning and delivery control at Hitachi, holding a variety of supervisory positions in Japan, Germany, and the United Kingdom.
Mr. Shono holds a bachelor's degree of Economics, Risk and Insurance from Kyushu University, Japan.