Published: March 20, 2023
More than 10 years have passed since the RX family was launched, and more than one billion RX MCUs have been shipped to the market, contributing to our commitment "Make Our Lives Easier". During this long history, we have been through various evolutions such as advanced process adoption, performance enhancements, larger memory size integration, small package implementation, and so on. Although we have continuously launched new products addressing customers' needs, adopting new devices requires a lot of consideration.
Thus, this time I will introduce a quick way to access information on new products, easy-to-understand videos that help improve your understanding, and documents for closer examination of replacement. I hope these items will reduce the workload of comparison/consideration for users.
First of all, we highly recommend you watch videos listed under "Recommended Products" in the RX Video Library to understand the specification overview of new products.
Image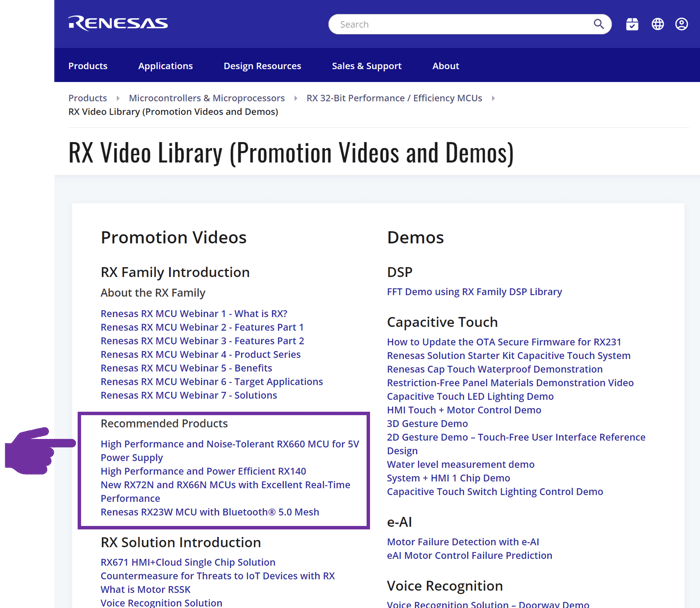 In addition, we are preparing videos that provide to-the-point explanations of the merit for replacement. So, if you are an RX MCU user, please watch the one that suits your needs. As the first release, we introduce new recommended products for RX130, RX631, etc. Watch videos
Additionally, we provide a number of documents comparing detailed differences between RX products such as peripheral functions and pin layout. These documents are helpful not only in consideration but also in actual replacement development. You can find these comparison documents between RX products from the list as shown below
We highly appreciate our customers who have used our legacy products for a long time and their long-term trust in Renesas. We will keep releasing new products that meet our customers' satisfaction, so please consider adoption of our new products on this occasion!