An indoor air quality sensor (also known as an IAQ sensor) is a device used to measure the air quality within and around buildings, as it relates to the health and comfort of the building occupants. Indoor air quality sensors are a key function in sophisticated residential and commercial building air handling systems. 
IDT offers IAQ sensors that function by detecting volatile organic compounds (VOCs) and odors. By measuring the total volatile organic compounds (TVOC) and applying it to a rating scale, these sensors provide the necessary information that allow connected systems to address clean air in the ambient environment. The sensor chips are typically just a few millimeters in width, and can easily fit within the existing electronics of exhaust fans, air filtration systems, and HVAC systems.
Learn More: ZMOD4410 IAQ Sensor Platform
Monitoring Indoor Air Quality
VOCs are the main source for poor indoor air quality, which can affect a person's daily life. Monitoring indoor areas is recommended, especially in critical places, such as offices, schools and public buildings as well as in homes. In addition to health concerns, there is also the psychological aspect that environments that smell clean typically seem more welcoming than areas with unpleasant odors caused by organic compounds. Hence, sensitive and robust sensors are needed.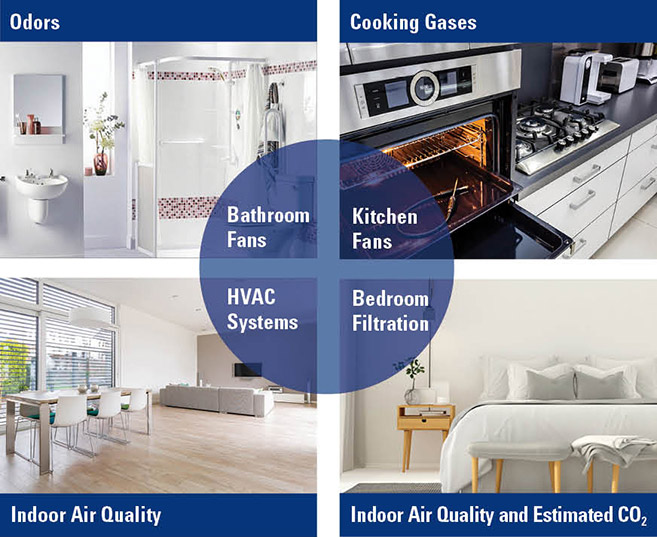 VOCs are pervasive in indoor environments. Depending on the interior decoration and usage, a room might be polluted with different organic compounds at the same time. The ideal gas sensor is able to detect the entire range of VOCs.
Typical Sources of TVOC Inside a Home
Rating Indoor Air Quality
Currently there is no global standard that defines IAQ. Some countries have local approaches and have published studies that give indicators of clean ambient air and its implications. These studies show that there is a direct link between the TVOC and poor IAQ. 
The "Umweltbundesamt" (UBA) is the German Environment Agency, which carried out investigations and studies on indoor air and the TVOC for several years. The TVOC references for indoor air quality (based on a 2007 UBA study), are useful because not only does it identify levels of potential hazards, but it also provides guidance on which acts are recommended based on these TVOC levels.
IAQ Rating by IDT
IDT uses the UBA study below as a basis to define clean air. Air quality sensors are calibrated to this definition.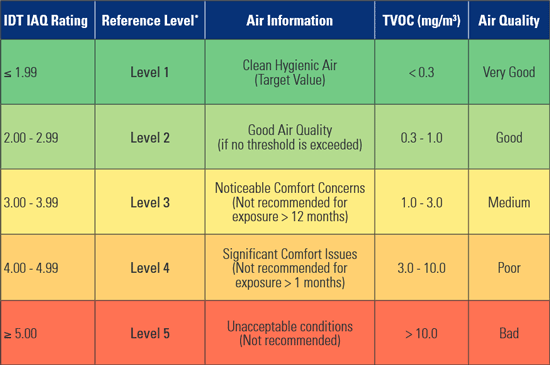 *Based on study from the German Environment Agency