Renesas offers an ideal system for 48V mild hybrid vehicles and electric motorcycles using a highly efficient 12V/48V DC/DC converter. The solution consists of an LV148*1 board net and supports functional safety*2.
System Benefits​:
Multi-phase DC/DC solution delivers beyond 3kW between 12V and 48V board nets at over 95% efficiency.
Bidirectional analog controller eliminates the need for DSP with complicated firmware, separate buck/boost controllers and complex switching logic.
Supports functional safety up to ASIL B with an RH850 MCU and Renesas Regulator.
Reduces the need to determine modes and optimal settings for the ISL78226 PWM controller, hence shortening the evaluation time.
*1 Automotive 48V power supply standards formulated mainly by German automakers
*2 Please assess on customer system
Image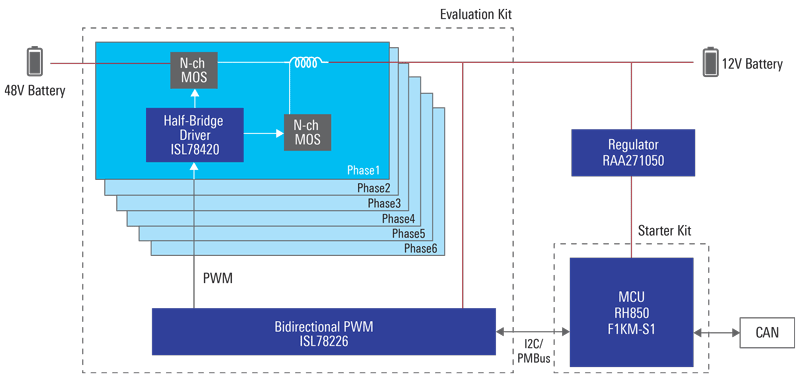 Related Products
| Product | Description | Featured Document | Ordering |
| --- | --- | --- | --- |
|   |   |   |   |
| Microcontroller |   |   |   |
| RH850/F1KM-S1 | 32-Bit High-End Automotive Microcontrollers Ideal for Body Applications | User's Manual | Select Specific Device |
| RL78/F12 | 16-Bit MCU with Ultra-Low Power and Built-in LIN (20 - 64 Pins, 16 - 58 GPIOs) | User's Manual | Contact Sales |
| RL78/F13 | 16-Bit MCU with Ultra-Low Power and Built-in CAN/LIN (20 - 80 Pins, 13 - 68 GPIOs) | User's Manual | Select Specific Device |
| RL78/F14 | 16-Bit MCU with Ultra-Low Power and Built-in CAN/LIN (30 - 100 Pins, 23 - 86 GPIOs) | User's Manual | Select Specific Device |
| RL78/F15 | 16-Bit MCU with Ultra-Low Power and Built-in CAN/LIN (48 - 144 Pins, 38 - 130 GPIOs) | User's Manual | Select Specific Device |
|   |   |   |   |
| PWM Controller |   |   |   |
| ISL78226 | 6-Phase 12V/48V Bidirectional Synchronous PWM Controller | Datasheet | Buy/Sample |
| ISL78224 | 4-Phase 12V/48V Bidirectional Synchronous PWM Controller | Datasheet | Buy/Sample |
|   |   |   |   |
| Half-Bridge Driver |   |   |   |
| ISL78420 | 100V, 2A Peak, Half-Bridge Driver with Tri-Level PWM Input and Adjustable Dead-Time | Datasheet | Buy/Sample |
| ISL78424 | 100V Boot, 4A Peak, Half-Bridge Driver with Single PWM Input and Adaptive Dead Time Control | Datasheet | Buy/Sample |
| ISL78444 | 100V Boot, 4A Peak, Half-Bridge Driver with Single PWM Input and Adaptive Dead Time Control | Datasheet | Buy/Sample |
|   |   |   |   |
| Buck Regulator |   |   |   |
| RAA271050 | 4A, High-Efficiency Synchronous Buck Regulator for Automotive Applications | Datasheet | Contact Sales |
|   |   |   |   |
| MOSFET |   |   |   |
| RBA250N10 | 100V/250A – N-Channel MOS Field Effect Transistors Designed for High Current Switching Applications | Datasheet | Contact Sales |