RA4W1 Bluetooth LE Wireless Solution
Bluetooth Low Energy (LE) is a low energy mode of Bluetooth wireless technology that has an effect on power consumption especially for battery-operated applications. The attractive point of Bluetooth LE lies in that it can operate while being connected to applications for smartphones and tablets. Renesas Bluetooth LE solutions provide smart connections with the lowest level of power consumption in the industry and can be used in applications such as healthcare and fitness devices, home electric appliances and RFID tags that use beacons to connect them with smartphones at low power consumption without wires.
Included in Renesas' Bluetooth LE product portfolio is the RA4W1 32-bit microcontroller (MCU) solution that offers built-in security functions essential for Bluetooth 5.0 LE and IoT devices, as well as a wealth of peripheral functions such as touch keys, USB and CAN, and it provides system control for devices and wireless communication on a single chip.
Image

Devices
RA4W1 32-bit Bluetooth LE MCUs: R7FA4W1xxxxxx
The RA4W1 32-bit MCU incorporates Bluetooth 5.0 LE, a secure crypto engine and low power functionality essential for any IoT application. The RA4W1 also features a rich set of peripheral features such as a capacitive touch sensing unit (CTSU) and a segment LCD controller (SLCDC), making it ideal for wireless applications that use a human machine interface (HMI).
The RA4W1 MCU incorporates a dedicated to Bluetooth high-precision low-speed on-chip oscillator, eliminating the need for external matching circuits and external capacitors.
Image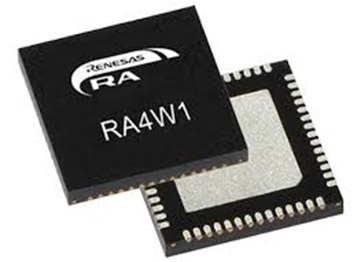 H/W & Kits
Evaluation Kit for RA4W1 MCU Group
The EK-RA4W1 evaluation kit enables users to effortlessly evaluate the features of the RA4W1 MCU Group and develop embedded systems applications using Renesas' Flexible Software Package (FSP) and various IDEs.
EK-RA4W1: RTK7EKA4W1S00000BJ
The EK-RA4W1 incorporates an emulator circuit that can be used for your own application design without the need for further tool investments. This product provides through-holes for pin headers that allow access to all MCU signal pins, allowing for easy prototyping with a breadboard. You can begin evaluation immediately after purchasing an evaluation board using software which can be downloaded from our website.
This evaluation board is best suited for the following purposes.
Evaluation of Renesas' RA4W1 device
Evaluation of Bluetooth LE functions and performance
Use for customer's principle prototype
S/W & Tools
Bluetooth Low Energy Protocol Stack for the RA Family (FSP)
The RA4W1 Group's Flexible Software Package (FSP) provides a protocol stack that complies with the Bluetooth v5.0 LE specification. By combining with the Bluetooth specification-compliant profile provided by the development support tool QE for BLE[RA,RE], you can easily develop applications that utilize the Bluetooth Low Energy communication function of the RA4W1 group.
Bluetooth qualified 56 types of standard profiles/services are available. The profile is generated from QE for BLE[RA,RE]. You can also design and generate a custom profile. Renesas also provides sample programs as a reference for your program development. The sample programs will be further expanded in the future.
Available sample programs:
| Sample program | Overview |
| --- | --- |
| RA4W1 Group Apple Notification Center Service (ANCS) Sample Program (ZIP | English, 日本語) | The ANCS sample application operates on the evaluation kit EK-RA4W1 and connects to iOS devices via Bluetooth LE wireless communication. |
| RA family BLE sample application (ZIP | English, 日本語) | These sample programs can work on evaluation kit EK-RA4W1 or user's custom board. They can use a custom profile to change the blink rate of LED mounted on the board from remote device (e.g. smart phone) and send notification by pushing switch mounted on the board to remote device via Bluetooth LE wireless communication. |
| RA4W1 High Data throughput sample application (ZIP | English, 日本語) | This sample application uses LE 2MPHY to realize high data throughput Bluetooth LE wireless communication between one pair of evaluation kit EK-RA4W1. Both server and client side demo projects are provided. |
| RA4W1 group Environmental sensor network solution control sample software for building / HVAC (ZIP | English, 日本語) | This software is an environmental sensor network solution control sample software for building / HVAC using RA4W1, ZMOD4410 (IAQ), HS3001 (Humidity & Temp. Sensor). By using this software, it is possible to collect IAQ (air quality) and humidity & temperature information of multiple devices via Bluetooth LE wireless communication. By using this sample software, you can easily build an environmental sensing system suitable for building / HVAC. |
Renesas offers Bluetooth LE software solutions corresponding to a wide variety of application development. Refer the protocol stack product page for more information.
Bluetooth Low Energy Protocol Stack for the RA Family (FSP) Page
QE for BLE[RA,RE] - Development Assistance Tool
The QE for BLE[RA,RE] is a dedicated tool for developing embedded software in systems which support the Bluetooth Low Energy protocol stack. This solution toolkit runs in the e² studio integrated development environment (IDE). The combination of the e² studio and QE for BLE[RA,RE] makes it easy to test the communications features of Renesas' RA4W1 Bluetooth LE microcomputer, thus reducing development periods for products being placed on the market. The standard profiles are generated from this tool. It can also design and generate a custom profile.
Please refer to the QE for BLE[RA,RE]: Development Assistance Tool for Bluetooth Low Energy page for more information.
QE for BLE[RA,RE]: Development Assistance Tool for Bluetooth Low Energy
TryBT - Smartphone Application Example
TryBT is a smartphone application example that supports both Android and IOS, equipped with the functions required to communicate with Bluetooth LE products, and can be downloaded from the Apple App Store and Google Play. You can check communication with the firmware preinstalled in the EK-RA4W1 evaluation kit. Also, you can use RX23W and RE01B, too.
In addition, icon images as well as a project file (can be imported into Android Studio or launched with Xcode) and source code are provided, so you can use this application example as a base for developing Bluetooth LE communication application in a Proof of Concept (PoC) phase.
Download TryBT:
BTTS - Windows Application
In the survey/evaluation phase of the development process, new Bluetooth LE functions, API execution procedures and parameters of an API can be learned by evaluating the functions and performance of Bluetooth LE supported by the Bluetooth LE MCU using the Bluetooth Test Tool Suite (BTTS).
In the certification phase of the device, it can be used as a GUI tool to operate the device under test (DUT) in the Radio Law certification test.
Download BTTS: Bluetooth LE MCU Bluetooth Test Tool Suite operating instructions Application Note Rev.1.05 - Sample Code (ZIP | English, 日本語) (PDF + Windows application)
Applied Solutions
RA4W1 Target Applications:
Security (fire detection, burglar detection, panel control)
Metering (electricity, automated meter reading)
Industrial (robotics, door openers, sewing machines, vending machines, UPS)
Health and wearables body sensors
Smart home and remote control toys
Winning Combinations
Renesas also offers many compelling analog + power + embedded processing + connectivity "Winning Combinations".
Solution Title
Overview
Common
IoT Sensor Board with Machine Learning & Bluetooth Low Energy
This is a reference design for a versatile Internet of Things (IoT) sensor board solution. It provides an Automated Machine Learning platform (AutoML) for edge devices. Solutions include an air quality sensor, light sensor, temperature and humidity sensor, a 6-axis inertial measurement unit (IMUs), and a microphone.
Home / Building Automation
Bathroom Odor Detector with BLE
The combination of Renesas' ZMOD4410 indoor air quality sensor, HS3003 temperature and humidity sensor, and RA4W1 Bluetooth LE MCU enables users to detect gases in the bathroom. Odor levels, temperature and humidity values can be monitored from a handy devices via Bluetooth LE wireless communication.
Voice Recognition Solutions
Renesas' Voice Recognition Solutions do not need an internet connection (edge voice recognition solution), thus providing differentiation and high functionality in current products.
The RA4W1 Voice Recognition with Bluetooth Low Energy Solution enables edge voice recognition, voice playback, Bluetooth LE wireless communication and environmental sensing using a single RA4W1 Bluetooth LE MCU.
FAQ
Please refer to the Knowledge Base for FAQs on Bluetooth specifications, MCUs, modules, protocol stacks, development environments, qualification, and more.
Knowledge Base > RA4W1
Knowledge Base > Bluetooth Low Energy Page