Bluetooth Low Energy (LE) is a low energy mode of Bluetooth wireless technology that has an effect on power consumption especially for battery-operated applications. The attractive point of LE lies in that it can operate while being connected to applications for smartphones and tablets. Renesas Bluetooth LE solutions provide smart connections with the lowest level of power consumption in the industry and can be used in applications such as healthcare and fitness devices, home electric appliances and RFID tags that use beacons to connect them with smartphones at low power consumption without wires.
Included in Renesas' Bluetooth LE product portfolio is the RA4W1 32-bit microcontroller (MCU) solution that offers built-in security functions essential for Bluetooth 5.0 LE and IoT devices, as well as a wealth of peripheral functions such as touch keys, USB and CAN, and it provides system control for devices and wireless communication on a single chip.
Image

Image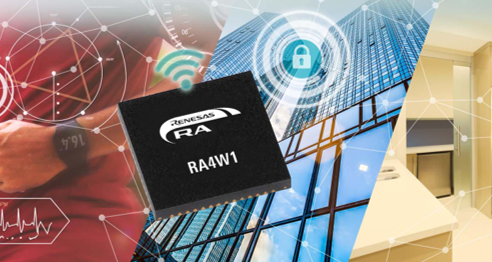 Image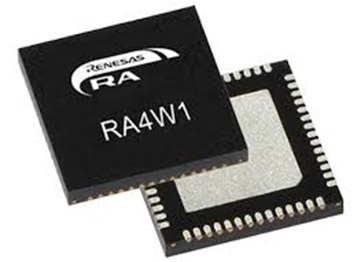 The RA4W1 MCU incorporates a dedicated to Bluetooth high-precision low-speed on-chip oscillator, eliminating the need for external matching circuits and external capacitors.
Renesas RA4W1 Group User's Manual: Hardware (PDF | English, 日本語)
RA4W1 32-bit microcontrollers
To purchase the RA4W1 MCU, contact your local Renesas sales office or distributor.
The EK-RA4W1 incorporates an emulator circuit that can be used for your own application design without the need for further tool investments. This product provides through-holes for pin headers that allow access to all MCU signal pins, allowing for easy prototyping with a breadboard. You can begin evaluation immediately after purchasing an evaluation board using software which can be downloaded from our website.
This evaluation board is best suited for the following purposes.
Evaluation of Renesas' RA4W1 device
Evaluation of Bluetooth LE functions and performance
Use for customer's principle prototype
Image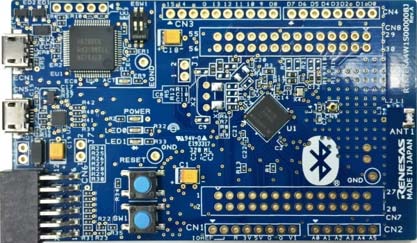 EK-RA4W1 User's Manual (PDF | English, 日本語)
RA4W1 MCU Group Evaluation Board (EK-RA4W1)
The RA4W1 Group's Flexible Software Package (FSP) provides a protocol stack that complies with the Bluetooth v5.0 LE specification. By combining with the Bluetooth specification-compliant profile provided by the development support tool QE for BLE, you can easily develop applications that utilize the Bluetooth Low Energy communication function of the RA4W1 group.
Bluetooth qualified 56 types of standard profiles/services are available.
Image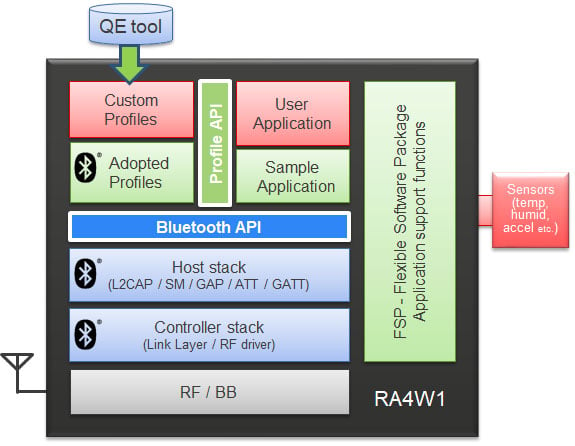 The QE for BLE is a dedicated tool for developing embedded software in systems that support the Bluetooth Low Energy protocol stack. This solution toolkit runs in the e2 studio integrated development environment (IDE). The combination of the e2 studio and QE for BLE makes it easy to test the communications features of Renesas' RA4W1 Bluetooth LE microcomputer, thus reducing development periods for products being placed on the market.
The standard profiles are generated from this tool. It can also design and generate a custom profile.
Image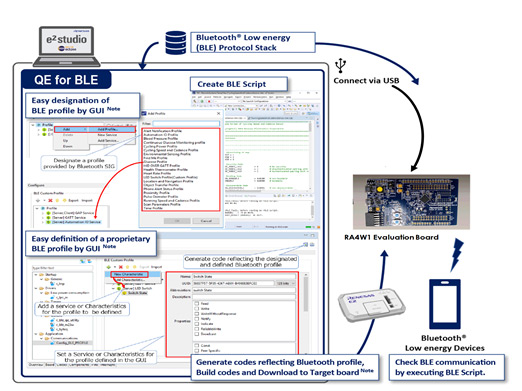 BTTS Windows Application
In the survey/evaluation phase of the development process, new LE functions, API execution procedures and parameters of an API can be learned by evaluating the functions and performance of Bluetooth LE supported by the RA4W1 using the Bluetooth Test Tool Suite (BTTS).
In the certification phase of the device, it can be used as a GUI tool to operate the device under test (DUT) in the Radio Law certification test.
Bluetooth Low Energy MCU Bluetooth Test Tool Suite operating instructions Application Note - Sample Code (ZIP)
Image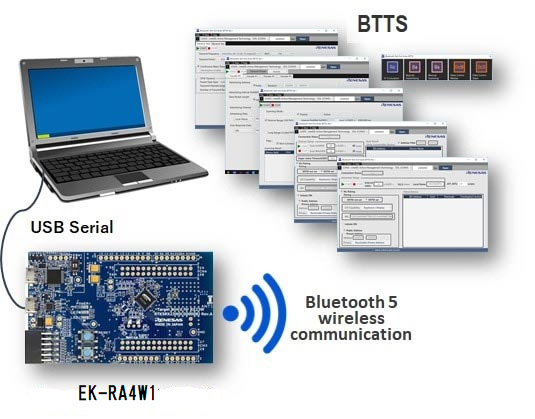 Application Example