Products and Solutions that Contribute to a Sustainable Society
As the world's leading semiconductor company, Renesas aims to build a future in which sustainable products and solutions using cutting-edge technologies make people's lives easier and create a better world.

With the spread and expansion of high-speed and large-capacity communications, everything around us has become intelligent, and in the world of interconnection, high-speed computing performance is also required. In order to realize an environmentally friendly and sustainable society that is driven by technological innovation, it is essential that Renesas' products and solutions, as well as the systems of customers equipped with our products, are highly energy-efficient, secure and safe. Renesas will continue to provide low-power, safe and secure products and solutions to achieve those goals.
---
Image

Provision of Low-Power Products and Solutions
As Connected, Autonomous, Shared & Services, Electric (CASE) and Digital Transformation (DX) accelerate in a variety of sectors such as automotive, industrial, infrastructure, and IoT, Renesas' low power embedded processors are helping to achieve high energy efficiency. In addition, solutions that combine our embedded processors with analog power semiconductors can help our consumers improve the energy efficiency and reliability of your systems and reduce development costs.
Renesas believes that by further enhancing energy efficiency and robust safety and security, our products and customers' systems will become sustainable. Renesas is committed to developing solutions, products, and technologies in the seven areas shown in the figure and to reducing environmental impact. This concept is expected to contribute to the global environment, and details are available through 
the Green Bond Framework
.
Image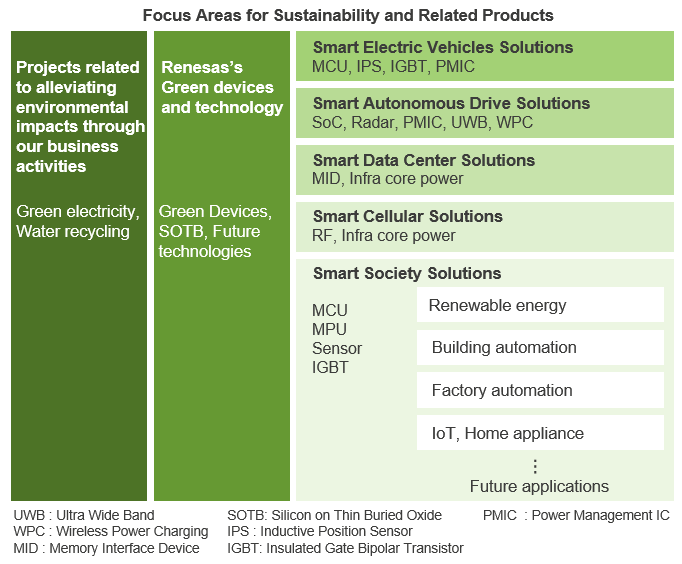 ---
Contribution to Energy Consumption in Customers' Systems
Renesas contributes to the energy conservation of the entire system by reducing the power consumption of our products while further improving the efficiency of our customers' systems through our solutions.
Accelerating the Evolution of xEV Through Energy Efficiency Improvement
As the CO2 emission regulations continue to be more stringent in many countries to combat the global warming, xEVs, which can reduce CO2 emissions, are becoming increasingly popular as they contribute to the realization of a sustainable society that is environmentally friendly, safe, and comfortable to live in. Renesas offers a variety of energy-efficient solutions and evaluation kits that accelerate the evolution of xEVs.
Image

RH850/U2B
Renesas' RH850/U2B automotive microcomputer has been developed for zone/domain control and connected gateways, which are key elements of the next-generation vehicle's E/E (electrical/electronic) architecture, and which integrates and evolves multiple electronic control units (ECUs) such as powertrain control and inverter control for xEV vehicles. The RH850/U2B is based on the main functions of the RH850/Cx series for HEV/EV motor control and contributes to the popularization of xEV by further enhancing performance and functionality.
Increasing Data Center Bandwidth and Energy Efficiency
The role of the data center has become even more vital as digitization continues to advance and data volumes continue to grow. In addition, large customers and businesses requiring large amounts of data storage are also contributing to the growth in data center demand. Renesas provides key solutions for the transition to a new generation of energy-efficient data centers that help reduce energy consumption and promote a sustainable environment.
Image

Memory Interface IC
Renesas leads the industry in high-quality memory interface ICs and timing devices used in data centers. These solutions enable customers to migrate from DDR4 to the next generation standard, DDR5, and enable new generations of data centers to not only increase bandwidth, but also improve bandwidth energy efficiency by 16%.

Timing Device
Renesas has expanded its portfolio of timing products for data centers and has developed the FemtoClock 2 family for ultra-low jitter attenuation and clock generation, offering a new high-performance family that is compact yet offers superior jitter performance and low power consumption.
5G Solutions that Speed Up Communications and Improve Energy Efficiency
Compared to today's mainstream 4G networks, the next generation of 5G wireless networks will enable faster communications and more devices to be connected at once. However, there are concerns about the increase in total power consumption. Renesas will contribute to reducing CO2 emissions per transfer data by providing energy-efficient base station solutions.

Click here for the winning combination for the front-end of the base station antenna.
Image

beamforming ICs
Renesas millimeter-wave beamforming ICs meet the beamforming capabilities required in 5G systems and achieve the highest level of linear RF output with high efficiency. The dual polarization 8-channel architecture of this IC realizes a highly symmetric and ultra-low loss antenna wiring network, improving overall antenna efficiency and reducing substrate costs. Renesas' new beamforming ICs will help move mobile communications and fixed wireless networks to 5G in both cities and suburbs.
Renewable Energy Solutions that Contribute to Energy Efficiency
Unlike fossil fuels, renewable energy does not emit CO2during power generation, and thus contributes significantly to the reduction of greenhouse gases through fossil fuel substitution. Wind and solar power generation are strongly required to minimize installation and maintenance costs while maximizing power generation efficiency. Our products contribute to the adoption of renewable energy by meeting this need.

Click here to learn more information on Renesas' renewable energy.
Image

IGBT
For wind power systems, energy loss is inevitable because the generated power is converted from DC to AC when it is transmitted through an inverter circuit. Since most of this power loss is related to power devices, minimizing IGBT (Insulated Gate Bipolar Transistor) power loss directly leads to user system energy efficiency. Renesas IGBTs use our own low-power design expertise to reduce power losses by approximately 30% and contribute to overall system energy efficiency.
Photocoupler
Today, manufacturers of solar power generation systems face two major challenges: miniaturization of equipment and higher functionality with the same substrate size, and stricter safety standards. Renesas will expand its portfolio of photocouplers and contribute to the widespread use of renewable energy by providing high insulation performance and safety in small size for high-voltage inverter control applications.
Air Quality Management Solutions for Building Automation
According to the IEA, building and other building-related CO2 emissions account for approximately 30% of global CO2 emissions, and in 2019, building-related energy efficiency investments totaled more than $150 billion. Our solution enables high performance CO2 sensing and fine air conditioning control to reduce power consumption.

Click here to read our blog post on "Air Quality Management Solutions."
Products and Solutions to Improve Energy Efficiency of Factory Automation
The industrial sector is also becoming more digital and smarter, and the demand for end-point computing for factory automation is steadily increasing. Through our products and solutions, we will promote energy efficiency by connecting all the equipment and facilities in the factory through a network and exchanging information to achieve optimal production.

Click here to learn more about monitoring and metering for energy management and infrastructure.
Image

RZ/V2L
Renesas has launched the RZ/V2L entry-class MPU with a built-in high-precision AI accelerator with industry-leading power performance. As an entry-class, the DRP (Dynamically Reconfigurable Processor)-AI has optimized its operating frequency and memory interface while achieving both high-precision AI inference and industry-leading low power consumption. DRP-AI performs two functions: AI inference and image processing, which is essential for camera applications such as color correction and noise reduction. This enables energy-efficient AI to be used in a wide range of applications, such as POS terminals and robot vacuum cleaners, without an external image signal processor (ISP).
Green and Super Green Devices
One of the pillars of Renesas' environmental activities is its eco-product activities. This is an activity to create environmentally friendly semiconductors, or eco-products, at all stages of the product life cycle, including product development, procurement, manufacturing, use, and disposal.

To create eco-products, we evaluate and index the environmental impact of our products in eight categories, including product safety and energy conservation, and compare them with our existing products. As a result of this product environmental assessment, developed products that have been certified as having superior environmental performance compared to our conventional products have been registered as Renesas Green Devices, while superior products have been registered as Super Green Devices, and are reported internally and externally.

Click here to learn more about Renesas' eco-product initiatives and Super Green devices.
 
---
Image

Providing Safe and Secure Products and Solutions
In order to make people's lives easier and realize a safe, secure, and sustainable society, Renesas has continuously delivered sustainable products in mission-critical fields, such as automotive, medical care, and industrial infrastructure. In addition, by providing our customers with solutions based on the industry's highest standards of reliability as well as safety and security technology, we help their systems to meet strict international standards such as ISO and IEC.
---
Meeting the Challenges of the "New Normal"
There is a global need to prevent the spread of COVID-19 and respond to the "new normal" so people can live safe and secure lives, and technology continues to play a significant role every year.

Click here to learn more about Renesas' sustainable products and solutions that are preventing COVID-19 and supporting people around the world.
Image

Touchless Solutions
Disinfection and sterilization to prevent contact infection by medical devices and public facilities have been thoroughly carried out. As a result, touch panels are required to be non-contact. Renesas' Touchless Solution is the evolution of a highly sensitive and noise-resistant capacitive touch sensor system. The latest user interface provides greater security and safety in healthcare settings and public facilities.
Air Quality Measurement
High concentrations of ozone gas are a severe cause of environmental degradation and health risks, and are used in various air quality indicators in various countries and regions, including the Air Quality Index (AQI) of the U.S. Environmental Protection Agency (EPA). Renesas has expanded its outdoor air quality (OAQ) sensor platform, ZMOD4510, and has released an ultra-low-power ozone-sensing firmware. The latest firmware employs an AI-powered algorithm to selectively measure only ozone gas. The combination of ZMOD4510 and the latest firmware provides ultra-low power consumption of less than 200 μW, making it suitable for use in battery-powered devices. As a result, small mobile devices such as smartwatches, smartphones, and gas detectors can easily measure air quality, accelerating the spread of air quality measurement functions.

More Security for Mission-Critical Applications
According to a report by the World Health Organization (WHO), 1.35 million people worldwide have died in traffic accidents, and traffic accidents are one of the world's 10 leading causes of death. More than half of traffic fatalities occur among vulnerable road users (pedestrians, cyclists, motorcycles, tricycles and other passengers), and the development of safe vehicles has always been a global concern. The reduction of traffic accidents is one of the targets of the Sustainable Development Goals (SDGs), and the installation of the Advanced Driver Assistance System (ADAS) is becoming mandatory in each country including Japan.

Looking at IoT devices, Artificial Intelligence (AI) is revolutionizing our daily lives. Implementing AI requires real-time, high-volume information gathering and superior computing power to handle it, and IoT devices need to work together with the cloud more than ever before. Without robust cybersecurity measures in the IoT devices of the endpoints, the AI system itself could be cyber-attacked, with consequences for society at large.

Click here to learn more about Renesas' safety and security technology for robust protection of mission-critical applications.
Functional Safety and Security Solutions to Achieve Zero Traffic Accidents
Autonomous Driving (AD) and ADAS are expected to dramatically change the automotive market. Renesas contributes to the development of vehicles that are designed to achieve zero traffic accidents, and provides solutions for AD and ADAS that help protect drivers from potential accidents and improve safety.

Click here to learn more about our AD/ADAS solutions for demanding automotive functional safety standards.
Image

R-Car V3H
Renesas has updated the R-Car V3H to significantly improve deep learning performance for state-of-the-art smart camera applications, including in-vehicle front cameras, surround views, automatic parking, and driver and passenger monitoring systems (Driver Monitoring System (DMS)/Occupant Monitoring System (OMS)) for production vehicles up to self-driving level 2+. While maintaining its low power consumption, the CNN (Convolutional Neural Network) improves its processing performance by 4 times, achieving a maximum of 7.2 TOPS for the entire R-Car V3H including the Computer Vision IP.

Click here to learn more about Renesas' AI technology.
R-Car S4
Renesas has developed a new SoC (System on Chip) R-Car S4 and a power management IC (PMIC) for the next generation of in-vehicle central computers and introduced an automotive gateway solution that integrates these technologies. By providing solutions that combine the highest levels of functional safety and security functions, we support the evolution of the E/E (electrical/electronic) architecture of vehicles into domain and zone architectures, contributing to the creation of safer and more secure vehicles.
Cybersecurity Measures for Automobiles in Compliance with ISO/SAE 21434 International Standards
Both ISO/SAE21434 (published August 31, 2021) and UNR155, a new regulation by the United Nations Economic Commission for Europe (UNECE), require the implementation of cybersecurity measures that encompass the entire automotive supply chain. Beginning in July 2022, automobile original equipment manufacturers (OEMs) are required to implement a Cyber Security Management System (CSMS) for automobiles in order to obtain vehicle type certification for new models and ensure that the Cyber Security process is in place.
Image

ISO/SAE 21434 Solution
Renesas has announced that its automotive microcomputers and SoCs (System on Chip) will comply with ISO/SAE21434. This is part of Renesas' ongoing commitment to promoting automotive cybersecurity measures and goals to build the CSMS required by UNR155. In addition to ISO26262 functional safety, which Renesas has cultivated over the years, Renesas will continue to comply with ISO/SAE21434 security standards for the 16-bit RL78 microcomputer, 32-bit RH850 microcomputer, and SoC R-Car, which will be newly developed after January 2022.
Ensuring Industry and IoT Robustness and Promoting AI and IoT Devices
Every day, more than 1 billion IoT devices on endpoints send information to the cloud to get real-time status. It is also required to compute a huge amount of information at the endpoint and perform AI processing on the spot. If such IoT devices and high-performance computing systems are infected with malware, the effects of malware can spread throughout the society.
Image

RZ/G2L Group
Renesas has expanded its lineup of RZ/G2 general-purpose 64-bit Micro Processor Units (MPUs) that support security features. In addition to the Cortex-A55, which can handle the processing required for AI approximately 6 times faster, RZ/G2L group includes a camera input, a 3D graphics engine, and a video codec. This enables advanced functions such as multimedia processing, GUI drawing, and AI image processing in HMI equipment to be realized cost-effectively.
RAA78815x Family
Renesas has developed 6 products in the RAA78815x family of transceivers for the RS-485 and RS-422 serial communications standards for industrial applications. This product family is ideal for a variety of applications with high-security needs, including security camera networks, industrial networks, process control networks, building automation, and long-distance networks.
---