The GreenPAK ICs are a family of Programmable Mixed-Signal ASICs that provide a small, cost-friendly, and personalized solution to many common problems that system-level circuit designers face. GreenPAK provides a means of considerably reducing PCB size, BOM cost, and design lead time.
Image
Figure 1. Example of Size Reduction w/ GreenPAK
Due to the configurability and various features of GreenPAKs narrowing the scope of possible applications can be difficult. With the right motivation and know-how, a designer can add a GreenPAK into almost any application within most industries.
This is designed to bolster motivation and know-how: we provide a "cookbook" to designers to help them see where a GreenPAK can be used within their projects. The cookbook outlines different techniques and provides completed applications to help designers use GreenPAK on their own.
Cookbook Structure
The main subsections within the cookbook are organized into two different types: Techniques and Applications. Techniques focus on a task that can be accomplished using only one or a few macrocell blocks. Application sections describe how techniques can be meshed together to create real, valuable applications. Generally, the easiest techniques and applications will be at the beginning of a section.
Each application has an associated GreenPAK Designer file that can be viewed and edited.
Making Your Own Design with the Cookbook
The applications outlined in the cookbook are simple realizations of real-world applications. However, GreenPAK ICs have the necessary macrocells and functionality to add far more value than the designs in this cookbook. The GreenPAK technology has helped designers create thousands of unique designs, where simple applications both similar and different to the cookbook applications were expanded, combined, and personalized. For example, the Application: Basic Sequencer can be combined with many of the applications within Chapter 4: Safety Features to create a self-regulating, customized sequencing application.
Image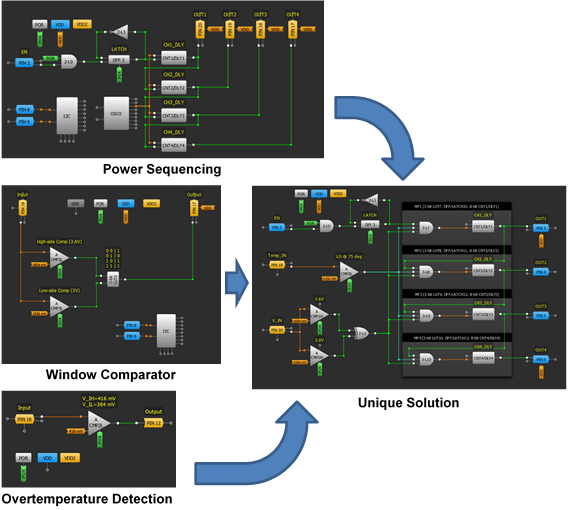 Figure 2. GreenPAK Unique Solution
The resulting integrated solution is more complex but doesn't come close to using all the available macrocells. With the full GreenPAK family of ICs at your disposal, the number of permutations and modifications available for the designs in this cookbook are endless. Whether you wish to completely reuse a design shown in this cookbook, or you'd rather incorporate some of the techniques in this paper into your own design, feel free. After all, it's your recipe.