Published: December 11, 2020
Voice recognition is becoming an important feature of today's new digital lifestyle. With your voice, you can control a room's lighting, air conditioning, curtains, and appliances. For hygienic reasons, you can avoid touching surfaces in hotel or office spaces simply by speaking to a voice recognition controller, enabling hands-free requests.
Renesas has put together a winning combination with an offline voice recognition algorithm that performs real-time control. The advanced voice command recognition engine concurrently supports two languages with voice response. There are 34 global languages to select from that can be easily integrated into existing control systems.
Let's look at the heart of this solution, the RA MCU, RA6M1, provides a low cost, ultra-low power and high-security function as well as a Flexible Software Package (FSP) to support fast turnaround time in product development. In addition, the RA6M1 offers highly integrated capabilities for control/security/graphical and capacitive touch with up to 512KB Flash memory and 256KB SRAM.
Image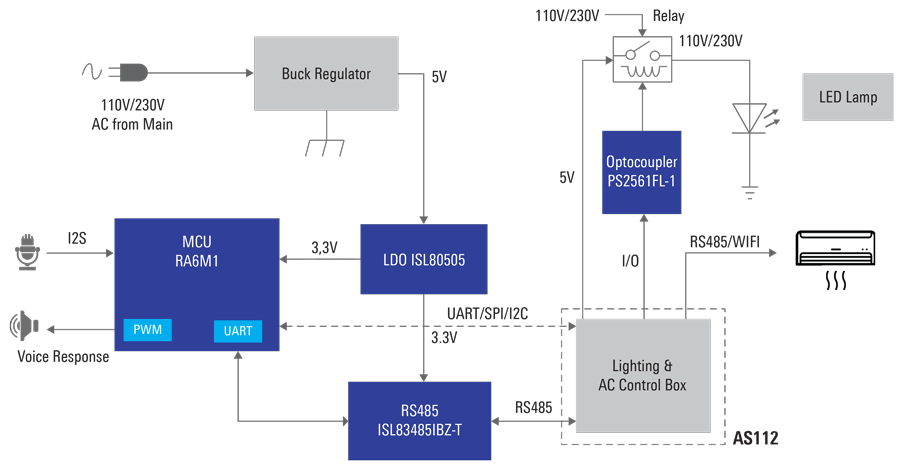 In this design, we use the ISL32743E which is an isolated high-speed RS-485 transceiver, 3.3V half-duplex 40MHz high-speed differential bus transceiver to provide serial communications between the MCU and galvanically isolated high-speed bus to the air conditioning and lighting control board.
The ISL80505 is a high-performance 0.5A LDO that provides power supply to the RA6M1 32-bit MCU and other peripherals on the board. With excellent PSRR over a wide frequency range and programmable output soft-start time, it supports a stable output voltage at ±1.8% VOUT accuracy guaranteed over line, load and very low 45mV dropout voltage at VOUT = 2.5V with very fast transient response.
The PS2561F-1 is an optically coupled UL-approved isolator containing a Gallium Arsenide (GaAs) light-emitting diode and an NPN silicon phototransistor, has high isolation voltage and high current transfer ratio (CTR) to provide isolation for safety requirements of up to 5000Vrms and high-speed switching.
The advanced voice command recognition engine utilizes the AI deep neural network algorithm, allowing for customizable voice commands using text input with no training required. In this reference solution, Renesas shows the customer how easy it is to incorporate voice recognition features into their existing product portfolio in a fast and cost-effective manner.
For more information about voice recognition, visit the Voice Recognition & Smart Control Winning Combination page.
Visit the Winning Combinations page to see more winning combination solutions that help our customers accelerate their designs to get to market faster.